"How can I capture this guy who means so many things to so many people," asked Dan Crane, who is playing the legendary Romantic poet Percy Bysshe Shelley in the Taffety Punk Theatre Company production of Howard Brenton's play Bloody Poetry, playing through May 31st at Capitol Hill Arts Workshop. "The poems just punched me in the heart. The poems are huge. Unfathomable. How the hell am I going to bring any integrity to this role? The challenge to me is to communicate who this guy is."
Bloody Poetry begins as the poet Shelley and his somewhat unconventional ménage (common-law wife Mary and Mary's step-sister Claire Clairmont, Shelley's occasional mistress) prepare to meet another poet, the notorious Lord Byron. Both poets are living abroad and pursued by intrusive journalists who report to tabloid-like newspapers as if these poets were part of our contemporary celebrity culture — royals or movie actors or rock stars.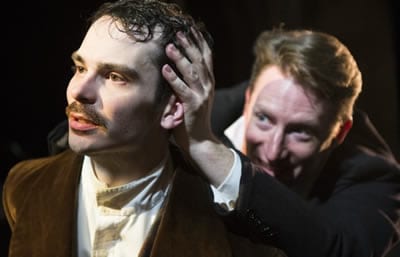 In fact, Crane cited the lyrics of popular songs as a contemporary analogue to the more central role that poetry had in the culture of that time. (The play takes place from 1816 to 1822.) "The medium has changed," he said, before proving his point by citing a more contemporary "lyric that would ring in my ears, from Nirvana, that described how I felt early in the process." He then quoted "In Bloom." Crane then doubled down on the analogy and mentioned David Bowie and Bruce Springsteen as other examples of current popular musicians who, through their lyrics, and like Shelley, are "begging each other to live life free of the bullshit that is pulling us down."
We were joined in our conversation by the two other male actors in the play, Ian Armstrong (who plays Byron) and James Flanagan (who plays Byron's traveling companion and biographer, John William Polidori). Flanagan echoed the themes Crane had identified by describing Byron's "Childe Harold's Pilgrimage" and the fact that it is about "a soldier talking to his daughter and saying he has nothing to give her but hope of a better time." Armstrong concurred and said that "both of these men want to build a better world for their children through poetry."
We spoke just after I had seen a performance of the show and I mentioned one of Shelley's lines that had struck me, when he talked about the irony of being a poet in a world in which most people are unable to read. Armstrong noted that the play, written in 1986, is prescient: "No one reads anymore."
The story of the lives of these poets, as well as their poetry, written 200 years ago, is, Crane said, "incredibly moving. It's a very emotional role. I have to work to keep myself together, to compose myself. The weight [of the events Shelley lives through] does want to drag you down to the depths of despair. And yet he's an optimist. He is hopeful he can bring up others around him."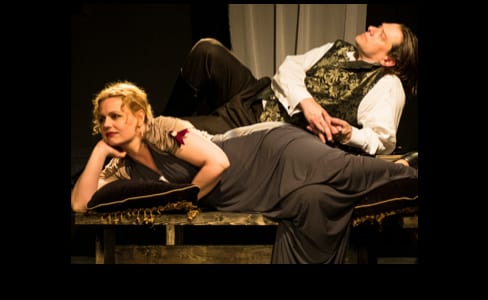 "Early on," Armstrong told me, "I spent most of my time finding out what he would sound like. I wanted it to sound right, and I realized that [Byron] would be speaking in a way that is a long way away from the modern British accent." After describing what he was aspiring to in locating Byron's accent as "Aberdeen mishmash," he mentioned some pop cultural touchstones he consulted. Henry Fielding's eponymous hero Tom Jones, he figured, would be "half a generation away from the way people would have sounded" in Byron's time, and he concluded that Byron might have sounded like Jones if Jones were to be "playing a country squire. Albert Finney [who played Jones in the 1963 Oscar-winning film version] in Tom Jones fit the words Brenton was writing."
Another film has a more direct connection to the play. The Bride of Frankenstein (James Whale's sequel to his immensely popular and iconic film starring Boris Karloff) begins with Frankenstein author Mary Shelley (played by Elsa Lanchester, who then doubled as the titular bride) talking with Shelley and Byron about her fictional creation, the genesis of which occurred over the summer the five characters spent together which makes up the first act of Bloody Poetry. At one point, during an electrical storm, they spend an evening making up horror stories.
As it turned out, Mary Shelley's creation, somewhat ironically, is better remembered in the cultural zeitgeist than anything her male cohorts wrote. (Although Crane pointed out that the Shelley sonnet "Ozymandias" had a prominent place in the wind-up of Breaking Bad.) Anyway, Armstrong watched the Bride of Frankenstein scene as well, and we grasped for the name of the actor who played Byron in it, but could only remember that his initials were "GG." (An IMDB search revealed the name to be Gavin Gordon.)
Armstrong also called upon "some of the more anachronistic aspects of my training." He had worked with Michael Finlayson, who was a protege of Emlyn Williams, the great Welsh actor and playwright, probably best remembered for his autobiographical The Corn Is Green and for his thriller Night Must Fall, recently revived on Broadway with Matthew Broderick and also at Olney Theatre Center a few seasons ago, and filmed twice, first with Robert Montgomery and later in a brilliantly atmospheric version by Karel Reisz starring Albert Finney. (Funny he came up twice in one article!) Toward the end of his life, Williams toured the world, doing solo shows. I saw him twice at Arena Stage, once as Dylan Thomas and once as Charles Dickens.
"Everything I do in classical work comes from him," Armstrong said of Finlayson, who he described as "old school" and who taught him "diaphragm control, the importance of going to the end of the line on one breath."
Finlayson took Armstrong, he remembered, to Williams' solo show about George Bernard Shaw while the two were rehearsing Jean Anouilh's Ring Round the Moon. The key roles in that play are a pair of identical twins who are played by the same actor. The two went backstage after the performance to meet the great man and mentor, and Finlayson told him what he was directing. Williams asked, "Who's the twins?" Armstrong recalled, and "he presented me. And I got a hug from Emlyn Williams. He was lovely. He passed along to me many words of wisdom that I don't remember."
Polidori, the biographer, is the odd man out in the play, although he also had literary ambitions and participated in the horror writing. His contribution was a short story called "The Vampyre." So in addition to having his name immortalized by Mary Shelley as a character in Frankenstein, he also played an influential role in Vampire literature. Flanagan read the diaries Polidori kept during his travels with Byron and proclaimed them "as insufferable as you'd imagine. What is interesting is that the detail gets progressively less, as if his will to write fades as he is writing. He begins with flowery descriptions and ends becoming very abbreviated about everything."
The performance I saw was like a second opening night for the cast. The original Claire (Tonya Beckman) had to leave the production, and that role is now being played by Amanda Forstrom, who, until that night, had been playing the play's sixth character, Shelley's first wife Harriet. The role of Harriet is now played by Teresa Spencer. Although nothing about the cast switch was apparent to me, the actors described themselves as "a bit like wild animals. We were very live in each other's eyes." In the end, Armstrong concluded, it was only "more subtle moments that really changed."
Highly Recommended
BLOODY POETRY
Closes May 31, 2014
Capitol Hill Arts Workshop
545 7th Street, SE
Washington, DC
2 hours, 15 minutes with 1 intermission
Tickets: $15
Details and Tickets
It was the play's director, Lise Brunaeu, who brought the script to the company. She had played Harriet before. "Harriet is a small part but I do not stop thinking about her. I sit backstage and listen to her monologue," Crane said. Armstrong remarked about how crucial the women are to the heart of the play ("It's their blood, our guts") and Crane added that the men in it are "ridiculously egocentric and misogynistic."
Crane then said, "Thank God that a woman directed." The others concurred, for other reasons: "On a practical level, she's an actor. A lot of the problem solving was very actor friendly," Armstrong said. "It's nice to be working with a director and to speak the same language," Flanagan concurred.
By the way, these actors are not just doing this one play. There's another play (Charm by Kathleen Cahill) in rep with it. That show is like a U.S. fun-house mirror version of Bloody Poetry, focusing on 19th Century literary giants this side of the pond. In that production (also running till May 31st), Armstrong plays Ralph Waldo Emerson, Crane plays Nathaniel Hawthorne, and Flanagan plays Henry David Thoreau, while their Bloody Poetry director Bruneau is Margaret Fuller. "The two shows fit so perfectly together."
Literate. Visceral. Intimate. Expansive. Affordable. Taffety Punk's got it for you, till Saturday.
————————————–
(In full disclosure, I have known and worked with Ian Armstrong for many years, most recently when I played Cardinal Pandulph opposite his King John at WSC Avant Bard. Also, when WSC did Bloody Poetry in 1991, I played Polidori. Also, my favorite bar was the now-closed Childe Harold in Dupont Circle.)