By the window, Swedian Lie folds paper cranes. Facing him, Raymond Wellacher shuffles a deck of cards. There are three chalk outlines on the floor and Meredith Bove is walking them, slowly, deliberately. It looks like she is having difficulty maintaining her balance but don't let her fool you: she is a dancer and a choreographer. She never falls.
Then we begin.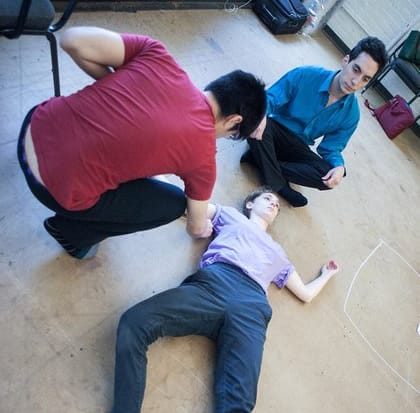 The performers wash the chalk outlines off the floor and then draw outlines of boxes on opposite sides of the theaters. Wellacher sits in one and Bove sits in the other. They begin to build houses of cards. Lie takes a microphone, suspended pendulum-style, and swings it over a live speaker so that it makes a persistent, recurrent, annoying sound. When it stops swinging, Lie goes over to Wellacher's box, mimes knocking, and pulls him to the middle of the theater, where Wellacher lies down. Lie, with Bove watching, makes a chalk outline around Wellacher's body. Then Wellacher gets up and assumes the microphone, while Lie and Bove go to the boxes and create houses of cards.
And so on.
_________________
Not Recommended
COUNTDOWN
Source Festival at
Source
1835 14th St NW
Washington, DC 20001
Running time: 20 minutes
Details and Tickets
_________________
It was the mission of this artistic blind date to sound the theme of 'Revenge', in the same way that Steve Yockey explores it in the evening's full-length play, The Thrush and the Woodpecker. But I didn't see any revengin' take place on the night I was there. Instead, the actions seemed almost random. Even the decision of who gets to be a chalk outlined seemed based principally on who lost the game of house of cards.
As I am sure you know from personal experience, not every blind date works out. The overwhelming impression I got from Countdown is that the three artists couldn't decide what to do, and so ended up doing nothing in particular.
Countdown, An Artistic Blind Date . Created by Swedian Lie, Raymond Wellacher and Meredith Bove . Produced by the Source Festival/Cultural DC . Reviewed by Tim Treanor.