Before we begin, let's establish a few things. First, you and I are very dignified people. We are teachers or physicians or actors or  homemakers or practitioners of some other honorable profession (or we aspire to be one), and we enjoy going to theater. Plus, playwright Steve Yockey is a dignified person. His work is produced all over the world (including recently here at Forum); he has won the 2013 LA Weekly Playwriting Award; and he holds an MFA in Dramatic Writing from the Tisch School.
So we have all earned the right to enjoy a good, old-fashioned, melodramatic potboiler with a touch of the supernatural, which is what The Thrush and the Woodpecker is. At its deeply satisfying heart, it is the kind of story Stephen King might have told in his youth – an exquisite vengeance for an astonishing crime. Regrettably, I cannot tell you what either is, for fear of spoiling the effect. All I can tell you is that they're good ones, and if you go – which I recommend you do – you will enjoy them.
I can also tell you the setup, which is a little tedious. Noah (Alex Alferov), an aspiring astronomer, has gotten himself kicked out of school for vandalism. Specifically, he destroyed the school's lights – its streetlamps, its signage lights, all the lights that keep the campus safe at night – as part of his war against light pollution. He's at home as the play opens, defending his actions to his skeptical mother (Alison Bauer).  Mom is a bit of a wise-acre, and the two have a mildly amusing exchange. We learn that Noah's dad isn't in the picture, that mom is married to a fella currently in Anchorage, Alaska, and that things are not well between them; and that they have rented out part of the farm they live on to an energy company, which has installed wind turbines.
Eventually, mom has to go to town; after she leaves, a mysterious stranger (Robin Covington) shows up.  She sips tea and talks philosophy with Noah. At this point you, notwithstanding your great dignity, might be experiencing ennui. The performances are competent (although Alferov and Bauer seemed to be having line problems in the production I saw) and the dialogue is cogent. There's just no there there. We are listening to a conversation between two people who barely know each other and who continue talking, it seems, only because there's no where else to go.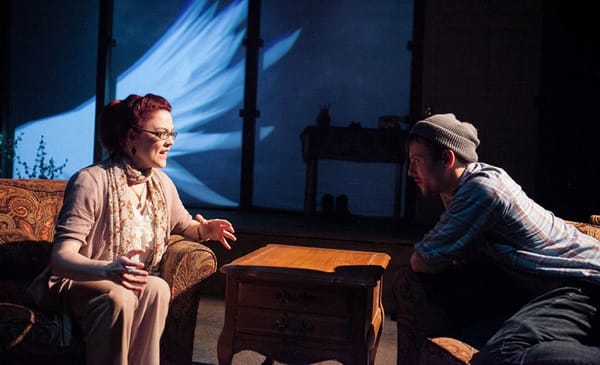 _________________
Recommended
THE THRUSH AND THE WOODPECKER
Source Festival at
Source
1835 14th St NW
Washington, DC 20001
Running time: 1 hour, 30 minutes minutes
, no intermission
Details and Tickets
_________________
Ah, but things get cracking once mom gets back home! And here I must draw a veil over the narrative, lest your fun be spoiled. But take it from me, the final fifty minutes redeems the first forty.  Um – what more can I say? Casey Kaleba's fight choreography is superb, especially given the intimate spaces of the Source; Veronica Lancaster's sound design is chillingly effective.
The Thrush and the Woodpecker is not high art. So what? It's a fifty-minute play which takes ninety minutes to perform. Well, there are worse things. Is there a moral to the story? I hope not. Some things – Hamlet, the Eroica symphony, Einstein's theory of general relativity – enlighten us, transform us, and make us think. Other things – Carrie, deep-fried Twinkies, The Thrush and the Woodpecker – just tickle our fancy. Dig in.
—————–
The Thrush and the Woodpecker by Steve Yockey . Directed by Cara Gabriel, assisted by Chelsea Thaler . Featuring Alex Alferov, Alison Bauer and Robin Covington . Set design by Deb Sivigny . Lighting design by John Alexander . Sound design by Veronica J. Lancaster . Costume design by Lauren Cucarola .  Prop design by Britney Mongold . Fight choreography by Casey Kaleba . Patrick Magill was the stage manager (Laura Wood the rehearsal stage manager) and Jon Hardy was the technical director. Produced by Source Festival/CulturalDC . Reviewed by Tim Treanor.