The Capital Fringe Festival has been a welcome sign of summer for DC's theater community, as for three weeks each July, it connects exploratory artists with adventurous audiences with a multitude of creative, cutting-edge, and contemporary performances.
When it was announced that the space for Fort Fringe at 607 New York Avenue NW would be redeveloped, Capital Fringe embarked on an exhaustive search to find a new home, and happily, the group has agreed to purchase 1358 and 1360 Florida Avenue, N.E., currently home to the Connersmith Art Gallery and the (e)merge art fair.
"Over the past three years, it has been challenging to find space that fully encapsulates Capital Fringe's vision," Julianne Brienza, Capital Fringe's CEO, said in a press release. "I have always wanted to create a multi-purpose arts facility to fill the needs of our artists and audiences. This is a dream."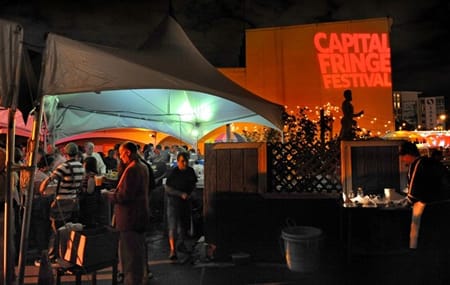 Capital Fringe's new home was once an auto body shop in the heart of Ward 5, and provides plenty of space, is structurally sound and met all the requirements the organization hoped to find.
The space will be retrofitted to feature three black box theaters, a scene shop, art gallery/event space and a beer garden as it becomes a year-round operation to further incubate early stage artists and to allow for creative endeavors to germinate and grow within the District.
"I love creating experiences that impact people, and more largely speaking the community in an extremely positive way," said Peter Korbel, COO of Capital Fringe. "We still have quite a bit of fundraising ahead of us, but we are enthusiastic at the potential of what this space will become and the cultural influence it will have on the city." Sam Sweet, who recently stepped down from a similar position at Atlas Performing Arts Center, will be heading up the fundraising for Capital Fringe.
According to the Washington Post, Capital Fringe expects to pay a total of $9.2 million, including some reserve, for its new home, which is almost double what was originally expected.
"With the initial acquisition of 1358 and 1360 Florida Ave NE under our belt, we have solid direction to move towards our goals and create a permanent home for years to come," Brienza said.
The permanent home will enable Fringe to continue to add to DC's cultural landscape by providing artists looking to push the boundaries of expression with the opportunity to find an audience.
Capital Fringe continues at its present location, 607 New York Ave. NW, for this summer's Capital Fringe Festival,
taking place July 10 – 27.
Details and tickets
Check the DCTS Guide to the Fringe, for the latest previews and reviews as they happen.