After 2,445 years of hearing every other side of her story, it's finally time for Medea to speak her mind. Yeah, she may have flown off in a golden chariot pulled by a dragon, leaving her hubby Jason alone to mourn over the bodies of their two murdered children. And she also may have given a gift of poisoned clothes to Creon's daughter, Glauce, which subsequently killed both the king and his daughter.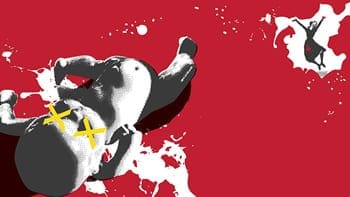 Those details, told over and over again, do matter here, but what is so impressive about Medea's Got Some Issues is that this isn't an adaptation or spin on the Euripides' revenge story. This is Medea's story: her life and her words, told brilliantly and with searing humor in this one-woman production by No Rules Theatre Company.
Much of this production's force stems from playwright Emilio Williams' script. Intelligently crafted and with a natural ear for comedy, the plays moves along at a taut pace in 75 minutes, but in its brevity it never feels rushed or reckless. In addition to Medea, Williams thoughtfully builds in three other female characters, all academic types speaking at a present-day conference, who give voice to various feminist and psychological perspectives on the Medea myth.
If this sounds too sophisticated for you, Williams does balance out this high-mindedness with plenty of earthy humor and profanity to keep you laughing throughout the performance.
Those laughs, of course, owe a major nod to Lisa Hodsoll as the main lady herself and all the other characters she takes on over the course of the performance. No Rules wasn't lying in their press materials that this is a tour-de-force performance by Hodsoll; I'd say it was an understatement. From her first entrance to her final bow, every moment is finely calculated and seamless, which is no small task in a solo show. She portrays Medea as a wry soul in her funnier moments, moving about the stage with the charisma and swagger of a wrestling champion. Her more introspective moments reveal a depth of emotion, about her life and her struggles to live as an outsider in a foreign land, that is tender and heartrending.
Medea's Got Some Issues
by Emilio Williams
75 minutes
at Warehouse
645 New York Ave NW
Washington, DC 20001
Details and tickets
There's a lot of fun to be had here though, and all this action is directed with a knowing vision and a strong sense of visceral and physical comedy by Joshua Morgan, the Artistic Director of No Rules. Any kind of one-person show is a hard challenge to bring to such fervent life on the stage, but Morgan does so with an eye for detail and an economy of movement for actress Hodsoll. Very little energy is misspent in this performance, all thoughtfully directed to Medea's story and her own perspective ringing true amongst all the chatter that surrounds her.
A fun and economical set designed by Cory Ryan Frank (also serving as lighting designer and production manager)is Medea's playground: Corinthian columns that take their phallic symbolism quite literally, and a small velvet curtain that allows for less-than-graceful entrances due to it being built on a rolling clothing rack. Costume designer Chelsey Schuller drapes Medea in the finest midnight blue flowing Greek gown and, pulling double duty as props designer, provides quite a number of fun items for Medea to play with (wait till she gets to the part where she murders her children again. She calls it catharsis—members of the audience were crying with laugher at its conclusion).
Hodsoll, Morgan, and the folks of No Rules have a fantastic show on their hands with Medea's Got Some Issues, and through their collaboration with SPAIN arts & culture, have brought a talented new voice to the DC theater community with Emilio Williams.
Take me to the DCTS 2014 Capital Fringe Guide