"At the core, this is about not just entering into someone else's life, but entering into someone else's fun."
So says fight choreographer Casey Kaleba, who, along with director Randy Baker and the whole Rorschach Theatre team producing She Kills Monsters, have certainly been entering into the fun together. This play is the second the company has produced written by Qui Nguyen of the stage combat-focused Vampire Cowboys Theatre Company (after Living Dead in Denmark in 2009), as well as the next one in a line of fantasy genre-inflected productions including last year's Neverwhere, the myth-based The Minotaur and even Baker's own Dream Sailors back in 2008.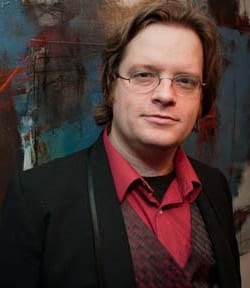 "We've been doing a lot of plays about monsters," says Baker.
Asked if the prevalence of fantastic stories in Rorschach's recent seasons has been an intentional shift, Kaleba responds, "I think Rorschach has turned itself to something that focuses on the immediacy in the actual performance. And there's something in those fantasy stories that work with that kind of experience… What does it mean to confront a minotaur, and what does that mean for the audience? What does it mean to build a dragon?"
She Kills Monsters concerns Agnes, a 25-year old teacher who discovers the role-playing module of her sister who died; in order to find out more about her dearly departed sibling, she journeys into the game system to face the adventure she had created.
"She never really paid much attention to her sister in life… so this game becomes her way of getting to know her sister again, and ultimately moving on with her life," says Baker, who then thinks about it and adds, "That doesn't even make it sound funny at all! It is a comedy and it is a heck of a lot of fun, but the actual framework of it is not a comedy. Yes, it's about Dungeons and Dragons, but it's also about being a kid and not fitting in, and it's also about loss, and how we overcome loss."
"It's one thing to learn that someone had this whole other life, but it's another to pinpoint 'this is something that was really enjoyable to you,' and to discover someone else through their fun," says Kaleba. "And I think that's a really unique narrative. To crawl inside someone else's head for a while and find out what makes them smile. And that's what this play is about, to find out what makes your sister smile."
The story clearly has some personal attraction for Kaleba and Baker, who were both players of role-playing games in their teenage years.
"I still have t-shirts from Gen Con in 1991," says Kaleba.
"This play takes place in 1995," Baker says, "so there is a sense of nostalgia for" that time before so-called 'geek culture,' including interests like D&D, became part of popular culture.
"I think the rise of geek culture is the rise of people being honest about things that matter to them," says Kaleba. "And sometimes they're simple… games, comic book characters. I think this play is tapping into something that is deceptively simple, that turns out to be the most important thing to someone."
"It's no accident," says Baker, "that this play takes place before the Internet. Because [while] none of us really want to go back to that era, there is a loss."
All that said, Baker and Kaleba are quick to note that the play requires no special knowledge to understand.
"The audience doesn't need to know the difference between an orc and a kobold," says Kaleba. "The core of the story is something that's very relatable and very understandable. It just happens to exist in a world of dragons. But you don't need to know the rules coming in."
In fact, since most of the characters are high school students in Agnes' classroom, the actors are themselves fairly young – mostly too young to remember much of the era the show is set in. Many of them did not understand a lot about role-playing games prior to rehearsal starting. This has been interesting for Baker and Kaleba to watch.
"For me, one of the things about working with this show with a comparatively younger cast," says Kaleba, "for Randy and I – we remember this, we lived through this time. For me it's interesting watching them react to some of the musical choices that we made, some of the 90s references."
"We had our role-playing game night," says Baker.
"Well every night is role-playing night," says Kaleba.
"It is pretty hilarious. I had never considered how much fun it would be to play a role-playing game with actors who had no idea how to play the game but were so into the role-playing" that it was hard to continue with the game itself, says Baker. Many of the younger cast originally thought of role-playing games as being like LARPing (live-action role-playing) and had to learn that it largely takes place around a table with dice and paper.
"What is different is that role-playing isn't about dressing up, although lots of people do dress up," says Baker, "but it's about sitting at a table and imagining it, and the engagement that requires of the players… There are people in the cast who when they started this play who didn't realize that role-playing was that intimate."
"It's that momentarily created and shared community," Kaleba adds.
"And you're building something together, just like you do in theatre."
"One of the things that's really interesting about a play about role-playing games is it starts to become a weird hall of mirrors. It's all about creating a character who is you but not really you, in a room full of people who are doing exactly the same thing. And doing a play like that is really interesting."
"That's something that theatre and role-playing games do very well," Kaleba continues, "letting us inhabit someone who is not us for a while, and people take that at face value. So, yes, 'I am a ten-foot minotaur,' and you are going to interact with me like I am that, for the next two hours."
Along those lines of characterization and identity, the play presented Kaleba and his eager cast with some unique challenges when it came to arranging the stage combat. They had more to deal with than simple fistfights and crossed swords.
__________________
SHE KILLS MONSTERS
Closes Sept 14, 2014
Rorschach Theatre at
Atlas Performing Arts Center
1333 H Street NE
Washington, DC
Tickets: $30
Thursdays thru Sundays
Details
Tickets
__________________
"One of the both challenges and opportunities of staging the fights for this is it lives in a fantastic world, so on the one hand there's no rules, but on the other hand there has to be a difference between an Umber Hulk and an Orc and a Kobold and a Dragon," says Kaleba. "We have Dark Elves and Paladins, so you sort of have to create a vocabulary for all of them… We have a break-dancing fairy, sort of… This is a game of dice and paper, and we've tried to live in that world."
"These are problems that the games had to solve first," Kaleba continues. "What is the difference, when you're creating a character sheet, between a thief and a cleric? What actually is the difference? So one of the things I tried to do is go in and create limitations and opportunities for each of the performers and each of the characters. So every member of the party is carrying a different weapon, and that meant that they each had to move differently."
The fights are complicated, and given even further variety, by Ethan Sinnott's multi-layered set. The floor is covered with hexagonal platforms of different heights, each with a 'hex' of fantasy map painted on them – one with forest, one with a river, one with a castle. Interspersed among these representations of the visual system used by many role-playing games (which Baker says will be instantly familiar to players when they walk in the Springer Theater at Atlas Performing Arts Center) are tables, doors, a bed and the like.
As Baker notes, this evocative set is challenging to move on without "looking like the Ministry of Silly Walks."
"There's things we staged in two dimensions that are going to be performed in three dimensions, and that translation is really interesting," adds Kaleba. "Ethan has sort of taken away the obvious center of the stage. There's no 'power spot' on the stage, there's actually half a dozen of them."
This intersection of the set design, the story mechanics and the stage combat highlight what Baker and Kaleba consider one of the hallmarks of Rorschach's preferred approach to theatremaking.
"I think one of the hallmarks of Qui's scripts, and it's one of the hallmarks of most of the scripts that Rorschach has chosen, is that most of the team wants to jump into this world," Kaleba says. "Set designers want to design these plays, costume designers want to design a show like this, as a fight choreographer I want to work on a show like this, actors want to play in this… Rorschach creates shows where everyone is pushed to create at a high level, while having fun."
"And that's sort of what a role-playing game is, creating a world that you can enjoy for yourself," Kaleba continues. "What I remember of the experience of role-playing was getting a bunch of my friends together, and some nights we fought elder gods and some nights we fought dragons, but it's the group of people who are unified, and I think Rorschach is close to that. We have a core of artists who are interested in tackling adventures together. The unifying element is the company."
Baker, thinking about whether the experience of putting on She Kills Monsters has made him want to go back and pull out a GURPS module and play again, says "On the one hand I think yes, I think that I do wanna go play games again, especially just for the camaraderie of getting together with lots of people and going on an adventure together. But in other ways I kind of feel like what we do now is role-playing, and not just in the sense that there are actors playing roles, but in the way that we are building things together. And people who make things together… The sense of a shared goal, a shared experience, a shared adventure, is actually what I think makes the game so rewarding, but also makes the theatre so rewarding as well."
"I think if my 13 year old self could see me now," says Kaleba, "that what I get to do for a living is kill monsters, I think that would blow my little 13-year old mind. We all sort of stuck with it in a way. This is just how we do it now."