Theater J's Yentl has quite a bit to compare to, given the expectations set by the immensely popular movie starring (and written and directed and produced by) Barbra Streisand and the long-running Broadway play by Leah Napolin based on the Isaac Bashevis Singer short story. This Yentl has elements of both of these originals, taking Napolin's text and adding new music by Jill Sobule. This new music, as well as smartly-visioned staging by Shirley Serotsky, takes the themes of the original and develops them for the 21st century, making Theater J's Yentl an intelligent and important new work, rather than an easy repeat of previous work.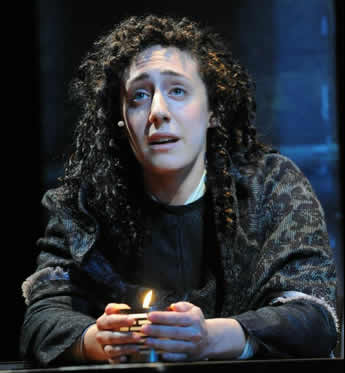 Yentl's story is layered and complex, but her journey can be easily summarized in a sentence: a woman who wants to study Jewish law (but is forbidden) runs from her home to join a Yeshiva (place for rabbinical learning) as a man. Isaac Bashevis Singer's short story and Napolin's play follows her for her misfit status, envisioning the consequences of strict Jewish law and those under it who yet question it. Streisand's film developed this story by equating Yentl's story with women's liberation, showing Yentl not as a misfit, but as a hard-fighting feminist who will stop at nothing (including changing the plot of the original story) to accomplish her goal of studying Jewish law.
But Theater J's Yentl is a somewhat different character. Yes, she's a misfit. Yes, she's a feminist. But this Yentl is also bisexual, potentially polyamorous, and trans*. While early versions of Yentl hint at these elements, Shirley Serotsky and Theater J are unabashed in their presentation of them. The immediate importance of this production lies in this embracement of trans* and bisexual people and the reaction of the audience to those people.
In the LGBT community, the B's and the T's are often left behind in wake of present activism, and, when Ari Roth mentioned the "gender fluid" in his preshow speech, the uncomfortable laughter of the audience said everything about the distance that our society needs to come.
Discomfort at the gender fluid notwithstanding, Yentl is a play full of genuine laughs. There is a strong current of humor founded in the love triangle of the main characters: Yentl (the rangy and charming Shayna Blass in the guise of Anshel the male Yeshiva student), Avigdor, (Yentl's attractive studymate played both amusingly and subtly by Michael Kevin Darnall), and Hadass (a village girl once betrothed to Avigdor and later married to Yentl cum Anshel).
Sara Dabney Tisdale's Hadass is an interesting character not only because she has to play innocent and earnest (which is hard as hell) but also she has the least opportunity to participate in the humor of the play. Tisdale is more than up for the challenge, and Hadass elicits as much empathy as Yentl for being stuck in this system of law that she only wants to follow. The strain on their polyamorous relationship with Avigdor forms both the dramatic tension and the humor of much of the play.
But that's not the only humor in the play. There's the grousing humor of the late 19th century shtetl that grows out of the strong chorus work from the 10 actors who play 30 ancillary characters surrounding the 3 principles. Familiar to anyone who knows the musical classic Fiddler on the Roof, there is a certain appeal to watching men and women in traditional Jewish garb prance and sing, but in this stage version there are times when the chorus' humor stomps on more serious moments happening on the stage. Hopefully, the timing of those moments will develop over the course of the run to create more separation.
The chorus makes another huge contribution to the play via music. Not only are the chorus the principal singers in the production, but they are the principal musicians as well. They do a fantastic job executing Jill Sobule's soundtrack, which is billed as klezmer/pop/rock, probably because it contains a mix of guitar, stand-up bass, percussion, clarinet and accordion. That billing doesn't really describe the music that well since the tone and style of the music shifts dramatically over the production.
The opening numbers are toe-tappers, typical musical theater fare that show off the pipes in the chorus (especially of DC's amazing Amy McWilliams), seeming to reflect the brash nature of Yentl as a woman. But as the show progresses and Yentl becomes Anshel, and becomes more reserved, more hesitant, and more risk-embroiled, the music changes, reflected by Palmer Hefferan's delicate adjustments on Sound design. The music shifts into a more mawkish hipster-twee folk music, which is appropriate to the conflict and trapped feelings within Anshel/Yentl, but oozes sap.
__________________
Recommended
YENTL
Closes October 5
Theater J
1529 Sixteenth Street, NW
Washington, DC
2 hours, 5 minutes with 1 intermission
Tickets: $45 – $60
Wednesdays thru Sundays
Details
Tickets
__________________
Sappiness and the occasional incongruous mix of earnestness with irony are the main problems with the play. Much of the choreography is suffused with emotive interpretive dance moments in this vein. Those moments not only feel like they don't belong in the play and are there to fill space in transitions, but they lessen the impact of more powerful moments going on in the text. While Robbie Hayes' set design artfully reflects Yentl's state of being trapped in her books, Kendra Rai's costumes contain subtle yet powerful tweaks on traditional Jewish garb, and Andrew Cissna's lighting could be a masterclass on engendering moods and setting, the movement design could have been curated more carefully, especially toward the end of the show's two hour stretch.
But these don't make the show unwatchable or leave it without recommendation. In fact, it is only because of the fine quality of so many aspects of the production that some of the negatives stand out. Theater J has produced a wonderful story that is both essentially Jewish and essentially universal, speaking to the needs of acceptance, drive, and even sometimes resignation in our present culture. Yentl/Anshel's journey is simultaneously joyous and heartbreaking and that message has been clearly conveyed. See this show to experience that journey, to see a twist on a classic, or to gain a deeper understanding of what it means to be Jewish and to deal with issues of sexuality and gender.
—————–
Yentl by Leah Napolin and Isaac Bashevis Singer . Based on Yentl the Yeshiva Boy by Isaac Bashevis Singer . Music and lyrics: Jill Sobule . Directed by Shirley Serotsky . Featuring Shayna Blass, Aaron Bliden, Joe Brack, Michael Kevin Darnall, Judith Ingber, Brandon McCoy, Amy McWilliams, Sasha Olinick, Shane O'Loughlin, Shanta Parasuraman, Jesse Terrill, Sara Dabney Tisdale and Lindsay Elizabeth Williams . Music director: Jonathan Tuzman . Choreography: Laura Schandelmeier . Set design: Robbie Hayes . Lighting design: Andrew Cissna . Costume design: Kendra Rai . Sound design: Palmer Hefferan . Props design: Sarah Conte . Production Stage Manager: Karen Currie, assisted by Julianne Menassian . Produced by Theater J . Reviewed by Alan Katz.
MORE?
DCTS interviews director Shirley Serotsky

More reviews:
Doug Rule . MetroWeekly    The show needs punchy music to match the punch of the story…
Tanya Pai . Washingtonian    two parts Twelfth Night plus one part Boys Don't Cry, with a generous pinch of Fiddler on the Roof.
Jeffrey Walker . BroadwayWorld    the gender-bending central role is not just a plot device. Singer's Yentl has no other choice but to live her life as a man, in the time and place in which the story unfolds.
Amanda Gunther . TheatreBloom    an invigorating and refreshing new production
Peter Marks . Washington Post    …overlong, awkwardly encumbered "Yentl" — comes across more like a body with two brains: a play and a musical of clashing styles forced to inhabit the same space.
John Stoltenberg . DCMetroTheaterArts    … such profound new life has been breathed into Isaac Bashevis Singer's beloved novella that at its heart this retelling is more transformative than any before.  [/ezcol_3quarter_end]