Between DuPont and Logan Circles lies a land fertile with fun and food. This small stretch of city block comprises a full helping of the D.C. good life, attracting everyone from the morning brunch crowd to evening revelers. Courtesy of two performing arts centers, the area stays culturally infused as well with the Jewish focused productions of Theater J and the neon shock of Studio Theater's facility and daring program.
Take a look at this sampling of area restaurants to help navigate your night at the theater.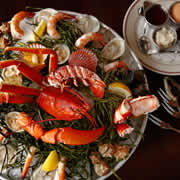 Le Diplomate
If you haven't heard of Le Diplomate then you are Le-living-under-a-rock. Styled in the tradition of a French café, Le Diplomate has held the brunch scene hostage with a waiting-list that could rival a city census. Not only a local favorite, the restaurant often hosts cast members of the popular Netflix series House of Cards. The menu features French classics like Escargot, Bouillabaisse and Entrecôte de Boeuf. Guests can enjoy their visit on the street-level patio observing the vibrant 14th street surroundings. Reservations strongly encouraged.
Open Monday-Tuesday 5 PM-10 PM; Wednesday-Thursday 5 PM- 11 PM;
Friday 5 PM- 12 AM; Saturday 9:30 AM-12 AM; Sunday 9:30 AM-10 PM
1601 14th St. NW
Washington, DC 20009
202-332-3333
Price $31 to $50
Website
Hank's Oyster Bar
You've got two tickets to the season's hottest show and a hot date too, all you need now is a shellfish aphrodisiac with some cool white wine. Hank's Oyster Bar and their wide selection of half-shell delights and vino will surely accommodate. Always a familiar face in the Rammy nominations, Hank's Oyster Bar has pried their way into the upper deck of D.C. oyster houses. They serve them raw, friend and on po' boy sandwiches, and flaky onion rings which will melt on impact make for the ideal side. Order a dozen briny and buttery ones while appreciating a nice breeze coming through the open-air lounge and bar area.
Open Monday-Tuesday 11:30 AM-3 PM, 5:30 PM-10 PM; Wednesday-Thursday 11:30 AM-3 PM, 5:30 PM-11 PM;
Friday 11:30 AM-3 PM, 5:30 PM-11 PM; Saturday 11 AM-3 PM, 5:30 PM-11 PM; Sunday 11 AM- 3 PM, 5:30 PM-10 PM
1624 Q Street NW
Washington DC 20009
202-462-4265
Price $25-$30
Website
Commissary
Commissary keeps things light and easy. With a cafe, lounge, liquor, beer and wine bar as well as a coffeehouse and smoothie bar, Commissary provides a utility that shapes itself to your meal mood. Their 3 PM-7PM happy hour offers a menu with all items priced $3-$7, and it's not just beer nuts. Truffle, okra and quinoa appear as ingredients with much more frequency than your average happy hour menu. The drinks get creative as well with a pitcher of citrus sangria (white wine, triple sec, vodka, grapefruit) going for $21 and a Natty Boh Combo (Natty Boh beer & whiskey shot) fetching an unpretentious $5.
Open Monday-Thursday 8 AM- 11PM; Friday 8 AM-12 AM; Saturday 9 AM-12 AM; Sunday 9 AM-11PM
1443 P St NW
Washington DC, 20005
202-299-0018
Price $15-$20
Website
Churchkey
Post-show, post up at ChurchKey for a ruminating refreshment. A continuous length of bar, ChurchKey maintains one of the most extensive draft lists in the D.C. area, keeping things fresh with seasonal rotations. Beer Director Greg Engert has been voted by Food & Wine as one of the country's top sommeliers, and the 555 beers that ChurchKey offers (5 cask ales + 50 drafts +500 bottles) stand as testament to his curating abilities.
Open Monday-Friday 4 PM-1 AM;
Saturday 12 PM- 2 AM; Sunday 11:30 AM-1 AM
1337 14th NW
Washington DC 20005
202-567-2576
Price $10-$20
Website
What are your favorite restaurants around Studio and Theater J?