DCTS has partnered with Angelika Mosaic Film Center in Fairfax, Virginia to offer you free tickets to the latest screenings of opera, ballet and theatre from around the world.
We have 3 pairs of tickets to each screening of The Royal Shakespeare Company's production of The Two Gentlemen of Verona recorded live on September 3, 2014.
Valentine and Proteus are best friends until they fall in love with the same girl.
Having traveled to Milan in search of adventure, they both fall for the Duke's daughter Silvia. But Proteus is already sworn to his sweetheart Julia at home in Verona, and the Duke thinks Valentine is not good enough for his Silvia.
With friendship forgotten, the rivals' affections quickly get out of hand as the four young lovers find themselves on a wild chase through the woods, confused by mistaken identity and threatened by fierce outlaws before they find a path to reconciliation.
Simon Godwin makes his RSC debut to direct Shakespeare's exuberant romantic comedy.  This is the first time in 45 years that The Two Gentlemen of Verona has been performed in full production on the Royal Shakespeare Theatre stage.
(Running time: approximately 2 hours, 25 minutes with 1 intermission)
2 Screenings

SUNDAY, September 21
12:00 pm (noon)
TUESDAY, September 23
7:00 pm
Tickets are $20. Buy online or call 571 542-3308.
TICKETS ARE GONE
Look for another offer soon.

Tickets will be awarded to those first responding.
Winners will be contacted immediately.
Email: [email protected]
Be sure to include a) the day and time you prefer
and b) your name and best phone number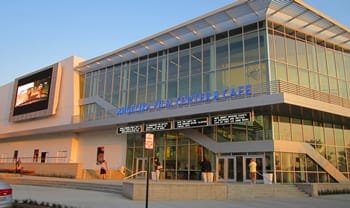 Angelika Mosaic
2911 District Ave (at Lee Hwy & Gallows Rd). Fairfax , VA 22031
Check out what else is playing at the Angelika Mosaic Film Center

Trailer for RSC's The Two Gentlemen of Verona