Not to eat flesh. Not to chase other men. Not to claw the barks of trees. That is the law.

The dictums that guide Dr. Moreau's island will stay in your head long after you see Synetic's production: haunting reminders of how lines between the natural and unnatural can easily blur, how power and curiosity can be taken to extremes.
Even those familiar with the original H.G. Wells tale will find this tribal chant chilling.
Synetic Theater's The Island of Dr. Moreau is steeped in the macabre. Like theatre for the haunted house set—with heightened plot, characterization, and production values one would expect—it opens with the doctor performing some procedure in a bloodied apron, his victim tethered to a steampunk gurney and crying out in pain.
The madman in the apron is Moreau. Played by Synetic artistic director Paata Tsikurishvili, the sinister scientist has been cast from society for experiments that make man from beast. And here, outside of the society that discarded him, he has continued his work.
Alongside him in the lab is his lackey Montgomery (Dallas Tolentino), a would-be scientist who's been drinking away ten years of assisting Moreau on the island and fending off feral attackers, when not helping the doctor with his projects. It is Montgomery who discovers the play's only other human, a butterfly researcher named Parker (Alex Mills) who surfaces on the coast after a shipwreck.
These three performers anchor the show, deftly balancing the physical demands of their characters with the depth and dialogue of each scene. As Moreau, Tsikurishvili understands the doctor cannot be pure evil—he has merely twisted toward darkness in pursuit of what he believes is progress, perfection. As the naïve and aghast newcomer—and indeed, the voice of the audience—Mills has the hard task of responding to these dark and unnerving elements, and he does so with subtlety and conviction. And as the sidekick who knows better but has numbed himself of all conscience, Tolentino moves between the jaded and the heartwrenching, in a way that makes us hope that, someday, outside of the Doctor's control, he can redeem himself and what he has done.
Because what they have done is impose order on living things, using them as building blocks to some higher level of evolution.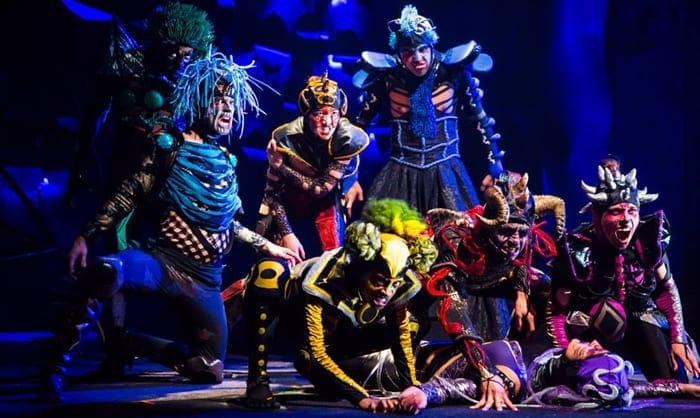 Here, indeed, living things are raw material and little else. They are bundles of nerves and impulses that can be electronically or magnetically guided, convulsing or falling limp at the touch of a button. Their responses have been programed, their civility externally imposed. And when they have developed enough of a consciousness to understand what's been done to them, their evolved minds and bodies thirst for revenge.
Which, in this production, makes for some truly haunting moments of tribal barbarism and some impressively acrobatic fight sequences. The team of Irina Tsikurishvili (choreography) and Ben Cunis (fight choreography) has developed a physical lexicon for the creatures which renders them believably part man, part beast—to breathtaking and unsettling effect.
It is not always easy to watch, especially when the creatures are writing and twitching in pain—and that seems to be the point. Does it matter if these beings are human or animal, if they can experience pain? Curiosity's dead cats do not care whether they died en route to some great discovery; the fact remains, they're still dead. Victims of science and circumstance and the whims of the entitled.
__________________
Recommended
THE ISLAND OF DR. MOREAU
Closes November 2, 2014
Synetic Theater
1800 S. Bell Street
Arlington, VA
1 hour, 38 minutes, no intermission
Tickets: $35-$60
Wednesdays thru Sundays
Details
Tickets
__________________
While the movements fuse the robotic and the animalic, Moreau's creatures decidedly veer away from literal animal imagery. We do not see the leopard-man, the fox-bear witch, the sloth creature featured in Wells's literary tribe of Beast Folk. The traces of their primitive former selves are instead depicted through other elements from nature—moss, grass, pebbles—and, of course, through stylized movements and chanting, rhythmic speech. Kendra Rai's costumes draw inspiration from the literal matter of the story, and then go beyond—resulting in silver Medusa-like dreadlocks and shredded bodysuits for the creatures, and a gothic moto-jacket lab coat for the good doctor.
Phil Charlwood's set grounds the island in a spare environment: a platform, a laboratory snarl of wires and tech, and a large web of steel pipe. Like a spider web on steroids, this space grants the creatures an area in which to nest, stalk, or hover. The incredibly precise lighting design plays an equal role in setting the scene and mood, cutting cages, rooms, and forests from light and smoke, filling the entire venue with constellations of small green dots that might be stars or might be eyes.
Overall, Synetic's Moreau is an island of impeccably rendered terror, a hell house on the sea. Performances and production design work together flawlessly to create this creepy little delight. It's the perfect night of theatre for the Halloween season. But you may want to leave the children, and the nightmare-prone, behind for this one.
THE ISLAND OF DR. MOREAU
Closes Nov. 2
Website