Ralph Cosham, one of the busiest, best regarded, and best loved of local actors, died on September 30th. Anyone who frequents our stages will have seen him numerous times and will be a great admirer of his work. He was 78 years old and had battled heart problems for several years. John Dow, a close friend with whom Cosham shared a Helen Hayes award for Outstanding Ensemble (for the British play Heroes at MetroStage; Michael Tolaydo was the third member of the cast) had been posting up-dates on Facebook about his condition as he was in and out of the hospital over the last few weeks. All of the posts were optimistic that he would bounce back and return to the recording studio.
In addition to his stage work, Cosham was accomplished as a voice-over artist. Among the many audiobooks he recorded were a series of mysteries by Louise Perry, and he had become particularly associated with her lead character Chief Inspector Gamache. After the loss a few weeks earlier of the wonderful actress Tana Hicken (with whom Cosham frequently acted) and costume designer Reggie Ray earlier that week, the DC theatre community was reeling.
Cosham was an ex-pat Brit and a recovering journalist when he arrived on the DC scene as an actor. I first saw him in the mid/late 1970s at the Folger in Whose Life Is It, Anyway?, which I believe might have been his first show in town. It wasn't his last. He went on to act frequently at the biggest theaters in town (not only Folger, but Arena Stage — 11 seasons — and Shakespeare Theatre Company — 7 seasons) as well as at smaller companies, such as MetroStage and Catalyst Theatre Company, at which he memorably played the sinister adversary of Winston Smith in a stage version of George Orwell's 1984.
As chance would have it, I was in the audience during one of his perhaps most unheralded triumphs. It was at the Folger in the early 1980s. Their production of Macbeth had gotten wonderful reviews. (It was directed by Mikel Lambert.) I believe it was the final Saturday night performance, and the show was sold out — I had bought a standing-room ticket. Then came the announcement: the actor playing Mackers was suddenly indisposed and so — Ralph Cosham would be going on. Because the role is so huge, we were told, there would be someone sitting in the front row (it was Reese — a.k.a. Bob — Stevens, who was on the literary staff at Folger at the time) with a script in the event that a line would be needed.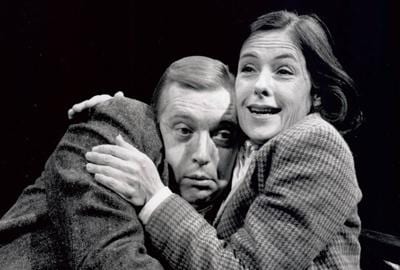 But it never was needed. He did the role flawlessly, as if he had been doing it from the first preview. I see him in my mind now, as he came out for the curtain call and the audience erupted in cheers for the special accomplishment not only of doing the role impressively, but also of doing it impressively under those daunting circumstances.
While at Arena Stage, Cosham played all kinds of roles, but it was in the plays of another Brit, Alan Ayckbourn, that he had some of his biggest and most memorable parts — in A Chorus of Disapproval in the late 1980s, and in The Revengers' Comedies in the early 1990s. The latter was a two-evening affair with Cosham leading a large and impressive cast, including Rainn Wilson (pre-The Office) and DC stalwarts such as Nancy Robinette and Jennifer Mendenhall. Mendenhall shared a memory on Facebook and has allowed me to quote it here:
Ralph Cosham and I were in The Revengers' Comedies at Arena Stage. As a dim-witted maid with a bowl cut, I had to French serve him cornflakes at the end of a twenty-foot dining table. June Hansen played the chatelaine. Henry Strozier and Tana Hicken were also in the production. The scene was magical. It took ten minutes to fill the bowl, my trembling hands scattering cornflakes across the polished table, while Ralph stared at me, non-plussed, judgment writ on his forehead, and June micro-managed from the rear. Ralph never broke. Not once. Neither did June. That was my graduate course in comedy, and they were my loving, generous, exacting teachers. And I wet my pants more times than I care to say. Goodnight, dearest Tana and Ralph…
As it happens, I talked last week with the afore-mentioned June Hansen and her daughter Elizabeth Stripe, also an actor, and Cosham's name came up as they spoke about the kind of actor they particularly admire, one who is constantly in the world of the play at every moment onstage, and whose behavior at every moment, whether the focus of a scene or at its periphery, adds depth, texture, context, understanding to the character. Stripe spoke of Cosham's performance as one of the Mechanicals in A Midsummer Night's Dream: "He was crystal clear throughout, while not stealing focus." Hansen remembered in particular Cosham's performance in Richard III, playing Sir James Tyrell, the murderer of the young princes, in a production that featured Hansen as The Duchess of York. "He was just doing his job," she said of Cosham's Tyrell. "That's what was so…chilling."
Bill Largess, Artistic Director of Washington Stage Guild, posted these memories, which he permitted me to share:
As memories swirl around my mind, thinking of Ralph Cosham's work over the years, two keep coming to the fore, both a bit unexpected. One was his Provost in Arena's 1986 Measure for Measure, where he made what could be a small, thankless role into a compelling, conflicted good man doing what was right in a bad situation. And the other comes from Arena's yearly Christmas cabarets in the late 80s, where he and Terrence Currier would team up for a music hall tap dance. Ralph's innate dignity made the surprise of those dance breaks into pure joy. He was a treasure.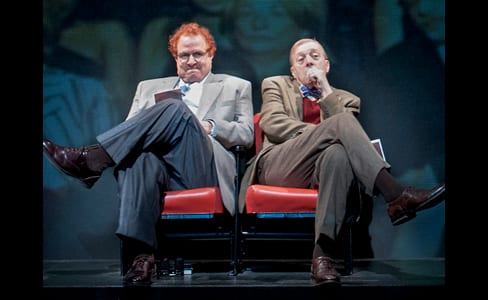 In an e-mail, Carolyn Griffin, Producing Artistic Director of MetroStage, spoke about producing Cosham's last stage work:
I believe the last two shows he did were at MetroStage, beginning with Heroes where the cast of three won the Helen Hayes Award for Outstanding Ensemble. As a result of his work in Heroes, John Vreeke [who directed Heroes] suggested that we produce The Real Inspector Hound because Ralph and Michael Tolaydo were the perfect Birdboot and Moon.
Ralph was just all class and so generous as an actor. He brought great insight to the play Heroes, and we got probably the best reviews for our production of any in the country including New York and Los Angeles. John and I always attributed it to the insight Ralph brought to the table (or the stage). He was such a consummate professional that even when he was hospitalized with his heart problems he would convince the doctors to release him so he could get to the Thursday performance. He clearly could only need medical attention on days off. We actually brought in [an actor] to cover the role if need be. I think the knowledge that he was covered took some pressure off, and he got through the rest of the run without missing a performance.
Another colleague, Coleen Delaney, worked with Cosham in a production of Othello at Shakespeare Theatre Company, directed by Michael Kahn, and she gave us this treat:
Ralph's entry in the Othello haiku contest:
Black Hero White Bride
A Whisper of Suspicion
And Green Begets Red
So much to love about him.
Cosham's Facebook page was filled with tributes, many dealing with his work, but most remembering him as a treasured friend, an admired colleague, and a devoted family man. His wife Bev Cosham is herself a Helen Hayes award nominated actress and a well-known cabaret performer. Carolyn Griffin of MetroStage continued: "I think the fact that they were married before Loving v. Virginia made it legal for interracial marriages is kind of fascinating."
I am Facebook friends with both Ralph and Bev Cosham, but only met them a couple of times. Once was at a Helen Hayes reception for nominees (back when those were held at the Canadian Embassy); another was when I went to see Animal Crackers (the Marx Brothers show) at Arena. I went with Kathi Redmond, whose husband Larry was in the cast, as was Ralph. We went back-stage after the show. (Well, at Arena, it feels more like going under-stage.) Bev was in the green room. I think she was knitting. I got the impression (though I can't be sure) that she had been there during the entire performance. She asked us where we were sitting and, when we answered, she immediately processed it through her calculus of which section of the house was best for witnessing Ralph's funniest reactions. (He was playing the butler, the invaluable straight man to the Brothers' antics.) For twenty years, that has stayed with me as a glimpse into a relationship unusual in its devotion, its admiration, its depth, its closeness.
Cosham's family and friends will be celebrating his life at a memorial service on October 20th at 7:30 p.m. at the Reston Community Center, 2310 Colts Neck Road, Reston, VA. All are welcome to attend.