"I took the play and read it on Memorial Day in Arlington Cemetery. It was a very significant read, that day. I thought, this was the cost. We are continuing to cycle through the same problems that this Roman moment seemed to bring up."
Robert Richmond was talking about Julius Caesar. His new production of the play began previews this week at Folger Theatre. We were joined in our conversation by the actors playing Brutus (Anthony Cochrane) and Cassius (Louis Butelli). And if the conversation, at times, had as much the feel of a reunion as of a pre-rehearsal interview, it shouldn't be a surprise.
The three men have worked together frequently over the years, but this current production brings them back to the scene of the crime, so to speak. The two actors, playing arguably the most famous conspirators in history, are getting, you could say, another stab at roles they played here, for this director, nearly fifteen years ago. That was when Folger hosted the Aquila Theatre Company production of Julius Caesar in May and June of 2000.
"After fifteen years, it's odd to be back," Cochrane said. "It is," Butelli concurred. The actors, who displayed an easy, unforced, comfortable rapport, spoke about how, despite working on a play that concerns violent events and political upheaval, their rehearsal room is often filled with laughter and among their greatest challenges can be looking at each other "in the eye without laughing."
Richmond, who at the time was Aquila's Associate Artistic Director, noted the importance of that prior production. "This play defined the style of the Shakespeare we produced. It was the first fully realized production we toured. And it was a big break for us to play DC." After a tour that took them to 75 other cities, at Folger they were able to settle in one venue for a few weeks, and they had use of the stage on which they could, during the daytime, rehearse their next production. "We now know what an enormous favor that was."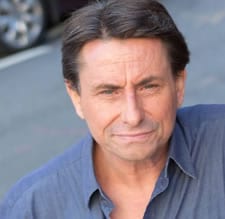 "It was the beginning of us as a group," Cochrane continued. "We created a house style that used few sets and costumes. I ended up writing a lot of the music for the shows." Richmond, who, like Cochrane, is British (Butelli is from New York City) pointed to another aspect of that house style: "The speaking and blending of Anglo and American use of language." One of the greatest compliments they heard at talk-backs was that audiences couldn't tell which actors were British and which were American. Butelli pointed out that, over the ensuing fifteen years, "that out-of-the-crate style has become very much in vogue." After their first Caesar, Richmond said, "we stayed together for another, what, ten years? Then we broke away [from Aquila], did our own things, and came back together again."
The current Folger production gives them the opportunity to approach the play with a different ethos than their former "out-of-the-crate" style. Here, now, said Richmond, "we have the ability to make a complete world." "The big difference is set and costumes," Cochrane concurred. "It's our first fountain!", Butelli proclaimed. Our conversation occurred the day before technical rehearsals and was preceded by the three checking out the progress on the stage, including the building of the aforementioned fountain.
The production design, if too involved to fit into a crate, isn't period Roman style: "Definitely no togas," I was told. "There're no white men with skinny ankles," added Richmond, to which Butelli countered, "Well, there are." "But we don't see them," Richmond assured me.
Richmond explained why he's not approaching the play as a period piece. "It's important to try and find the universal truth inside the play. It doesn't necessarily resonate in togas to the next generation. Yes, it's about one very specific date. But we needed to open doors as to why it's relevant here and now — one block from the Capitol building during our own empire. What we wanted to do is examine the play through the ideas of freedom and liberty and what the cost of it is today." Richmond called Shakespeare's exploration of these timely themes "prophetic."
Having done the play before, Butelli observed, "it's weird what we remember and what we think we remember. It's a very different and stranger play than I recall." Cochrane pointed out that there are no clear heroes or villains: "The human element is subtler. All the characters are accused of villainous things and positive things, but they all act out of passion, out of their true beliefs." Drawing a contrast with Henry V, during which an audience will generally root for the British forces against the French, Richmond stressed that, "if Antony has done his job," audiences at Caesar will find their empathy and allegiances pulled in different directions.
Richmond's cast of twelve tackle the forty-six speaking roles in the play and it's split about half and half between out-of-towners and locals. (Deidra LaWan Starnes, Joe Brack, and Maboud Ebrahimzadeh are among the more familiar of the locals.) Richmond estimated a run time of two and a half hours, which means there have been cuts ("We cut out all of the boring bits," Butelli assured me) but "no plot points are lost, though some moments are told visually versus with text."
One of the dangers of taking such an old play out of the period in which it is set is that the female characters can feel anachronistic in a contemporary context. The three of them pushed back against that idea. "You have Portia telling Brutus off, standing up to him," Cochrane argued. "The women are high status in this play; this is one play where women have status." "And they're right," Richmond observed.
Brutus is a notoriously difficult role. Often, a production's Brutus is the least engaging, least memorable character in the play, although he is ostensibly the protagonist. "I agree," said Cochrane, "but we won't have that problem!" He continued by saying that Brutus is often described as stoic and that actors too often interpret that to mean "without passion, sans passion, whereas Cassius has passion. That's rubbish. Even fifteen years ago I didn't agree with that. He cannot not have passion and come out with that language." "The plot hinges," Butelli argued in support of Cochrane's attitude, "on two men who are opposite sides of the same coin."
In the years after that first Caesar, the three worked often at Aquila. I asked why that stopped. "We grew apart. We all thought that we had out-grown the style and wanted to do other stuff," Cochrane explained, before pointing out that, since Aquila had become a non-Equity company, Butelli and he couldn't work there anyway. "Life took over," Richmond continued: "We got older, had children, being on the road wasn't fun. That's a thing for the young and should be." Butelli observed that involvement in a theatre company can have a "ten-year shelf life," comparable to the life of a rock band.
__________________
JULIUS CAESAR
Closes December 7, 2014
Folger Theatre
201 East Capitol Street, SE
Washington
Tickets start at $40
Tuesdays thru Sundays
Details
Tickets
__________________
With a cast of 12, this
Caesar
doesn't have as small a cast as some recent Shakespeare we've seen come through town, from The Globe (
King Lear
with 8), Fiasco (
Cymbeline
with 6), and Bedlam (
Hamlet
with 4), but it is a small number for
Julius Caesar
. We ended by talking about this trend, to the extent that it is a trend, of doing Shakespeare with a handful of actors. I wondered to what extent the trend is fueled as much by economics as by aesthetics, and, as such, is borne of an impulse similar to the one that finds most contemporary plays having casts of four or five or fewer.
Both Cochrane and Butelli said they hate to think that this would be an irreversible trend. Butelli made the interesting point that the model is "predicated on actors being versatile enough to play different characters and that is antithetical to the method style" taught to many actors in the US. Richmond, after making the cheeky observation that cast size doesn't affect how many people are needed to direct a play, made the point that a cast could consist of 36 people and "still be the most boring evening. If it's done well and opens the eyes of the next generation, it's all a good thing."