Two different casts, two different audiences, two different experiences for La bohème
What makes an opera sing? There are so many elements that must come together in this art form. Even within a single production, with different casts, (often the case at Washington National Opera as other opera companies) or even on different evenings with the same cast, an opera can bring together – or not – vastly different experiences for an audience.
To start with, there is the management of the damnably elusive voice – la voce. It's as if an imaginary but oh-so-palpable and separate rabbit persona, a "Harvey," shows up and must be carried around and pampered. One never knows when this "Harvey" might desert the carrier.
I have long been fascinated by this opening question. I had my chance to examine this more closely catching two nights and separate casts in Washington National Opera's new production of La bohème that just closed after playing for thirteen performances this month.
The creators of the new production had taken great pains to rethink the story, and the three casts that performed looked and acted like young bohemians. All were lovely to look at and reasonably believable as their characters.
The cast on Friday night, made up of members of or recently graduated from WNO's Domingo-Cafritz Young Artists' Program, had something that set them apart. The singers had been given one performance on the grand Opera House stage with full orchestra. Like the characters they portrayed, they were hungry to take their shot and threw themselves into the evening with full, even reckless abandon. It's rare but electric in opera.
To be fair, the evening before, I had just returned from a trip to China and after a seventeen-hour flight headed straight for the Kennedy Center. Bleary-eyed and still twelve hours ahead of my fellow audience members, I might not have been at my most keen and prepared to take in Giacomo Puccini's lush and magical opera. I may have missed moments. One obvious, necessary element for a performance to be a "winning" opera is an individual audience member's readiness.
In any case, sometimes, in a large opera house, there is so much to take in that just a dart away of one's eyes to some business upstage or one's gaze flying up to the ubiquitous operatic surtitle screen to get a translation at the wrong moment, and something gets lost. I may have missed Rudolpho's hiding the key that Mimi has dropped and detaining her to prolong their first encounter by blowing out the candles. Following the thought process of a singer-actor is critical to experience a winning story.
Mind you, I appreciated the risks taken and the originality of the vision executed by stage director Peter Kazaras and the design team. The first scene was spare and lit minimally, perhaps too dark and dingy for some tastes. I would have called it dure but certainly realistic in its recreation of artists-starving-in-a-garret life. But the atmosphere might have made the singing at times feel a little muted.
I'll propose that whether an opera succeeds depends at times on how a singer fills the details in the score's orchestral passages. Kazaras had demanded an understatement in the gestural language for this production. He didn't want a hint of melodramatic grandness of operatic movement. He wanted no singer to declare, "And here's my big moment." At the same time, he and conductor Philippe Auguin knew the score so intimately that they had obviously worked on some very precise timing of gestures with passages played by certain instruments.
It takes a brilliant ensemble of performers to pull off such detailed moments. For instance, in this production, the garret roommates pump oxygen into a woodstove trying to get a flame to catch seemed to get tripped up in a moment's hesitation on Thursday. Were the singers waiting for the orchestra? It felt awkward. There were several tiny moments where the cast became either mechanical or too studied. Many untrained eyes might not have been able to put their finger on it, but just perhaps a feeling of tentativeness accumulated.
On Friday night, I felt that the younger, less-experienced cast, nonetheless breathed with conductor Auguin through every musical moment. Everything came together, and all the stage business seemed spontaneous.
Sometimes, curiously, it is a matter of a few inches modification in the staging, as to whether the singer fulfills what a director has envisioned. In the final duet of the first scene, when the two lovers disclose their passion, the Mimi on Thursday night ended up two inches upstage and out of the exquisite but tricky side lighting. She was eclipsed in the shadow of Rudolpho with his arm around her, and the audience lost her expressive face and in some ways even the couple's vocal expression in that key moment.
In contrast, Raquel Gonzáles, a Puerto Rican singer from Lawrence, Kansas, with her milky translucent skin and a voice like the famed singer Mirella Freni, stood beside Yi Li, a Chinese tenor who recently became the Grand Finals winner of the Metropolitan National Opera auditions, and both hit their mark, staring directly offstage into that powerful light. They blew us away with their incredible combination of physical and vocal radiance.
The young international cast brought many special gifts to their single performance. The sight of Yi Li and Wei Wu sharing the stage took me right back to China where I'd just come from, reminding me of the sheer will and determination in this culture and the brilliance of so many Chinese artists who will more and more grab a rightful spot on the world stage. Yi did it throughout the evening with the power of his voice and his passion. Wei grabbed our attention too, but with his most nuanced and understated interpretation of the character of Colline. His rendition of the bass "Overcoat" aria in the last scene drew us in with his honest simplicity. He mined the brilliance of Puccini and his librettist, where in the midst of a love story and arguably the most moving death scene in all of opera, a man sings goodbye to his warm coat that he will pawn to try and save his friend's consumptive girlfriend.
Nobody works harder than Chilean baritone Javier Arrey who graduated from WNO's Young Artists' Program but returned to join this fine cast as Marcello. There is something completely arresting about this singer's embodiment of a character on stage. I had marveled at Castleton Festival last season at his ability to pull off an unforgettable interpretation of that most tricky operatic character Don Giovanni with his sizzling sexual charisma. In this production, he exuded the contemporary energy of a most relaxed, even slouchy painter in one moment and then would coil and explode emotionally in his yo-yo relationship with the damnably fascinating Musetta.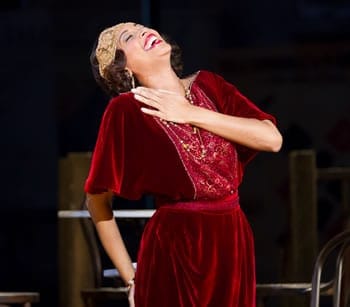 Ah, Musetta, the fickle temptress! How those of us familiar with one of the most beloved of soprano arias, Quando m'en vo, think we know that character. Leah Partridge had performed the role on Thursday and was perfectly acceptable. She looked like a movie star and wore the role's gorgeous costumes of Jennifer Moeller divinely. But on the Young Artist's night, Jacqueline Echols, equally statuesque in her wardrobe, showed everyone assembled she owned the role! We have watched Echols grow by leaps and bounds in the roles she's won at the WNO. In La Bohème, she took us on an emotional journey with Musetta, not only brilliant in her comic and cruel moments but taking things to a deep level in an understanding of the spirit of this character.
The fine young singers in their performance lit up the stage and embodied the feckless recklessness of young bohemians, artists who despite their poverty and the cold of winter, treat life and love carelessly, even squandering both. They all went for it, giving of themselves one-hundred per cent.
One of the finest in this ensemble was Christian Bowers, who played Schaunard in both casts I caught as a flamboyant, risqué, and sexually ambivalent member of this rat pack. From his cavorting steps to the rakishly-gelled pompadour hairstyle, he showed himself to be a fearless original and a triple threat as a dancer, actor, and singer. Catch him later this season as the autobiographical character of the pilot in Antoine de Saint-Exupéry's The Little Prince.
Finally, the audience as a whole sets a tone and plays a key role in what happens on a given night in live performance. Sitting in the dark, an individual can be swept along by a current of energy in the surround. We matter.
Thursday night's audience at the Kennedy Center was a familiar one. A mostly older crowd, many with the equivalent of "stock" in the Kennedy Center's big performances, they arrived as if with a mental catalog of the dozens of other La bohème productions they'd seen. Throughout the evening, they judiciously meted out their appreciation after testing the relative merits of this or that singer in the big arias against memories of other renditions. Their energy was tempered by this delayed response. They were appreciative but not wildly so, and there was the usual bad behavior by many Kennedy Center's patrons, where as the final curtain goes down and before the curtain calls, they leap from their seats and head for the exits to get into their cars and speed home.
Compare that with the audience on Friday night for the Young Artists' cast. The average age was less than half of what had brushed seats with their expensive formalwear the night previously. Friday's audience had also paid less than half for their seats in a marketing initiative of the WNO, determined to attract and develop young audiences for opera. When Artistic Director Francesca Zambello took the stage before the performance and asked for a show of people who had never been to an opera before, more than half in the audience raised their hands.
Thus, the audience discovered the opera moment-by-moment with surprised laughter and sad, emotionally-filled silences. There was genuine delight when the magic of a new scene revealed itself. Now that the show has come down, I will give away one point in this production, where bare-branched wintry trees seem to explode in pink blossoms and snow is mixed with pink confetti just as in Washington's own cherry blossom season. I heard and felt the oohs and ahs at the magical beauty. But the scene was also eerie, and I couldn't help but imagine all this bloody pink symbolized the stains made from the dying Mimi's hemorrhaging. The closer Mimi approaches death, the more she wants to return to her winter of love, but this pink augurs her final transformation.
The scene with the friends gathered, as in a terminally ill hospital room, was beautifully wrought. The pals moved to the extreme sides of the stage, leaving Mimi in bed at the center. All faced away, separated in their private grief, but every singer acted with their backs in sculptured attentiveness. When they discovered in sequence that Mimi has died, the ripple of discovery and grief is passed amongst them. Rudolpho is the last to know and with a cry suddenly springs forward to reach her but is held back for a moment by his friends. He begins to sob. The audience around me was also weeping.
The audience sat in silence as the curtain came down. There was no great movement to the exits. When the lights came up for the curtain call, the hall erupted in applause and bravos.
I can well believe many of those in attendance would come again to the opera. Why? They will remember the night when a new, great Mimi was discovered. They will remember that they laughed and cried and felt how fragile life and love are. They will remember the ache of Puccini's melodies. They will recall perhaps what made this opera sing!
La boheme has closed. Final productions from Washington National Opera for 2014 at The Kennedy Center:
American Opera Initiative: Three 20-Minute Operas, Fri., Nov. 21, 2014, 7:30 PM
Holiday Family Opera: The Little Prince Dec. 19 – 21, 2014