Has this ever happened to you? It is 1963. You're Charlie "the Duck" Clench, career criminal, and you're played by Steve Beall. You've pledged the hand of your daughter, Pauline (Megan Graves) – who has the IQ of a toaster – in a marriage of convenience to the gay gangster Roscoe Crabbe, in order to settle a debt. Luckily for Pauline, Roscoe has been murdered by his identical twin sister Rachel's (Katy Carkuff) boyfriend Stanley Stubbers (Daniel Corey). This means that Pauline can marry her true love, the insufferable ham actor Alan Dangle (Charlie Retzlaff), son of your mouthpiece Harry (Mark Lee Adams). Unfortunately, Roscoe has risen from the dead (Carkuff, in very obvious male drag) and, accompanied by his moronic bodyman Francis Henshall (Doug Wilder), has come to demand his due.
Well, if it has, you should know that this play isn't about you. It's, instead, about the leaden-brained Francis, who combines his spectacular stupidity with a blindingly good opinion of his own cleverness in a way which makes him a Holy Man of Numbskullery in 1st Stage's stunningly wonderful production of One Man, Two Guvnors.
Francis – who could give "greaser" a bad name – hits upon a scheme which to him seems brilliant: in addition to being Roscoe's manservant, he will be the manservant of the next bloke who comes along, for additional cash money. The next bloke happens to be – Stanley Stubbers, on the lam from the law. Francis, who is not particularly good at drawing connections, fails to recognize that he is servant to both the late Mr. Crabbe and to the man who killed him. But his skill at improvisation – well, that's not too hot either. Francis invents an Irish cousin, Patty, to explain things. Patty is, of course, Francis, dancing an Irish jig.
There's more. Francis is in love with food, but when he has eaten his fill he fancies the savvy Dolly (Bess Kaye) who keeps the Duck's books and speculates boldly and optimistically about the future. (In twenty years, Dolly predicts, a woman will sit in 10 Downing Street. And when she does, she'll teach all the male politicians a lesson in compassion for the poor and peace). That Dolly seems to reciprocate strains credulity a little, until you recognize the rest of the pickings in the pot.
Francis' checkered employment history includes being fired from a skiffle bandband and, if you don't know what that is, you'll be pleased to learn that there's one in the show, under the direction of Toby Mulford, with Jon Jon Johnson, Jason Tamborini and Noah Schaefer. They play intermittently, and are joined by the characters each in their turn (the best: Graves, Carkuff and Kaye in an Andrews-Sisters type number). In turn, they hop on the stage themselves, playing various characters – most impressively, four hapless waiters in an inn run by the Duck's close friend, Lloyd Boateng (DeJeanette Horne).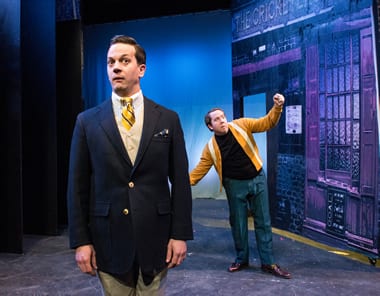 If this sounds to you a little like The Servant of Two Masters, well, bingo. Playwright Richard Bean likes to do adaptations, he reveals, "because someone's already written the ending. Deciding how to end a play is a writer's torture."
Maybe. But it's the audience's pleasure. Two Guvnors grabs you by the throat from the first stirring notes of the skiffle band – from the first gagworthy lovers' exchange between Pauline and Alan – from Francis' first ludicrous presumption – and never lets you go. This has become a sort of signature for director Mathew R. Wilson, whose own house, Faction of Fools, specializes in commedia dell'arte. Servant is commedia dell'arte, but Two Guvnors is something just as good, and just as much in Wilson's wheelhouse: pure, unadulterated farce.
Speaking of specialties, it is the mission of 1st Stage to introduce new actors to their first professional productions. Two Guvnors is notable not so much for a new actor as it is for the wide territory it gives to a veteran actor showing hitherto-unsuspected talents.
Doug Wilder has never been…well, let's just say it. Wilder has never been wilder. He shows a genius for the form; he makes Francis' eyes glitter with inspiration even as he utters the stupidest, most addled thoughts; he allows apprehension to creep over his uncomprehending face like a python about to pounce on a mouse. I have seen Wilder in many productions over the years; to see him bust out in this one is like watching a point guard well known for his passing skills drain seven three-point baskets in a row.
But everyone is great. Farce allows over-the-top, and this cast is hilariously so, none more than Retzlaff as an aspiring actor who would give Jon Lovitz' "Master Thespian" a run for his cheesy money. Corey imbues his character's stupidity with such upper-class, public-school style that he manages to indict the entire social class. Old pros Beall, Carkuff, Graves and Kaye make their ridiculous characters seem completely natural, catapulting us into cloud cookooland.
__________________
Highly Recommended
ONE MAN, TWO GUVNORS
Closes December 28, 2014
1st Stage
1524 Spring Hill Road
McLean, VA
(free parking or short walk from the new Spring Hill Metro stop)
2 hours, 45 minutes with 1 intermission (includes the band preshow)
Tickets: $28
Fridays thru Sundays
Details
Tickets
__________________
And when I say "into", I mean exactly that. Bean not so much breaches the fourth wall as annihilates it. If you are not careful, Francis will pounce on you and you will find yourself onstage, dragging luggage and whatnot. And no, it will not make you Helen Hayes-eligible.
Farce chases away our woes; brilliant farce, like this production, helps us get to the next day. It is no coincidence that after the tragedy of September 11, 2001 it was a farce – Mel Brooks' The Producers – that continued on Broadway, swaddling our hearts against the continuing night. When I see a production this good I gladly give it a "highly recommended." In this case, I have an additional recommendation. You'll laugh your…well, I won't tell you what part of your anatomy you'll lose, but I recommend you bring an extra cushion.
—————————-
One Man, Two Guvnors by Richard Bean. (Adapted from A Servant of Two Masters, by Carlo Goldoni), with songs by Grant Olding. Directed by Matthew R. Wilson, assisted by John Dellaporta . Featuring Doug Wilder, Daniel Corey, Katy Carkuff, Steve Beall, Megan Graves, Mark Lee Adams, Charlie Retzlaff, DeJeanette Horne, Bess Kaye, Toby Mulford, Jon Jon Johnson, Jason Tamborini and Noah Schaeffer . Set design by J.D. Madsen . Costume design by Lynly A. Saunders . Lighting design by Kristin A. Thompson . Sound design by Neil McFadden . Props design by Cindy Landrum Jacobs . Kristen E. Parker was the stage manager, Aaron Fensterheim was the technical director, and Gary Logan was the dialect coach. Produced by 1st Stage . Reviewed by Tim Treanor.
NOTE: Mr. Dellaporta writes for this publication, and Mr. Johnson has occasionally written articles for us in the past. This has not affected my review.
ONE MAN, TWO GUVNORS
Closes Dec 28
Website
More reviews

Elliot Lanes . MDTheatreGuide  
  You need a powerhouse performer to play [Francis] and Doug Wilder definitely is that. His physical timing is just splendid.
David Siegel . Connection
free-wheeling; at times a wildly funny quick step comedy. It works hard and successfully to treat the audience as unindicted co-conspirators in on the bedlam.

Celia Wren . Washington Post
    sometimes funny but generally dawdling and muddy production
Keith Tittermary . BroadwayWorld 
   a combination of farce, improv, and music hall, is the complete evening that will make you roll in the aisles with laughter.
Yvonne French . DCMetroTheaterArts
    you'll have a blast as Wilder draws you and your fellow audience members into the show as co-conspirators to his deception, which transforms him, and somehow, us too!