My God…they're actually getting this right!

There is no more terrifying emotion to experience than hope, and, within the opening moments of Disney's long-awaited film version of Into the Woods, hope was gushing through me faster than in any viewing experience I can remember to date.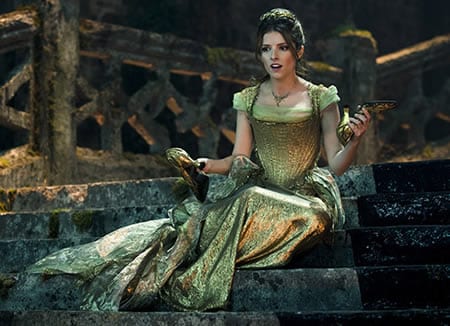 Rob Marshall, director of the acclaimed Chicago and the significantly less-acclaimed Nine, Memoirs of a Geisha, and Pirates of the Caribbean: On Strange Tides, certainly had his work cut out here. To say that Woods is beloved, or that this movie has been heavily anticipated, would be an exercise in understatement. Stephen Sondheim and James Lapine, with music/lyrics and book, respectively, have assembled a classic of the modern age, and almost since it was written, people have been trying to bring it to the screen. It just makes sense. Fairy tales mashed up, fantasy elements, visuals that blast beyond the limitations of the stage…Into the Woods was almost made for the screen.
And here it is, at long last. Perfectly cast, perfectly designed, and perfectly shot, Marshall and company have done an almost perfect job in achieving the impossible and living up to insane expectations.
Let's start in the sound editing bay. For the first time in viewing a film musical, I genuinely couldn't tell what was pre-recorded and what was being sung on set. Yes, I know, intellectually, it was recorded in advance (it becomes a Les Misérables-esque PR event if a production ever goes full-blown "live"), but it can be distracting to essentially watch a bunch of actors lip-sync for 2+ hours. It was a testament to the balancing and ADR work, and to a cast that acts extraordinarily well during the music, that this distraction factor is eliminated from Into the Woods.
Visually, the movie is stunning. Production designer Dennis Gassner and costume designer Colleen Atwood are both deserving of any amount of praise you can heap on them. The world of Woods is teeming with detail, mood, and imagination. These are such iconic characters and locations, and Gassner and Atwood do a remarkable job of tying it all into a cohesive world. Simultaneously, they offer many whimsical pleasures in the choices of location or wardrobe to give variety to the musical's moments and characters.

Of course, much of that credit also belongs to Marshall, as well as original book writer/screenwriter James Lapine, who bring the action of the musical onto film in highly entertaining ways. Creative settings boost the impact of beloved songs like "On the Steps of the Palace", where Cinderella must face her indecision regarding a pursuing Prince (Chris Pine) while time literally stands still. "Agony", meanwhile, becomes a comic showstopper, with the duet between Princes (Pine and Billy Magnussen) drenched in buckets of both machismo and cascading water.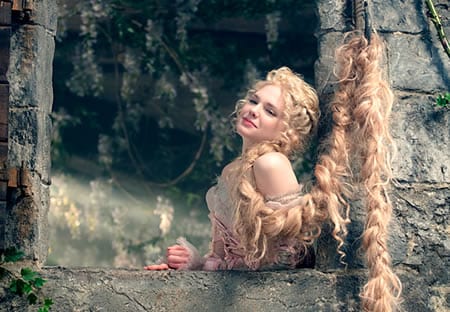 If you're familiar with the show, you already know that it's virtually impossible to talk about it without addressing "Act One" and "Act Two". For those unfamiliar, in "Act One", we meet our heroes. Cinderella (Anna Kendrick) wants to go to the Festival. Jack (Daniel Huttlestone) wants to keep his best friend in the world, cow Milky White, though his mother (Tracy Ullman) insists on selling it. A baker (James Corden) and his wife (Emily Blunt) desperately want a child. Little Red (Lilla Crawford) just wants to get a basket of food to Granny without eating all of it.
A witch (Meryl Streep) reveals to the baker and his wife that in order to have a child, a curse must be broken, one that will bring them into contact with all of the other characters. In typical fairytale fashion, everyone learns lessons along the way, but ultimately gets what they want.
"Act Two" sees everyone returns to the woods, dealing with the consequences of their previous wishes. Unexpected twists occur, tragedy strikes, and much is learned about the nature of fairy tales and what constitutes "happily ever after." It is constructed as a dark reflection to "Act One", with symmetry, reprises, and lots of revisiting.
Marshall and Lapine together have cooked up a muscular, driving adaptation that brings a very famously two-act musical to life in the streamlined presentation of an intermission-less film. Even if I miss some of the structural parallelism that is a hallmark of the play, I can't argue with the approach. It's about as effective a way to adapt Woods to the screen as is actually possible. Richly imagined and breathtakingly paced (the film is 126 minutes and feels like 90), toned just right, and material trimmed with great care and efficiency, "Act One" is everything I've ever wanted in an Into the Woods movie.
Corden and Blunt sparkle with chemistry and comic chops. Kendrick is beautiful in voice and sensitive in choice. Huttlestone, bless him, is darling and a dolt. And Chris Pine just steals the hell out of this movie, channeling the swagger of Nathan Fillion in full Captain Hammer mode. Not to be outdone, Magnussen shines just as bright in his smaller princely role.
Meryl Streep…she's Meryl. The Witch is an iconic role, and Streep is an iconic actress. For a part where every entrance and exit is a scene-stealing moment, gravitas is demanded. Here, we get Streep singing gorgeously, playing at the top of her comedy game (she nails the Witch's rap), and breaking your heart in "Stay With Me", "Lament", and "Children Will Listen", a trifecta of songs which represent the thematic heart of the musical.
Lilla Crawford's Little Red just nails the tone of the piece. Red is usually cast older onstage for a variety of reasons, and Crawford might be the first "child Red" I've seen to ace the deadpan aspect so completely. I often tell people that the success of the tone of Into the Woods can be summed up in whether or not her line "Oh dear…how uneasy I feel" gets a laugh. It does here. As do most of her other lines.
In images, line readings, staging, and scoring choices (keep your ears open, by the way, for a musical Easter Egg just for you Sondheim nerds out there), I'm hard pressed to find a misfire in the handling of "Act One." Frozen time. Birds. Beans. Puzzled looks. Physical comedy both familiar and newly devised. You can even appreciate how certain moments are re-sequenced in order to allow a more continuous flow into the "Act Two" of it all.
The choices made in the filmmaking of "Act One" do have an impact on the overall effectiveness of "Act Two", though. Much like the characters, the film itself is dealing with consequences to certain decisions. As a result of that vigorous pacing, some of those judicious trims of material here and there, and as the simple result of continuing the action vs. restarting from an intermission, "Act Two" struggles just a little to hit the dark notes asked of it.
Everything that's supposed to happen plot-wise does happen (with one minor exception that will probably annoy musical purists but I contend works just fine, and actually plugs a plot hole in the musical). However, it just needed some deeper stakes. The sequence involving "Any Moment" and "Moments in the Woods" is well-performed but doesn't feel narratively earned, and the scenes following it need, if anything, air, a thrown-off rhythm. Though "Act Two" gets sad, it never gets ugly. I wanted a bit more ugliness. But such is the nitpicking one does when comparing excellence to mere very good-ness.
Into the Woods, though, is a miracle. A dark deconstruction of fairy tales is receiving a major release from Disney itself. The material remains intact. The themes on storytelling, parenting, and consequence remain intact, and the plot-twists and subversive humor glisten in the big budget, effects-laden milieu. This is a must-see, for parents and children alike.
As Meryl would say, before disappearing in a fabulous puff of smoke, "go to the wood!"