When I first spied Theater Alliance's 2014/2015 season, I was intrigued by their Christmas show: Black Nativity by Langston Hughes. Hughes was one of the most celebrated poets from the Harlem Renaissance, but I had no idea that he wrote plays. I wanted to dig a little deeper, so I sat down with Eric Ruffin, lecturer at Howard University and director of Black Nativity.
Alan Katz: How are you feeling today?
Eric Ruffin: I'm excited for this play. I feel like for every play that I've ever directed, when I look at it, there's something I'm supposed to learn from it. It happens every time.
– So what is it for Black Nativity?
There's a number of things. For the last couple of years, I've been trying to codify what I think is an African American aesthetic for storytelling that looks at what we as a collective (and there's no monolithic ideals, of course) understand as far as music, symbols, rituals and ceremonies. What do we understand in narrative? What aesthetics do we gravitate to? When there's both purpose and art put together then it becomes necessary. So, how do we tell stories where people realize, "I need to be in that space, that communal gathering; I'd be incomplete without it." We need to speak to people on an emotional and cerebral level.
But there's a higher level. I think we should be speaking in tongues in the theater. Why can't we give people an out of body experience where they transcend, so when I talk about codifying an African American aesthetic in storytelling, I think about gospel music and its derivatives as places where people reach a place of the ecstatic. And I like that.
Black Nativity has narrative that is specific to Christianity, but is a narrative that has much more to do with acknowledging the birth of divinity. That Langston Hughes chose to tell this narrative with an African American ensemble is saying that as African Americans we need to identify with the divine within ourselves and that divinity needs to be attached with our Blackness. Black Nativity as in the birth of Blackness.
The story is a Christian narrative about the birth of Christ, but it's also about Black people identifying consciousness and what it does to you when you are no longer ashamed of being Black, being from Africa. You know, my grandmother, you could never call her Black. It was an insult if you called her a Black woman. And if you called her a Black African, she'd fight you. That was an ugly thing to her. When Langston Hughes penned this, the title Black Nativity was contentious. It was originally called Wasn't It A Mighty Day? He had Alvin Ailey and Carmen De Lavallade in the company, and when the named was changed, they left the company. This is 1961 and we as a community did not call ourselves Black; we were Colored or Negroes, but we were definitely not Black.
Read this:  Jeff Walker reviews Black Nativity
There's something to say still about this pre-1961 space where Christ is a White entity and therefore God as an omniscient being and Mary have to be White entities. So the vast majority never associated with that godliness, the stained glass windows in our churches had a White Jesus in the garden of Gethsemane, a White Jesus on the cross, Adam was created in the image of a White God. So in 1961 for Hughes identify Jesus as Black and therefore the Creator as Black, seeing yourself created in God's image. It wasn't until 1968 that we said "Say it Loud, I'm Black and Proud!" We weren't there yet in 1961.
– Tell me a bit about this play and your vision for it.
As storytellers we speak in symbols. So I've overtly layered in symbols from the history of gospel music and the history of Africans in America. The first half of the show is music from 1961 and earlier, so we begin with the ring shout. Ring shout being movement, dance, polyrhythms and music that slaves did in shacks to express their faith when they weren't allowed to practice on their own way. That gave birth to Baptist and Pentecostal churches which in turn birthed gospel music. We hear the derivatives of gospel in blues and jazz and R&B. And, of course, rock is just the blues sped up. After 1961 in the church, we see more permission to use drums and have a more open expression of your relationship to God.
For the second act, we go all the way up to hip-hop fused with gospel music, Kirk Franklin and today. The lovely thing about the script is that Langston Hughes explicitly gives permission in the script to change the music if that music is in the public domain or gets its rights purchased. So its a living breathing piece of work. It's different from when Theater Alliance performed it in 2010 and it will be different when whoever performs it in 100 years. The things I have held onto are the text that he penned and our music director e'Marcus [Harper-Short] has held onto the music from the first half. He's arranged it in styles that are authentically associated with defined time periods in gospel music and our choreographer has integrated Black social dance from those time periods as well.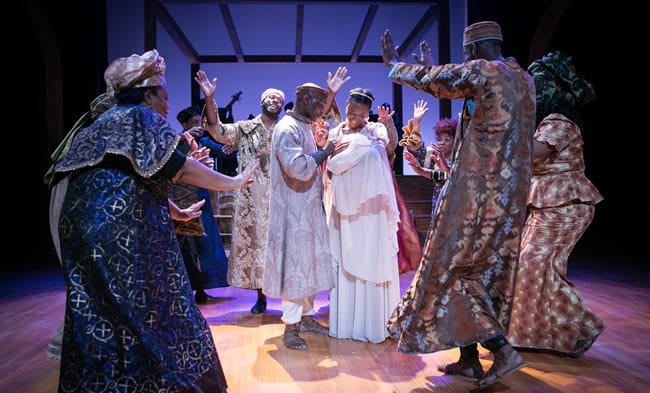 – Before we started, you talked a little about how Colin Hovde [the Artistic Director of Theater Alliance] called you up and said, "We want you to direct this play." But you aren't very religious. What was your experience with religion and religious life?
My parents didn't really practice anything, though they were introduced to religion when they were young. When I was 12 or 13, my mother said, "You should know a little bit about Christianity." So she sent me to church. By myself. she didn't go. So she sent me to a Southern Baptist church in Philadelphia. I got swept up by all this spectacle, but I didn't call it spectacle back then. There was a preacher using his voice in all these ways. The choir would come in and then go up an octave, and there were people catching the Holy Spirit in the aisles. As a child, this was really exciting to me. I didn't get that in my everyday life. I stayed and joined the choir for a few years, but then capitalism and empty pockets called, and I left it all behind for a paper route.
It's funny, for the second act, the music director gravitated toward a medley of songs that I recognized (every single one) from that brief time I had in church. When the ensemble started singing them, oh man, I got full, and I started crying. I thought, "Is this why I'm doing this play? So I could see the value in community and the Black church?" To see what gospel music has done for me and for the Black community. I think in the 50's and 60's, we understood the necessity of Black churches in our communites, and I don't know that they are having the same appeal or necessity that they did then. Then we had this common foe, systemic racism, that our community came together to fight in the Black church. Now it has blurred a little bit.
– What do you think has changed?
__________________
Highly Recommended
BLACK NATIVITY
Closes January 4, 2015
Theater Alliance at
Anacostia Playhouse
2020 Shannon Place SE
Washington, DC
2 hours with 1 intermission
Tickets: $35
Thursdays thru Sundays
Details
Tickets
or call 202-241-2539
__________________
More people are middle class. There are plenty of circuses. The Romans said that if you give people plenty of bread and circuses, you don't have to worry about a revolution or an uprising. I think there are enough children of the Dream who are well fed and have jobs that make them think they've gotten their piece of the pie – why am I not including myself – that makes
us
believe we've gotten our piece of the pie. So it's blurry who or what the foe is.
It's hard to get people to fight when there's something at risk. Before we had nothing to lose, no risk, but today we have a house in PG County, a government job, and 2 and half cars. But we stand to lose all that if we stand up to say, "Why are young Black boys being targeted in the streets? Why is Corporate America being rewarded for putting people in the bondage of debt? Why do Black folks live in PG County and White folks in Howard County? Why is there such disparity in wealth? Why are there more homeless people this year than last?"
– There used to be one monolith to target, but now it is a conglomeration of a thousand different injustices.
Also, we've become an African community, the Jamaican American community, the Latino community. There's all these different factions that divide the Black community: this is the Black middle class, these are the Deltas, these Kappas. Not seeing how we are all common in this struggle.
 – If somebody comes up to you, you don't know them, and they ask you, "Why should I see Black Nativity?" What do you say?
Too many reasons. As Americans, we get indoctrinated into this kind of American culture which, to me, is all about capitalism. You spend and pretend it will make you happy. How much can you consume, and that determines how happy you will be. That isn't culture. Beyond the first generation living here, some people feel a kind of shame about their cultural identity. We tend toward blending. For African Americans, here is an opportunity through storytelling to say, what you bring to that soup, that flavor, has value. And that goes for any ethnic group. So anyone can come to this play and see the divinity in themselves, that divinity there is in to be. The unique ingredients each person brings to the soup is essential. When our art is at its highest, it incorporates all of those parts. Black Nativity has this. When you start talking about African American aesthetic, you're already talking about Euro-centric art, Afro-centric culture, and the incorporation of Native culture into ours. The songs are in English, after all, and the scales go from European C major scales to pentatonic scales with different origins. It's all there.

– Speaking of songs, if you were to sing someone a song that would tell them everything they needed to know about Black Nativity, what song would you sing?
This is a song that e'Marcus put into the second act medley. It's a beautiful song about how having Christ in her life has changed her. Good playwriting and storytelling comes from a love ethic. As the person pens it, they see an ill in our society that we have to look at intimately and figure out what prescriptive tools the writer can give through the story to change that ill. I think Langston Hughes is being prescriptive here, and his message is "See God within yourself. See yourself in God's image and that will heal you."
There's a damage that colonization has done to colonized people. They don't see themselves as worthy or complete. And Black Nativity gives them an opportunity to see themselves in a divine light. And that changes us. Every time I hear this song, I know what it feels like to be proud, without shame, unapologetic, and I remember how I've changed. It's self-worth. You can't go to Target and buy self-worth. So "Change" is the song that I think encapsulates what the play does.