When most audience members think of design in theater, their mind goes straight to the set. It's easy to do, since the set is often a production's most dominant and drastic change to a theater space. But it takes many designers, doing jobs that theater-goers often aren't familiar with, to make the environment of the show a complete and cohesive experience.
With that in mind, I talked with some designers who are doing work for Shakespeare Theater Company, famous for its beautiful designs, on their spectacular production of The Tempest.
——————
The first designer I spoke with has one of the more rare titles among creative teams: Puppet Designer. James Ortiz designed, built and trained actors on the massive puppets for STC's The Tempest.
Alan Katz: Who are you and what do you do?
James Ortiz: It's sort of hard to describe. I went to school for acting, but after I graduated I focused more on storytelling, directing, and theatrical design, more than anything else. It's been fantastic, and I've discovered that you use a lot of the same skills, but used in a different medium.
More specifically, I found my way into puppetry through a Parks and Recreation program in my small hometown in Texas. Every summer there was this sort of marionette trailer that would travel from school to school and park to park, and I would just go and be mesmerized by Hansel and Gretel or Jack and the Beanstalk. It must have made an impression on me since when I was old enough, I joined the program and learned a lot. Then in high school and college, puppetry became an identifying feature of me, something I did on the side. Many puppet artists are Art majors, and my first inclination was toward painting and sculpture, but then I moved into theater. Puppetry is a delicious combination between them. When you're acting there's this character analysis. You think, "OK, my character is 45 years old, and I can do makeup to work with that." But what's his eye and hair color? Well, mine. There's not much you can do about that. But with puppets, you can make those things, then have more interesting conversations about the character: what kinds of hands does the character have?
You get to be a sort of ultimate casting director, right?
There's this stereotype of puppeteers being incredibly controlling. We spend all our time pulling strings. The way I see it, is that it is a really all-encompassing creative process.
Specifically for this show, how did you approach The Tempest as a puppet designer?
It was great, because I got to just hang to with the set and costume designer a bunch. I was entering the process as some inklings had already begun. So it was fun to catch up to that process. The part that I was going to be responsible for is the masque. Its the moment when he conjures the 3 goddesses to come down. When Miranda and Ferdinand look like they'll be together forever in this impromptu nuptial ceremony. It's so cool; it's the dream ballet in the middle of the show. Totally a break from the rest of the play. It became a fun conversation: how do we keep it in this world, but also how can we just step into Oz for a moment.
This is the only time in the play that Prospero's magic is used for good, or at least not for his own gain or to torment somebody. So this is his benevolence.
So I went away and made a bunch of sketches, a sort of a choose-your-own-adventure. We settled on some enormous puppets with different colors. Actually, much of the advertising is from that scene, so you can see some images around.
The goddesses that get called down are supposed to be Roman goddesses, but we didn't want to go full Roman. So the conversation became about the essence of the goddesses. We didn't want to get bogged down in "I'm Hera, goddess of the hearth and also of rainbows." Their role is really like the 3 fairy godmothers of Sleeping Beauty who come down to bless Ferdinand and Miranda's union.
THE TEMPEST
Extended! Closes Jan 18
Shakespeare Theatre Company
Sidney Harman Hall
610 F Street NW
Washington, DC
2 hours, 10 minutes with 1 intermission
Tickets: $55 – $110
Tuesdays thru Sundays
Details
Tickets

I ended up drawing from Etruscan, Mayan, and Indian art. We wanted it to feel ancient. Plus, I had this idea from making hound puppets for this show. Any piece of conjuring magic that Prospero does is limited by the materials that he has on the island. He can magically reconfigure them, but only from the things he has. So the wolfs' heads would be made of reassembled driftwood, woven forms in bits of wood and bark that come alive.
For the goddesses, the idea was that Prospero would have drawn a natural metal from deep in the earth underneath the island then smattering it with jewels and other things from underground. We talked about the feel for each of the goddesses. That the first one should be Irish and in silvers. The silver could feel like the rainbow without going full rainbow. The next one, Ceres, is the goddess of the harvest, so we talked about earthy, nutty, brassy bronze. The last one, Hera, is sort of forever associated with peacocks. The thought there was that there would be tarnished copper from the earth that gets this green patina on it. Then associating that green with the peacock's green and going bananas with it.
The puppets let us also have fun with the puppets in a Ray Harryhausen way. They start small and get bigger and bigger. Hopefully they don't end up too horrifying.
So those were the things we talked about. Then I went away, lost my mind, and made it all. Which happened in New York. Then we drove it all to DC in one night. In the middle of the night.
The next day I was set up to start working with the actors. I was so excited and so exhausted. When we finally got to DC and unloaded, I realized I had left my suitcase behind! That's a testament to how excited I was to work on this show.
If you could say one thing to audiences about puppet design, what would you say or what should they know?
That's hard. It's a medium that's used in different ways and for different purposes. For the kind of shows I work on, it's kind of about magic, even when the play isn't about a wizard on an island. Puppetry is about suspension of disbelief, making the impossible tangible. I've found that puppetry, in a weird primordial way, connects people to their childhood. When we're children, we anthropomorphize their dolls or footballs or whatever. Here's something to think about: most puppeteers don't make puppets with a lot of moving features on the puppet's face. The funny thing is, the audience perceives what the puppet is thinking and feeling. They perceive that the eyebrows just lowered or she's smiling now, but generally, the puppet hasn't actually changed. It just happens, you just believe it. You don't have to work that hard at it, and that's amazing.
There's a fundamental disconnect between an actor and a role. We know that the actor isn't John Adams or whatever role their playing. But if a puppet was made to be John Adams, we think of it as something more and we connect with it in a very bizarre and magical way.
—————-
Next I spoke Jen Moeller, Costume Designer for The Tempest.
Jen Moeller: I am the costume designer for The Tempest, recently did a new production of La Boheme for the Washington National Opera at the Kennedy center in which Lee Savage, the set designer, was also a part of. I'm also doing a new production of Candide up at the Glimmerglass opera next summer.
How do you approach a show as a costume designer?
First thing you do is you read the script and you see how you might connect to it, you always get some ideas, things start percolating. And it may not always be visual, it might be ideas of what the play is about, what things it's trying to say. Then you have a conversation with a director, and hopefully they have some ideas that provide a jumping off point for you to go from.
For something like The Tempest you can do anything, you can go anywhere. So I read it and I have some thoughts about what I would find interesting or what I enjoy about the work. But I really do think it's great and helpful to get the ball rolling when the director has an idea like "I want to set it in 1930" or "on the moon." It doesn't have to be the idea we ultimately end with but it is nice to have something to start with.
After that, we separate. I'll think about it. I collect images from digital libraries and from books, and I'll pull images that seem like they're in the world that the director is looking to create. I tend to cast a very wide net that might cause someone to say "What are you thinking?" but there may be someone in the background or the spirit of the image may strike me. Then I'll generally create a Dropbox folder (it's become so much a part of my process I feel I have to give them a shout out) that I'll invite the director to peruse before our next meeting and give them a chance to respond to the images I've been pulling. Give them some time to think about things. Then we get together and go over them and see what feels good.
Then we start going through the characters, and I like to go though the characters one by one and let the director tell me what they think about them. I like it when they can give me modern day parallels or references, it's just another way of getting into how the director feels about the characters in a way that we can all understand pretty quickly.
At that point, we narrow it down, and I'll start sketching or creating a collage of images. We'll have a series of meetings between the designers and the director.
We'll discuss what's "good" and what's "not so good." Renderings and sketches are really a roadmap to where you're going to get eventually. I try to be as clear as possible, there are some designers who are very loose and very emotional. I think there is a place for that which is helpful and valid. But when you're trying to get a massive show done you need to communicate as clearly as possible so everyone knows where we're headed and what to expect, so I try to be as clear as possible when I sketch. Then again it is a drawing so there's always room for interpretation, and also things may change! You may design something and think it's the greatest thing in the world but then you meet the cast and there's a completely different body type, or they come to it with other ideas. So it's important to stay loose and fluid and remember that the drawing is a guide and a roadmap that you may steer away from.
What about your design for The Tempest, specifically?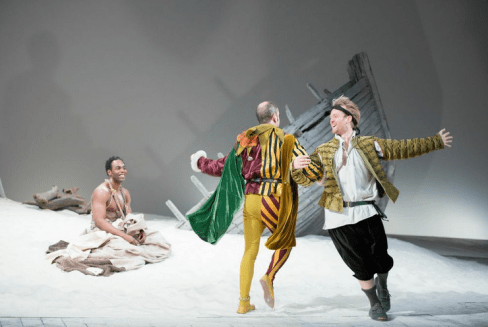 Ethan was very specific with what he wanted, with what he wanted the set to feel like, that he wanted to have sand. He had done a sketch of a boat sunken into the sand with a mast, and he also knew that he wanted the royals to be Elizabethan and that he wanted Prospero and Miranda to have their clothes reflect that they had been stuck on this island in a very real way. When it came to the spirits and Caliban, he took a "lets see where we land" approach and we went around and around trying to figure out who the spirits of the island are, how involved are they in the action.
Prospero's cloak is made of scraps of material that he's found, pieces of sail and old bones and sea glass, and coins. We used a lot of old fabrics that were lying in stock because they had this sort of patina to them that I loved and we sort of patch-worked them all together. The front neck piece of "lay" is all found pieces, the coins and glass, something to give it a little sparkle because its magic and magic has to have sparkle. and we had fun sitting there and weaving them all together in the way that he might have; driftwood, hair, making a magic robe out of ordinary, un-magical things.
Perhaps Miranda's clothes are a remnants, we had to ask "where does Miranda get all these clothes?" She's been on this island since she was a little child. So maybe her dress is an old shirt of Prospero's, and she has this little bodice that's made of a children;s boddice. We had patterns and images of children's bodices from the Elizabethan era so we took this and made it and thought, "What would she do? How would she adapt this?" So we took out seams and poked holes in the side and laced it with rope and expanded it to give her a bodice to give her a little shape. But we literally started with a child's garment and adapted it. Then we beat the crap out of it to make it look like it had been there for 12 years.
There are two camps in the Tempest, there are the Islanders and the visitors who get shipwrecked. We wanted the islanders to feel soft, sandy, beachy, earthy, shapeless, distressed, to feel like people could have emerged from the sand, organic. The Shipwrecked, we wanted them to be very foreign in this world, they wanted to seem uncomfortable in this world. I did this with everything from shape to color, the palette is dark, everyone is in bruisey colors: black, plum, brown, steely grey, and they are very gilded. I love the idea that these guys are dropped in looking pristine and perfect into this climate, and that they will quickly unravel. There's sand in the boots, and the gloves are too tight, and the hats are coming off. By the end of the show they kind of cross.
Prospero asks for his robe, dresses up, and moves into this place of power while the royals are unraveling and moving toward the place where we see prospero at the top of the show. The doublets come off, shirts are distressed, the garters and stockings are gone… whatever they can do to survive. Also the Elizabethan silhouette is ideal for this because it's such an unnatural shape, the waists are tucked in and they're covered with crap. I tend to be a designer who is minimalist and likes to pull away, but in this instance I was trying to build them up, asking "what more can we add?" And you know what? We just went whole hog with pumpkin breeches and codpieces, and all that sort of thing, I just went for it.
Where we landed with the spirits, I found this image of this man who was suspended, naked, sort of in a fetal position face down. And he was bound and suspended by all these ropes, it's a fashion image so very slick and clean. We thought this was a particularly interesting image for Ariel and Caliban because they are Prospero's prisoners. We liked the idea that they were bound by him to the island. We decided that we were going to have Ariel fly, and rather than try to hide the ropes for this effect we decided to feature it and have her bound up metaphorically by this rope, and have this rope be the thing that dangles her from the rafters.
As a costume designer what do you want your audience to know or think about when they come into a show?
Ultimately it's most successful when they don't notice it, in a way. There are shows that are flashy and in your face, and there are shows where they are real people and you want the costumes to melt away. But really what I try to do is communicate who these people are without using words, instead using clothes. What I want them to take away is who these people are in a richer way by what they're wearing and not just what they say. That's the goal. If they walk away thinking "That all looked pretty cool" then that's OK obviously, but that's not the goal. The goal is to provide a richer understanding of the characters and hence the play. and I'm just there to help them along.
—————-
I thought it would be interesting to speak with a designer whose work is more opaque to audiences: the Sound Designer, Nevin Steinberg.
Nevin Steinberg: I was the Sound Designer for The Tempest at Shakespeare Theater Company, my first ever production working for them and my first production for the director, Ethan McSweeney. I do sound design for Broadway plays and musicals, national tours, regional theater, and special events. I tend to focus on new work as a general rule, but I do all sorts of work. I'm also the Audio Consultant for the Stern Auditorium at Carnegie Hall, the large venue in that facility. I'm also fortunate enough to be on the Board of Trustees of the Town Hall, a landmark performing arts venue in Times Square.
How do you approach a play as a sound designer?
Whether it's a play or musical (and they're somewhat different), it always starts with the script. I always try and get acquainted with the material, previous versions of the show. Rhey often take some time to develop, so I look at earlier iterations to get a bead on the history of the development of the show. Sound design generally starts with the text and that's no different for Shakespeare. So I re-read the play, since it had been a while since I read it. First, a version that I had and then the version that Ethan and the Literary Department at Shakespeare have been using.
The next step is talking with the director. Try to get a feel, usually in an abstract way, what approach they're taking to the play, and try to develop a vocabulary for what they have in mind for the audio. See if there's a direction I should start walking. These things take time to develop. It's rare that the idea is already prepared in someone's mind, but you need a way to begin. And that's what that those first meetings are all about.
For a designer, the best tool you have is conversation. If you can have a spirited and interesting discussion about how a director or creative team approach a play, that's a great jumping off point.
What were those conversations like for The Tempest?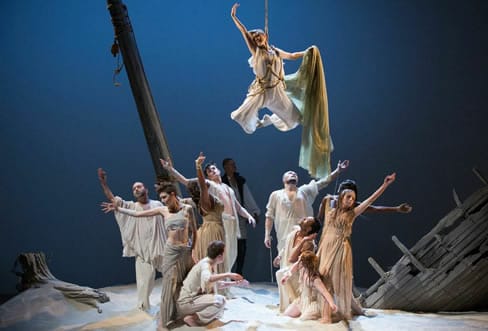 It began, as it sometimes does with Shakespeare, with the idea of music. Whether there would be music in the play and how it would be used. The Tempest is particularly musical among Shakespeare's plays. While I don't compose the music, my role in helping to curate, produce, and integrate the music into the play is an important one. That helps frame how other audio elements are implemented in the play.
The Tempest is also a unique challenge because it starts with a storm. So that's your first job as a sound designer on the play is how to deal with that storm. How to give the audience an experience that they would expect from a storm at sea and set them up for what comes when the storm recedes. It's like a big opening number with a lot of moving parts. So that's where the conversations began once we talked about the play in general.
What should audiences look for when they come to a show and want to appreciate the sound design?
I'll answer that question with a question: What do you look for when you examine other design elements? Are you looking for their initial appearance? Are you examining them for their relationship to the text and what the rest of the production is doing? I think that sound isn't very different than that. It is a little more elusive. I like to think of myself as an audience member, though I'm more focused on sound because its my job. When I go see a play, I'm interested in the communication of the characters, the story and the narrative, and the things that help me focus on that, the things that guide me through the evenings journey. Whether or not I can identify what is doing that. I think sound, like anything else, is a way of underscoring the meaning in a text and in an interpretation of a text.
Sound design is a function of communication. It can take the form of amplification, vocal and sound effects, soundscapes and atmospheres, music production, or it could take the form of transforming the acoustics of a room. All of those tools are only there to advance the cause of communicating the story to the audience. I don't think audiences have a responsibility to pay particular attention to sound, but if you're evaluating design elements, that's a good place to start.
—————–
The final designer I spoke with is Tony Award-winning Lighting Designer Chris Akerlind, whose boisterous energy was difficult to keep up with, but whose insight on design was both deep and unique:
Chris Akerlind: I'm a lighting designer, and this is the 25th year since I left grad school. I hit the peak of my career a little earlier when I would sometimes to 25 projects a year. As I've gotten older my career has changed a bit, I'm now doing some bigger opera and commercial projects that take a month or two so my count is down on a yearly basis, but I do work a lot.
This is my third unique Tempest this year. Yes, I love Shakespeare. I've made something like 28 or 29 of a possible 36 or 37 (depending on how you count them), But I find them very rich places to express light in space for performance.
But I took this one because I'm in the spirit of having a rich comparative experience around the play. I did a production directed by Aaron Posner and Teller (of the magic duo Pen and Teller) in Las Vegas this year. Then I did what you would call a downtown, very simple, elegant production at La Mama Theater Company, then of course, this Tempest at Shakespeare Theater Company.
How do you approach a show when designing for lights?
A lot of lighting designers are always thinking about the light that strikes the actors, and they think about it in isolation from the light that articulates the landscape. I'm the reverse; I start with the landscape. I start with a deep exploration of what the space is doing, how its functioning, the shapes and the colors in it. When I was teaching, I suggested an unorthodox method of throwing out the story. That actually the light becomes specific to the story once you get into the space.
The problem with thinking too much about the story is that you start to illustrate the story, as opposed to allowing the story to happen. So my approaching to using the space, to pulling out its intrinsic qualities, enhances the choices the set designer and the director have made. Then with your toolbox of lighting gestures, once the actors enter into the space, then you can employ those gestures as a way of allowing the story to happen.
I think this is especially important with Shakespeare. What feels deeply true to me, since those plays were made with nothing, no detail, for example, they used the same props in comedies and tragedies. The idea of illustrating when Shakespeare describes a color or a place, in my estimation, it's not really necessary to do that as a lighting designer. The problem with starting with the story, a lot of lighting designers are illustrating what the story is telling them to illustrate as opposed to creating a rich, electric environment in which the story can happen.
For The Tempest, beyond the detail of sand, everything else about that space is really of the theater. So one of the things that I was really excited about this production was that it takes place in, essentially, an empty space. It just needed to be filled with light that allowed the language and performances to happen.
Can you talk a bit more about your design for The Tempest specifically?
Ethan [McSweeney, director] and I had an idea that the events of the play would happen like a sundial. That there would be a sun in the sky and hang a so-called intelligent or moving light on a track that could move mechanically, in a fluid way, that would mimic the way that the sun moves across the sky. Once we got into the space, we realized for various technical reasons that wouldn't work. So we changed to a static sun that would appear in the sky. Then it evolved in a way that we would use it a little more poetically.
We were interested in well-made bright light that allows us to see the eyes and the mouth. White light that felt "of the islands." Then what happened as a result is that the magical moments: the use of footlights, the use of flying, the use of color in the masque. All those things are more exciting because the light at other times is not as interesting. Not that it is dumb. Just a more blank, drier quality.
We go to drama school and we're taught about the essential elements of drama. One of those elements that always gets brought up is spectacle. But on some fundamental level, I'm kind of over spectacle. I think that's a result of where I am in my life. I feel like I've seen all the spectacle. I've seen all the spectacle on Broadway, and I'm looking for the show, the play, the line, that essence of humanity that is sometimes drowned in spectacle. I prefer that the atmosphere and place and things comes out of the action.
Lighting design is something that not a lot of audience members know much about. What would you say to an audience member who comes into a play looking for an appreciation of the the work that you do? What should they know coming in?
I might argue that the best lighting design is when you don't notice it, when a play has moved you and you aren't sure why. Sometimes understanding the mechanics undermines the cosmic quality of a theater piece.
But, on the other hand, think about this. Say there are 400 and some lights that we have in a space. And they're able to be put on in any combination or permutation. Then, within that, each individual light can be put on a different intensity from 0 or 1 percent to 100 percent. So there's details and architecture of light that's in the air that you don't necessarily see, but that you feel.
There's a kind of Peter Brook aesthetic of just turning the work lights on. Or there's a philosophy that you can use big quantities of light, but that it is completely detailed, a complete architecture, and its always moving around. That's a lot like life to me, because in real life, light is always moving, the sun is always moving and people are always moving. There's almost no situation in life where light isn't moving. That's something I tried to embrace in The Tempest, where light is moving, but you don't really think about it, you intuit it. Yet, I'm hesitant to talk about it too much because good lighting for me is surreptitious.