When King Hedley II opens at Arena Stage on February 6, Jessica Frances Dukes will appear in the role of Tonya. It's a special moment in time for the native Washingtonian: her six-year-old self first sat in the audience of that hallowed regional theater. "It's almost like graduation year for me," she says as we meet over coffee in Arena's shadow.
Actually, I never touch my coffee, because spending time with Dukes is like a shot of caffeine itself. She's so wonderfully full of life – genuine, lively and thoughtful, with an infectiously wicked way of telling a tale. As we chat and laugh, I keep trying to reconcile her offstage presence with the many roles I've seen her perform over the years. She's a true chameleon, and she loves being one.
This is a pivotal point in Dukes' career, and it's exciting to hear her relay the steps taken along the way. With a recent role on CBS's The Good Wife under her belt, she was most recently seen in Booty Candy Off Broadway at Playwrights Horizons and A Raisin in the Sun Revisited (a documentary on the Raisin Cycle at Center Stage, which previously aired on PBS .
Watch the process of mounting Clybourne Park and Beneatha's Place at Center Stage, through the lens of the PBS documentary.
And now she's here in King Hedley II at Arena. After that, watch her continue to soar, with goals to work the circuit from television, film, regional theatre, DC and New York.
"I'm able to be a chameleon because I have so many different tool-bags to pull from," she says, referring to both her educational and professional experiences, "I'm really thankful for that."
Dukes' successful trajectory won't come as a surprise to Washington audiences, who've watched her multiple brilliant transformations onstage since her entry into the DC theater scene after her drama education, first as an undergraduate at Frostburg State University, and then with her MFA from The Catholic University of America.
But how did it happen? What can other actors learn from her journey? And what was it like walking arm-in-arm with Chris Noth? Listening to Dukes relay these stories was intensely inspiring.
Originally, this native Washingtonian was going to head straight to New York post-graduation, fulfilling a childhood dream. But her mentors encouraged her to start off her acting career in DC first, with its strong artistic community. It turned out to be the right path.
"People make decisions sometimes based on what everyone else does, as opposed to what their journey is supposed to be, and my journey was supposed to start here."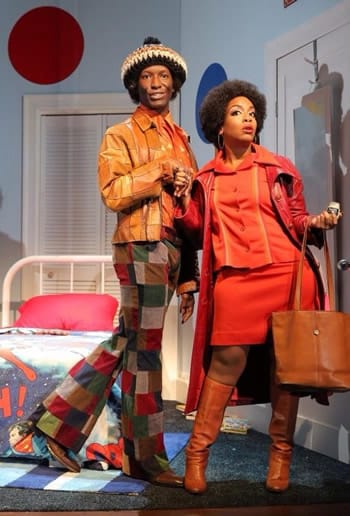 In 2008, after three years of auditioning at Woolly Mammoth Theatre Company without being cast, she got a call from artistic director Howard Shalwitz. "Every time you came in, you showed me something completely different," she recalls him saying. He was asking her to join them as a company member. She was floored. And as a company member at Woolly, she would live up to that chameleon potential.
"Jennifer Nelson, Aaron Posner, Robert O'Hara, Timothy Douglas," she says, listing the mentors who continued her education as a theater artist, "For them to pick me up and put me on their team, it just felt really good and has influenced my whole career."
"It was always something completely different, which I'm so grateful for," she says, "They never put me in a box."
Dukes stresses the importance of the theater education she received, starting with Mairzy Yost-Rushton at Frostburg State University. "You'll go to grad school to learn how to act," Yost-Rushton told her, "I'm going to teach you the business, how to become the CEO of Jessica Frances Dukes, Inc." It was a strong foundation. At both Frostburg and Catholic, Dukes felt she was "stretched beyond belief to come back to me," being cast in roles she might not play in the professional world.
"I was getting ready to graduate [from Catholic], and I told Marietta Hedges, 'I haven't done a black show,' and she said, 'I'm not training you to be a black actress, I'm training you to be an actress,'" Dukes relays, "I felt like school stripped away all the layers that I thought I was supposed to have, in order to become something else."
This educational foundation and the guidance she received afterwards from the directors and actors she worked with, is incredibly important to Dukes. It helped prepare her for the whirlwind that happened after Booty Candy's Off-Broadway premiere this past September. DC audiences had seen Dukes in Woolly Mammoth's 2011 production world premiere of Booty Candy; it was New York's turn in 2014. It meant so much to her to be in New York with a show she built in DC.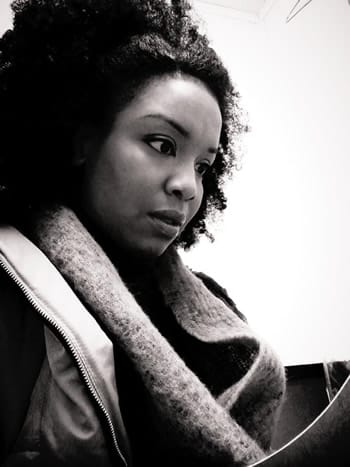 "Everyone came to see that show," she says, including Mark Saks, the award-wining casting director. A week after meeting with him, she was called in for an audition for Madam Secretary, and then for The Good Wife. While standing in the Apple Store to repair a shattered iPhone, Dukes got an email on her iPad informing her she was the first choice for a role on The Good Wife.
Two days later, she's on her first TV set for a three-week shoot, walking into the warming tent where Chris Noth, Frankie Faison, and Gbenga Akinnagbe are sitting. There's an empty seat.
"That's your chair," Noth, who plays Peter Florrick, says to her with a smile.
It was around 11pm, and after two run-throughs, they were ready to shoot: a crowd scene with hundreds of extras. In 10-degree weather with the wind blowing, Dukes is arm-and-arm with Noth.
"It was so surreal," she says, "I was overwhelmed by the situation and the amount of people, and I thought, this is actually how my character feels, why don't I use exactly where I'm at?"
After an hour of shooting, Dukes was back in her trailer for a break when everything hit her, and she started to cry in disbelief and gratitude.
"As an actor, as an artist, no matter how much we plan, when it happens, you're never going to be fully prepared for what it feels like," she says. From doing a show she loved, in a city she loved, to being on that set, her path was validated. "Everything I was doing was right," she says, now making me cry.
Watch Episode 6 of this season's Good Wife featuring Jessica Frances Dukes on CBS
At around 2am, it's time for her next scene, and the tears are laughed off as she shares how her makeup artist teased her for having to fix her eye makeup, and how hard it is to act in the cold and still be emotional. Director Brooke Kennedy gives her a note to relax her shoulders, and it works. Dukes finishes her first day on set at 3am, grateful for how welcoming and kind everyone was to the one they gently teased as "newbie" all night.
__________________
KING HEDLEY II
Feb 6 – March 8, 2015
Arena Stage at the Mead Center for American Theater
1101 Sixth Street, SW
Washington, DC
Tuesdays thru Sundays
Details and Tickets
__________________
Taking Faison's advice that she should stay out of the trailer and watch as much of the action as possible, Dukes soaked up every scene she could during the three-week shoot. From observing multiple shot angles, the ADR process, and then the final lesson: watching the airing of the episode itself and how the role of editing influences the final product.
"I got thrown in there, and that was my class," she says. It was clearly a fantastic first experience.
After DC, it's back to New York, to re-immerse herself in the New York scene, which is home base now. But we can't be jealous of her time away. She's the perfect artistic ambassador.
"I know I can represent DC in the way that I would love to, by going out and showing them what this DC girl has got. They bred me, I'm born and raised theater-wise here," she says, "Time to go out there and learn more and share."
———————