Petite Rouge, a Cajun Red Riding Hood is so steeped in Louisiana back-water country you can almost smell the wafting aroma of gumbo and need cornbread to sop it up.

Mike Artell adapted the book written by Joan Cushing from the beloved children's story Red Riding Hood, and plopped the characters in Cajun country, complete with dialect, traditions, buckets of color, and of course, plenty of good music.
Helen Hayes nominee Brittany Williams is a sweet Petite Rouge ready for fun and adventure despite her Mom's warnings to stay on task. She heads to her Grams with her trusty kitty, Tejean, played with winning charm by Jimmy Mavrikes. The two play off of each other buddy-style, with Tejean desperately trying to keep Rouge directly on route while she yearns to experience life beyond the bayou. Bursting with energy and Cajun tinged songs, the story twists and turns with the two weaving through the swamps on a paddle raft steps ahead of the hungry alligator who licks his big chops anticipating a tasty two course meal.
The talented ensemble of actors work together presenting the sights and sounds of Zydeco country. Karen Vincent displays full opera chops playing various characters, and both Wendell Jordan and Sakile Lyles bring adorable theatrically to their roles.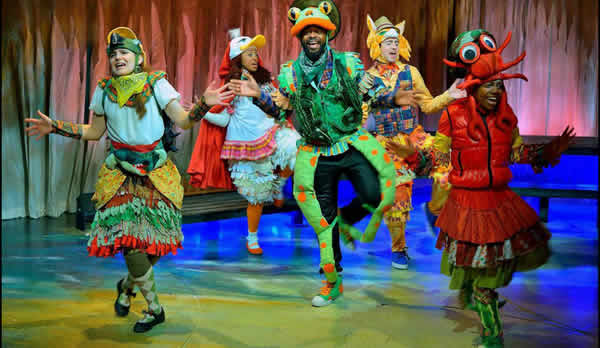 But it's Greg Twomey as Claude the Alligator who steals the show with his crafty, wooing, winsome ways. If you missed him as Huey Calhoun in Toby's Memphis, he's here slinking through the swamp-like mist, full of life, and still somehow incredibly charming despite the huge gaping teeth filling his alligator head, designed by Josh Kelly. Twomey brought a warmth to the Huey character that surpassed even the Broadway rendition, at least in my book, so yes, he's worth the trip to catch the show.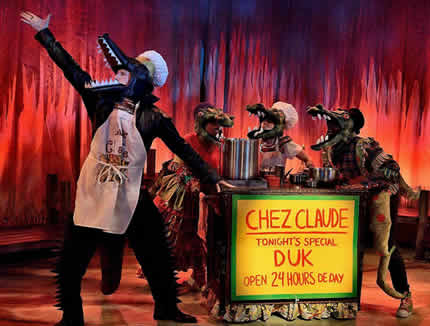 Michael Bobbitt's bubbly direction keeps everything moving at a fun-filled pace, from the backwoods swamp towns to New Orleans on a steamer riverboat, to a jazz funeral procession for a chipmunk, even partying during Mardi Gras. Bobbitt assures a steady hand in the multiple transitions and has a heck of a lot of fun letting "Grandmere" get her licks in before potentially becoming gator's tasty appetizer.
And did they really just have a Basque style waltz complete with masks, and then in lightening speed, break out playing the spoons to accompany a song? Oh, yes, they did, exploring cultural, almost anthropological, roots of the flavorful region– folks, this is a level of sophistication that ratchets family fare to a whole 'nother level of fun and entertainment.
PETITE ROUGE, A Cajun Red Riding Hood
Highly Recommended
Jan 30 – Mar 8

Adventure Theatre
Glen Echo Park
7300 MacArthur Blvd
Glen Echo, MD
1 hour, no intermission
Tickets: $19
Tuesdays thru Sundays
Details
Tickets or call 301 634.2270

———————
Creative set design by Court Watson starts at the entrance with tall grass stalks growing along the walkway bringing authenticity into the venue. Lighting by Jason Arnold casts ominous misty shadows, fire pit red, then playful purple and green for Mardi Gras. Colorful costumes by the inimitable Kendra Rai include layers of fabric, ruffled bottoms for the little duckling Petite Rouge, patchwork designs, band costumes, and even Mardi Gras regalia complete with all manner of beads, and where giant display masks flank the stage setting the festive tone.
At the end of the adventure-filled day, Petite Rouge learns valuable lessons about appreciating the safety of home, shy and retiring Tejean has jammed with the best of Dixie Land's swinging cats, and Claude gets a life-altering lesson from a swig of fiery hot Cajun hot sauce. Well, howdy doo, the whole thing is a lip-smacking good time on the Bayou.
——————–
Petite Rouge (A Cajun Red Riding Hood)  . Book, Music and Lyrics: Joan Cushing, adapted by Mike Artell . Direct and choreographer: Michael J. Bobbitt . Featuring Brittany Williams, Jimmy Mavrikes, Greg Twomey, Karen Vincent, Wendell Jordan, Dayna Quincy, Sakile Lyles,  Derek Tatum and Corinne Davis . Music director: Darius Smith . Scenic designer: Court Watson . Lighting designer: Jason Arnold . Costume designer: Kendra Rai . Sound design: Neil McFadden . Props design: Dre Moore . Dialect coach: Mary Coy . Stage manager: Madeleine Evans . Produced by Adventure Theatre MTC . Reviewed by Debbie Jackson.