Almost 30 years ago, Bob Fosse collapsed after rehearsals for a revival of Sweet Charity not two blocks from the National Theater, where I saw a piece of his legacy last night: the most recent national tour of Chicago. Today and for this play, Fosse is no longer just the man, the brilliant light who passed away that late September night, now prominently credited as a book writer, original director and choreographer in the National's program. Fosse is more than a man; Fosse is a style, a movement, an adjective, and a different sort of proper noun. And in this new rendition of what could be his masterwork, the ghost of Bob Fosse haunts the National Theater now.
At the end of the show, I wish that ghost would have materialized in the aisle next to me, spectral smoke rising from his ever-present cigarette, to launch into a tirade about the show or to nod simply and smugly in approval. But whatever the man would have thought, Chicago's newest national tour oozes the style we now call Fosse, burned indelibly on our cultural memories by the legendry of the man.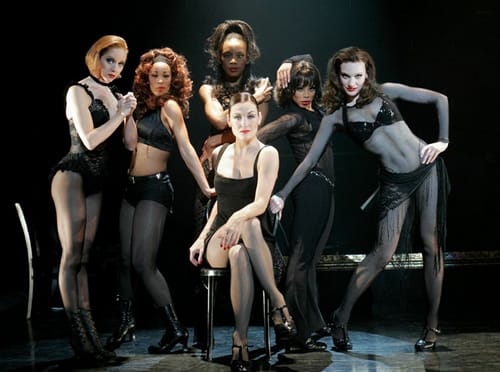 All of the familiar elements are here: from the lone chair in a spotlight on the preshow set to the expressive choreography taught in a hundred schools and glee clubs around the country to the prominent and interactive jazz band that dominates the set. This production, from direction to design to acting, is executed with exacting detail to recreate the impression of previous recent Chicago iterations.
William Ivey Long's costumes are cut to the most minute curve of the actors, dominated by black, white, and occasionally silver with sheer black mesh barely covering the lithe forms of the ensemble. Lighting designer Ken Billington pumps in haze preshow, so throughout the play the entire path of his admirably restrained lights are visible in the air above the stage, mimicking the air of smoky, black-painted speakeasy onstage.
John Lee Beatty's set is bare-bones and black as well, save for the wood trim of the huge band box and really razzle-dazzle treat toward the end of the show. The whole production design was like a comfortable but sexy piece of clothing you can put on and you know it looks good. The formula simply works.
The cast has their Fosse down pat, too. The ensemble especially clears the bar with ease when it comes to the demanding physical feats and intimidating precise detail required by Fosse-inspired choreography. They remind me that theater and particularly dance are endeavors as athletic as they are artistic. The ensemble's vocals are perfectly tuned as well and never fight with the band over the ears of the audience, which credits Sound Designer Scott Lehrer and Music Director Robert Billig.
We talk with John O'Hurley about playing Billy Flynn
The leads have the breezy confidence of actors who have played these roles before. Terra MacLeod plays Velma Kelly (as she did previously in Vancouver), has-been vaudeville star, murderess, and nemesis to fellow murderess and starlet-hopeful character Roxie Hart, whose story we follow. Bianca Marroquín, who won a Helen Hayes for this same role in 2004, contrasts well with MacLeod: Marroquín is short, brunette, and seemingly younger to MacLeod's long blond form that shows more maturity. Both fit their roles perfectly and deliver consistent, studied performances.
Famous "That Guy Who Was In That Thing" John O'Hurley is best known for playing J. Peterman on Seinfeld and, no surprise here, has played his present role, defense attorney Billy Flynn, on Broadway and national tours off and on since 2006. His voice is olive oil smooth and he could probably do his blocking in his sleep, but he shows up here strong.
Deserving special mention are some of the supporting characters, also longtime veterans in their characters. C. Newcomer, who has mastered Mary Sunshine, "sob sister" reporter who embodies the media frenzy around the two murderesses and their lawyer. Newcomer has the trick of Mary Sunshine's glass-shattering vocals and second act surprise, which is worth not revealing – just enjoy the surprise if you don't know what it is.
The character of Matron "Momma" Norton gets full support from actress Roz Ryan. Ryan plays Mama, confidante to the lead actresses, as a blues shouter unafraid to meddle in the affairs of the characters or the audience.
Jacob Keith Wilson, who plays Roxie's sad-sack husband Amos, is notably new to the role but one of my favorites from the cast. Happily, Wilson has found the clownishness of Fosse, closer to the original work of the man than his veteran compatriots. The whole production could use a dose of this clownishness, and the moments that it did come through – with Wilson's moping, in Roz Ryan's interactions with the audience, and through Matthew Winnegge's enjoyable multi-faceted playing as the Jury-the production was enlivened for those moments, made more exciting and less mechanical.
And that's my one complaint about this Chicago. Already the second longest running Broadway show (with constant national and international tours), this show, this staging, and, many times, these actors have already been cemented in the minds of thousands if not millions of audience members. Sometimes it feels like the actors know this too well, and they play their scenes and songs crisply and professionally, but without vitality. Fosse, the man, was so great because his work was fresh, unique, and always pushing boundaries, but Fosse, the style, has lived entrenched in this precise form since the Clinton administration.
CHICAGO
Recommended
February 10 – 15, 2015

The National Theatre
1321 Pennsylvania Avenue, NW
Washington, DC
2 hours, 30 minutes with 1 intermission
Tickets: $48-$93
Tuesday thru Sunday
Details
Tickets

———————
What would the ghost of Bob Fosse, now watching his legacy until February 15th at the National Theater, think about this massive long-term success or about this persistent repetition of this particular staging of the interpretation of his work?
If you haven't already had the Chicago experience, especially if you love musicals, you should catch the incredible experience everyone has talked about, reproduced exactly. If you don't get to go to the theater that often and you're looking for a sure-fire Valentine's date with your partner, you'll go home happy having seen what is now a pillar of tradition in the American theater. If you want to relive your childhood experiences of seeing Chicago on the big stage, this production will give you all the nostalgic flashbacks you could ask for.
But if you're looking for something fresh or new or different, you might seek out something more innovative. I think that's what Bob would do.
———————
Chicago . book by Fred Ebb and Bob Fosse, music by John Kander and lyrics by Fred Ebb . Directed by David Hyslop . Choreography: David Bushman adapted from Ann Reinking's original choreography in the style of Bob Fosse. Set design: John Lee Beatty .  Costume design: William Ivey Long . Lighting design: Ken Billington . Sound design:  Scott Lehrer . Orchestrations: Ralph Burns, supervising music direction by Rob Fisher . Presented by the National Theatre . Reviewed by Alan Katz.