Love, honor, revenge, blood sacrifice– these and other seminal elements flow through the inner workings of August Wilson's King Hedley II. The script is masterful, the themes course through the characters' lives and play out in full operatic-like orations. Entire passages can transport you to a sense of other- worldliness, sometimes ancient, other times intensely urban, the way no one but Wilson can achieve.
Wilson's language, phrasing, and craft lift this piece to the heavens. Just listening to the passages is like sitting cross-legged on the floor at the knee of a beloved griot, in a crooked sort of way.   It's like hearing a story that's been relayed by trusted and meaningful stewards too preoccupied with their own survival to get it right. The main soothsayer, Aunt Ester, supposedly 366 years old, her age reflecting the tide of slavery in America, has just died. A character derided with the moniker "Stool Pigeon" because he identified who murdered his friend, has uncanny insights about cultural identity. But he also hoards newspapers and reads random headlines with the flourish of new discovery, admonishing everybody with—"See? You need to know that!"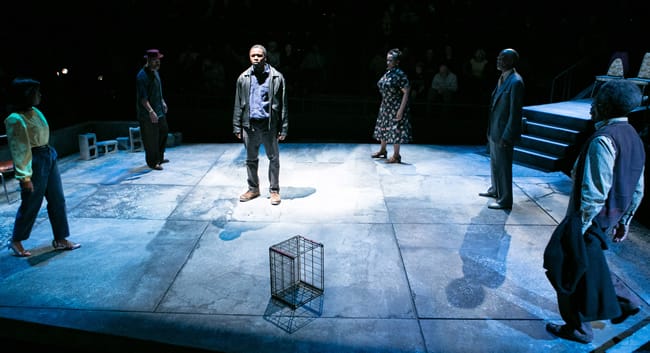 As usual, Wilson's characters are steeped in cauldrons of paradox, conflict and tension, always wanting something badly, willing to fight for and die over seemingly inconsequential artifacts. Hedley, an ultimate example of a forceful, misguided somewhat brutish character, survives on his wit and fanatical devotion to his own sense of rightness. He's ready to go to the mat over a receipt from Sears as forcefully as Hambone demanded his just due for a day's work in Wilson's Two Trains Running. To get much needed money, he convinces his buddy "Mister" to help sell refrigerators off a truck, likely they're stolen property, but when the money doesn't appear fast enough, he resorts to finding an easy mark to heist. Hedley is constantly on the prowl, like a caged ferocious lion, just inches away from pouncing on his next meal, without considering that it might be rancid or poison.
The complicated character Hedley is forceful and imposing, brash and loud, but persuasive, too. He has obviously talked, hustled, and bullied his way through life, including through the penal system, and survived a gruesome knife attack that left a huge permanent scar down his face to his neck. Portraying such an intense character is tough to get right, and unfortunately, talented Bowman Wright, misses the opportunity.
From the very beginning, Wright delivers all of his lines the same way, whether talking about his stolen refrigerators or a precious first love, or murder. He delivers his lines from one stance without reflection or depth, at one vocal pitch that just gets louder and louder rather than deeper or filled with nuance and dimension. Decibel level does not have to rise to a holler to show intensity. The result can be long, even tiring passages when the interactions between the characters could verge on riveting if the pitch were more in scale.
With the main character so unapproachable, the ensemble has to pick up the pieces to let us listen and care, and that's just what happens here with terrific casting and staging.
E. Faye Butler proves yet again that she has not only gut-busting chops that will blow down the rooftops, but can carry her gorgeous heft with spell-binding stage presence. She tackles the difficult character of Ruby with ease, bearing the guilt of having opted out of mothering her son to chase dreams of singer stardom as well as being the cast-off love interest of a shiftless hustler. As Ruby, she shakes off Hedley's taunts and constant disappointment and keeps on stepping, determined to make the best of life's meager offerings.
The always remarkable Kenyatta Rogers disappears into his role yet again, this time as "Mister" bringing a genuine caring to his character. With a penetrating gaze, he's a loud and forceful counterpart in interacting with Hedley and helps carry the emotional load by actively listening, displaying ranges of thought and deliberation.
Jessica Francis Dukes is wonderfully adept at plunging into strong complicated roles and she does so with finesse here as Hedley's wife. Tonya has some of the most poignant monologues of Wilson's entire cycle, and Dukes shows why she's one of the hottest actors from our area.
Michael Anthony Williams as Elmore had more to work with in We Are Proud to Present, and is outmatched by the powerful Butler as a love interest, but he delvers powerfully in an unflinching showdown with Hedley. Finally, the near-stellar casting includes the legendary André De Shields as "Stool Pigeon" who embodies powerful old-school Black Theater movements even when simply crossing the stage, let alone delivering a line. He's a gem in the ocean, (title of another Wilson play notwithstanding.)
Director Timothy Douglas's stylistic decision to include everyone on stage keeps all the energy focused and intent–someone may storm off after a heated interchange, or loving embrace, or more likely close to maiming someone, but when they end up in a darkened corner chair in full sight, their spirits still linger on stage. Douglas has a way of calling forth the spirits. Everything he touches is filled with a nod to the ancestors and the spirit within, including the handling of the machete that emerges. The characters have guns in their pockets and waistbands, and they fondle the handles, but nothing has the history, weight, and cultural significance of the ancestral machete and Douglas introduces it in near-ritual presentation to great effect.
KING HEDLEY II
Recommended
Feb 6 – March 8

Arena Stage at the Mead Center for American Theater
1101 Sixth Street, SW
Washington, DC
3 hours with 1 intermission
Tickets: $75 – $90
Tuesdays thru Sundays
Details
Tickets

—————–
Lighting (Allen Lee Hughes) is also very effective when transitioning to the reddish glow of foreshadowing, memory, and possibility. Costume designer Ilona Somogyi successfully brings forth the worn patterns of the threadbare working class of the mid-1980's. Elmore hits the stride of a high-roller in his near golden suit, and Ruby's gorgeous final dress bears the color of her name lighting up the stage with possibility. Why Tonya is stuck wearing non-flattering slacks and starched shirt escapes me, but I guess there's a reason.
Wilson's legacy continues to thrill us with possibilities while haunting us with inescapable reflections of cultural history. For example, the seeds that Hedley so desperately tries to sprout are carefully conjured in concrete looking gravel that he insists is "good dirt" because that's all he's got. Arena Stage has an excellent track record of producing Wilson's play cycle over the years, and is fearlessly devoted to facilitating community dialog on difficult subjects about race and cultural identities. (Remember the day-long seminar on Yellowman almost ten years ago? Incredible).
The program notes acknowledge that Hedley is one of Wilson's most "difficult and dangerous plays" and Arena trusted Douglas to help explore the universal truths embedded in the sometimes dense passages. Douglas mostly accomplishes that ambitious aim with a creative and spirit-filled insight into Wilson, although with a more translucent lead performance, the piece would absolutely soar.
———————
King Hedley II by August Wilson . Directed by Timothy Douglas . Featuring Bowman Wright, E. Faye Butler, André De Shields, Jessica Frances Dukes, KenYatta Rogers, and Michael Anthony Williams . Set Designer: Tony Cisek . Costume Designer: Ilona Somogyi . Lighting Designer: Allen Lee Hughes . Sound Designer: Ryan Rumery . Stage Manager: William E. Cruttenden III, assisted by Marne Anderson . Produced by Arena Stage . Reviewed by Debbie Minter Jackson.