In roughly two hours, Cherokee packs in a man's disappearance, sex in a tent, two slaughtered bunnies, a Native American wilderness guide, a midlife crisis, a pregnancy, bigamy, an improv theatre exercise, a case of amnesia, a fake accent, and an all-you-can-eat buffet. Not in that order.
This new play from Pulitzer Prize-contender Lisa D'Amour works off a template that will feel familiar to Detroit audiences. Yet for a play that holds its foot to the proverbial gas pedal for 120 consecutive minutes, this latest work suffers from a remarkable lack of tension.
Two couples, one in their fifties and one in their thirties, have traveled from the oil rigs of Texas to the wilderness of Cherokee, North Carolina. John (Paul Morella) has planned this trip as an escape from his important and stressful career somewhere toward the high end of an oil company's food chain, bringing with him his wife Janine (Jennifer Mendenhall) and their friends Mike (Thomas W. Jones II) and Traci (Erica Chamblee), who–as we learn from their insect phobia and tent-building skills–do not camp well or often. Then Mike–the most nature-illiterate and anxious of the group–goes missing.
And everything begins to spiral in strange and muddled ways.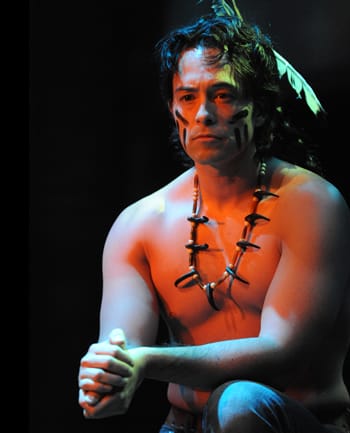 Mike's friends seem to recover from his disappearance within days. His now-pregnant wife finds a new love in a youngish, Cherokeeish local called Josh (Jason Grasl). Janine and John engross themselves in the joys of hunting and fishing and laboring over the butane stove. The urgency of their search has not so much ground to a halt as never accelerated in the first place, and when we do see Mike again–no more than a few weeks later–it's as though he's flipped a personality switch.
He calls himself Carlton, behaves as though he's been raised in nature, and has no memory of his past self. In Cherokee, the characters move like pawns through the plot, too hasty and action-driven to fully captivate audiences with their journeys.
I should note that this is through no fault of the ensemble, and that all five performers navigated their challenging roles with grace. But they cannot fully redeem the flawed script.
D'Amour gestures towards many timely and significant themes: the restoration of spirit that can be urged forth by a return to nature; the conflict implicit in any culture that tries to straddle the traditional and the contemporary; the corruption and toxicity of large-scale capitalism; notions of what people find valuable and why. Yet these themes emerge at the expense of the play's credibility—transformations occur instantaneously, without explanation.

CHEROKEE
Somewhat Recommended
Feb 9 – March 8
Woolly Mammoth Theatre
641 D St NW
Washington, DC
2 hours with 1 intermission
Tickets: $45 – $68
Wednesdays thru Sundays
Details
Tickets or call 202-393-3939


———————
And John Vreeke's production tries to make up some of that credibility—echoing the play's themes with bombastic pop songs, impressive projection technology, and other reminders of consumerist life in 2015 to juxtapose with the trees, tents, and silences of life in the wild. It is an innovative production – the live video feed blending the actors' image with a projected background successfully mark where the modern and synthetic creep in on nature, and the set and costumes served it well.
Yet this play feels so scattershot in its approach that what I longed for was a moment of simplicity. Which would seem appropriate, were it not in the peaceful environs of the woods that the overactive themes and roller-coasting plot arcs take place. In its current state, I left the theatre with a little bit of envy for Mike's amnesia and the urge to roast a marshmallow.
——————
Cherokee by Lisa D'Amour . Directed by John Vreeke . Featuring Paul Morella, Jennifer Mendenhall, Thomas W Jones II,  Erica Chamblee and Jason Grasil . Set designe:  Daniel Ettinger . Costume design: Kelsey Hunt . Lighting design: Colin K. Bills . Sound design: Palmer Hefferan . Projections Engineer: Aaron Fisher . Fight choreography: Joe Isenberg . Dramaturg: Kirsten Bowen . Stage manager: Eric Arnold . Produced by Woolly Mammoth Theatre Company . Reviewed by Jennifer Clements.