A large round shadow screen looms upstage, like a rising moon. Eight triangular steps ascend, like a pyramid, in front of it, as if leading to a Mayan temple. The stage floor is lit with a squiggly  pattern of light and dark. Sounds of bird calls and crickets put us in a tropical forest.
Is it possible to do a fabulous remount of Fábulas Mayas, a bilingual fantasy for the family, staged by GALA in November 2013? Absolutely, if you are director/actor/puppeteer Cecilia Cackley, who is also the playwright.  Cackley has dug deeper into Mayan antiquity and come up with nine "just-so" stories, explaining why animals are as they are, combined into one hour-long play. Alternating Spanish and English text, adapted by Karin Tovar, makes sur-titles unnecessary. And the  revamped update, showing us how all creatures are interrelated, is as delightful and satisfying as the first.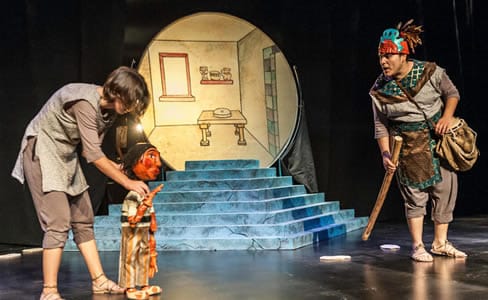 The first episode starts: In the beginning the Creator (Miguel Alejandro Amaguaña), and the Shaper (Chema Pineda-Fernández) decided to fill silence and empty space with animals; only in this remake, they're quarreling with each other. And the Mayan Gods want peace.  One story tumbles out over another. Here are just some of the memorable highlights.
Deer has teeny tiny ears and is envious of Rabbit (enacted by Cecilia Cackley), who has been gifted by the gods with magnificent antlers. Deer tricks the gullible rabbit out of the antlers. And the gods compensate Rabbit by giving him/her big, floppy ears. It's a charming retelling of the cautionary myth about trust, envy, and friendship. The difference in this second version is that the Rabbit bounces back from loss as a stronger trickster, an instigator, who teaches smaller, physically-weaker animals how to outwit their stronger, intimidating competitors. To survive and maintain a balance in nature, small animals resort to tricks to outwit their enemies.
Another scene, from one of the highpoint scenes, "The Race," depicts the contest between the Minnow, a puppet operated by Carol Spring, the faster one, who 'swims' up and down the theatre's aisles, versus Snail, enacted using a rod puppet by Chema Pineda-Fernández.  In the Mayan myth the slow one loses. It's dramatically different from The Tortoise and the Hare in the Aesop fable. But here, Rabbit, wiser for losing his antlers, acts as adviser for loss. "You have nothing to feel ashamed of," Rabbit tells Snail. "Things just are as they are." And Snail, thereafter, feels justified for hiding his head  in his shell. It's a touching moment.
Creator (Chema Pineda-Fernández) and Shaper (Miguel Amaguaña) as actors and puppeteers project a forceful stage presence. I especially liked them as the Jaguars in "The War of the Wasps" with Cricket (a shadow puppet). In the first staging of Fábulas Mayas the Jaguars were more of an intentional joke than a menace. In this remount, the actors take the Jaguars, who pose as a really serious threat, up to the first row for interaction. The children in the audience loved it.
"How Bats Were Created" demonstrates really effective use of the ancient art of shadow screen and puppets. Drawings on transparencies are scrolled over the light source onto the circular screen (Screen design by Niell Duvall). In this way, we see how mice evolved into exotic bats, as imagined by the Mayans. Mice run across the screen to jump the ravine. Some make it and become useful. They grow wings and claws as bats, who cling to rocks during the day, and only fly at night to feed on mosquitoes. But many mice fall over the edge and climb out, still mice. It's charming, even if not scientifically sound.
Then in "Why the Dog Wags His Tail," the moral is clear. The animals all know not to tell secrets to the panting gossip, the Dog (Carol Spring). What happens to Dog, a punishment, is enacted on the shadow screen with rod puppets, plastic cut-outs controlled by long sticks, held up between a light projector and the circular, see-through screen.  (Puppet design by Genna Davidson).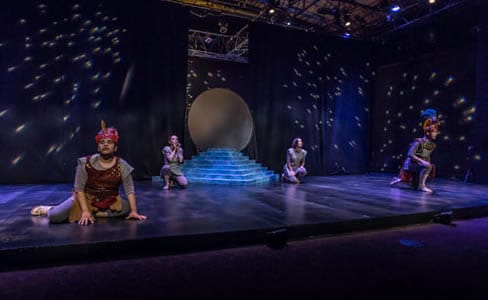 But the all time highpoint is "The Disobedient Child," a stormy, mysteriously odd scene, with stage effects by lighting and sound designer Alex Keen and Kenny Neal, respectively. This scene is both illogical, odd and intriguing, but filled with pathos.
The Little Child, a puppet manipulated by Cackley, had the youngsters from the Sidwell Friends School in Washington D.C. mesmerized, on the day I saw the play. It's a cautionary tale depicting how disobedience, laziness, and bad decisions can lead to chaos.
The Little Child  starving, as is the Coyote. Although sympathetic, he foolishly steals Chac's (the Rain God) bag of winds, gourd of rain, staff of lightning, and thunder drum. His action leads to dire consequences. A violent rain storm kills the Child and smashes the roof of the children's and parent's house, as shown to us in a screen drawing (Niell Duvall). It takes Chac to bring the Child back to life with magic. All this action is enacted with puppetry and impressive, seamless ensemble teamwork from the acting quartet: Miguel Alejandro Amaguaña, Carol Spring, Chema Pineda-Fernández and Cecilia Cackley.
This consolidates the darker, grotesque side of this story. Underneath the frenetic slapstick, and running around, hunger is a driving force. The children are hungry, as is Coyote, who is in ravage pursuit of Rabbit. There is a wild sequence in which tortillas are made magically, flying off a grindstone, as if it's an imaginary, surreal dream to bury the Child in tortillas.
But the ultimate moral prevails: Humans who try to unleash god-like powers cause all the troubles. Little Child brought about the storm that crushed the roof of his parents' house. Finally, swirling white lights suggest stars and mysterious and cosmic significance.  (Lighting by Alex Keen).
Adapted for kids pre-Kindergarten through 5th grade, and for our modern adult sensibility, playwright/actor/puppeteer Cackley has researched ancient Mayan myths, based on the book The Bird Who Cleans the World & Other Stories by Victor Montejo, and other sources. Oral traditions are tricky and hard to pin down. There is controversy over what is truly authentic Mayan myths. Some stories are more successful than others. Still, the anti-climactic ending is a total surprise.
————–
Fábulas Mayas/Fabulous Mayas, a play for the entire family, based on 2013 original staging by David Lloyd Olson. Written by Cecilia Cackley . Bilingual version by Karin Tovar . Directed by Cecilia Cackley in collaboration with Wit's End Puppets . Featuring Cecilia Cackley, Chema Pineda-Fernandez,  and Miguel Amaguaña .
Produced by GALita and Wit's End Puppets . Reviewed by Rosalind Lacy.