The In Series Pocket Opera Company is using its gifted creative team, librettist Bari Biern and stage director Tom Mallan, to the utmost, for a bold, new venture, Don Giovanni, one of Mozart's most demanding operas.
We're outside a revivalist's tent. Signs posted on the curtain, stage right, invite us to "Repent Now," that there's "Eternity Ahead," and to "Believe the Gospel." This is the way Biern and Mallan transport us out of 17th century Prague to a small American town in 1924. After taking us from Turkey to Texas last season, in a dazzling mount of Mozart's Abduction from the Seraglio, we find ourselves in any U.S.A. small town's religious revival. The relocation makes the opera accessible and fun.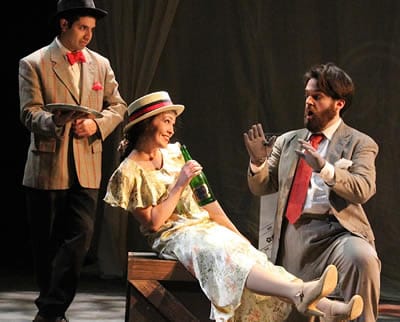 In two-and-a half miraculous hours, we follow the sexcapades, of Don Giovanni, a.k.a. Don Juan, based on the Tirso de Molina's 17th century, cape and sword Spanish play, borrowed by Mozart and librettist Lorenzo Da Ponte. Identified as one of the most difficult operas to perform, The In Series ensemble tackles it with ease, updating it into a delightful romp with believable characters. Mallan's fluid, well-paced stage direction, produces a magnetic draw between characters who at the beginning are poles apart.
Don Giovanni, sung by a fresh recruit, Andrew Thomas Pardini, who is endowed with a heart-stopping, high-voltage bass-baritone voice, is the charismatic evangelist who seduces women far and wide, pays for it with his life, but goes to Hell defiant, refusing to repent. What makes this version ironically funny is that Giovanni is a serial philanderer with philosophy. He's a true believer in perverted ethics, so sure he's doing good.
As evidence of his lecherous side, Elizabeth McFadden's flexible set design reveals silhouetted shadows of actors pantomiming his seductions behind the see-through tent muslin, draped diagonally, like a white, linen curtain across the stage. When the curtain is parted, we see a replica of a church window, slanted light, benches and altar, an alcove-like playing area. The inventive staging works, thanks to the creativity of lighting designer Alex F. Keen.
Meanwhile, director Tom Mallan puts the drama center-stage. After wandering in the wilderness, evangelist Giovanni, sung with rich timbre and nuanced color by bass-baritone Pardini, plunks down his worn suitcase in any small town, U.S.A. He is guarded by his sidekick servant, Leporello, an eager-to-please, fellow con artist, played with relish and brilliance by resonant-voiced baritone Alex Alburqueque. His Leparello comes across as a two-faced, wide-eyed country charlatan, seemingly naive and innocent, but devious underneath.
We get the set-up from the start. As Giovanni is seducing a female prey behind the tent curtain, Leporello, dressed in a dignified sport jacket, spiffy red bow tie, suspenders, and bowler hat, serves as a lookout, complaining in "Ev'ry night & ev'ry day," how sick he is of serving his master. The charade goes well until Pastor Jebediah Stone, (David Brundage), catches Giovanni in-the-act of seducing his own daughter, Anna.
Soprano Randa Rouweyna, an In Series favorite, is Anna, also infatuated with Giovanni, who sings with exquisite purity of tone, "No, you don't! Don't try to leave me." With ringing clarity, she screams defiance from her bedroom in her father's house of worship, while Giovanni tries to silence her. This opening scene efficiently sets the rollicking, mock-heroic, devil-may-care tone. That Anna is clad in white, silk pajamas, (costumers Patricia Sehar Peerzada and Brian J. Shaw), makes sense because Giovanni seduces women at night.
Librettist Biern, cleverly updates Tirso de Molina's 17th century cape and sword plot. Instead of Anna's father dying by the sword in a pool of blood, Giovanni deliberately withholds the Pastor's medications and escapes, after Stone suffers a heart attack and falls to the floor. Not as violent, but more realistic. Anna reenters with Ottavio, her fiance, (tenor Aaron Halevy), finds her father, and vows vengeance for his murder. Sometimes the voices ring with such reverberation, it's easy to conclude that you're losing Biern's juicy lyrics. But you're not really. The stylistic repetition of refrains, like "We'll spill the killer's blood," at the end of this scene for example, reinforces the characters' intentions.
For the rest of the opera, Leparello and Giovanni are pursued by Giovanni's demon-like, jilted, even robbed, cast-off lovers. That is, until Giovanni is forced to confront the raised-from-the-dead, Pastor Stone, (the Commodore in Mozart's original), sung vibrantly by bass David Brundage, covered with marble-white make-up, as the nodding, walking statue. It's a highly successful moment of supernatural terror that sends chills to the spine.
But the acting skill of the female singers in conveying the complexity are the most entrancing and make this a not-to-be-missed production. Rouweyha, as Anna, has developed magnificently as a performing artist. She handles cadenzas with effortless ease as she expresses grief over the deliberate killing of her father, and her longing for transcendent love with Ottavio in Act II's "Please don't say, I'm cruel to you!" She is anguished, conflicted between vengeance for her father's death and the joy of love.
It's the women who fascinate, like Sister Elvira, sung by soprano Daniele Lorio, who has a lovely, super-sweet, commanding voice. Elvira is another fiery preacher and Giovanni's abandoned wife. Lorio projects an Elvira, who also loves the rogue unconditionally, in spite of abandonment. She won't give up her pursuit until she brings him home repentant and redeemed. "I know he's evil but my heart is his prisoner," she confesses, ever-faithful to the end. Details count, such as a significant stage exit. Elvira picks up her pulpit, that folds into a cross, and slings it across her shoulder. Thus, she exits, bearing her cross, a symbolic act of a martyr devoted to passion – a nice directing touch by Mallan, that gets a chuckle from the audience.

DON GIOVANNI
Highly Recommended
March 14 – 23
IN Series at
GALA Hispanic Theatre
3333 14th Street, NW
Washington, DC
2 hours, 30 minutes with 1 intermission
Tickets: $45
Monday, Saturdays and Sundays
Details
Tickets
———————
As artistic director Carla Hübner promised in the Director's Salon on March 2nd, this is no downgrade. This is The In Series recipe: The intensely emotional music remains Mozart. You hear the soaring sublimity of Mozart's original dramma giocoso (funny tragedy), that combines tragedy, hilarity and the supernatural. At the same time, the accompaniment retains a Baroque, 17th century zest, thanks to musical director Stanley Thurston's light-hearted conducting of the string ensemble with piano, that aptly fills in continuo for the recitative.
The recognizable, well-known "catalogue aria," "Lovely lady," for example, is delivered with hypnotic pacing and crescendo by Alburqueque, who appears to be a proper gentleman, in dapper, black hat, as Leparello. When Leparello expansively tells Elviva about Giovanni's long list of conquests, such as "1003 in Manhattan," it's a hilarious, bravura moment. Meanwhile upstage, three women enter a slit in the revivalist tent for a "healing"; then exit the other side, smiling. Leparello cries out "Take a number and wait your turn!" The implication is that the women enjoy Giovanni's laying-on-of-hands.
But the Don's escapades don't stop there. In the duet, "Come with me now, my angel," Giovanni's attack on the virtue of Zerlina, sung with soprano Laura Wehrmeyer Fuentes, dressed in a flowing, flowery silk dress, is almost painful. Zerlina is engaged to provincial Masetto, but seems to want the Don's seduction. Wehrmeyer-Fuentes as Zerlina at one point poses like a romantic pin-up girl from the 1920s on a bench. Ironically, the only thing that saves her is Elvira's intervention. And bass-baritone Sean Pflueger, as Masetto, later sings his heartfelt commitment, in spite of hurt feelings. When Masetto and Zerlina touch noses, there's an endearing freshness in their coupling, that Giovanni callously sets out to break apart.
In spite of many warnings that Giovanni will end up in hell, he cannot give up his womanizing. "Why did God make them, if not for me to take them?" he asks cynically. Tenor Aaron Halevy as Ottavio does a good job with the challenging aria "Angels of mercy" on his knees with sincerity and conviction, his eyes cast to heaven. He is praying for Giovanni to stop his relentless pursuit of Anna, to "give her some relief." At the same time, the irony is that the women who swarm around him cannot resist his seductions.
Instead of using masks, Don Giovanni takes off his gloves to symbolize the unmasking scene in Hell. It's a subtle twist. The ending is ambiguous, filled with hope – except that we imagine Giovanni devoured by the fire and brimstone of Hell. We don't get the flickering flames we saw in WAM 2, the 2011 collaboration between Biern, The In Series, and The Washington Ballet Company, where dancers reincarnated Don Giovanni's hell. In contrast, The In Series Don Giovanni focuses on the singing and prods us to think.
The question lingers throughout: Why is Giovanni so compulsive about seducing women from "vestry to choir loft"? Is this a satire aimed at the hypocrisy of women? Is Don Giovanni simply a cynical rebel, a misogynist trying to prove how lustful women really are underneath their prim facades? Or is the Don simply incapable of real love and intimacy? Is redemption possible?
There are too many beautiful highpoint scenes and arias to mention all here. I felt like cheering after every show-stopper, one after the other. It's The In Series at its best. A must-see, but hurry, it's closing soon.
—————-
Don Giovanni, A Dramma Giocoso (funny tragedy) by Wolfgang Amadeus Mozart . Translated and Adapted with English Lyrics by Bari Biern . Directed by Tom Mallan . Music director/conductor by Stanley Thurston . Featuring Andrew Pardini as Don Giovanni, Alex Alburqueque as Leporello, Daniele Lorio as Donna Elvira, Randa Rouweyha as Donna Anna, Aaron Halevy as Don Ottavio, Laura Wehrmeyer Fuentes as Zerlina, Sean Pflueger as Masetto, David Brundage as the Commendatore with a full ensemble: Elizabeth Overmann, Melissa Chavez, Chris Herman, Teresa Ferrara, Nicholas Carratura and Kenneth Derby. Produced by the In Series Pocket Opera Company . Reviewed by Rosalind Lacy.