Gigi, an imitation French confection of a musical starring High School Musical sweetheart Vanessa Hudgens, is based on a novella by Colette about two aging prostitutes grooming their illegitimate relative, a child of 15, to attach herself to a rich older man.  Colette added a twist to this sordid story, which she set in high-toned Parisian society during the Belle Époque: Gigi refuses to become the mistress of Gaston, the scion of a sugar fortune, exasperating her grandmother and great-aunt – but spurring Gaston to propose marriage. At the end, her relatives are convinced that Gigi is far more conniving than they.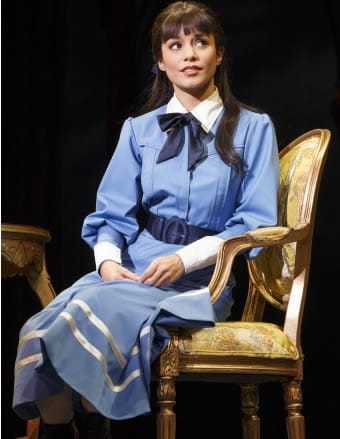 If the Gigi of the original tale could hardly be considered romantic – she admits she doesn't really love Gaston — she was transformed as the story made its way from 1944 book to 1949 French movie to 1951 Broadway play — which introduced Audrey Hepburn to the world — to 1958 Oscar-winning movie musical starring Leslie Caron. Directed by Vincente Minnelli, the movie added catchy songs by Alan Jay Lerner and Frederick Loewe and featured a new character, Gaston's uncle, played by Maurice Chevalier. Lerner and Loewe adapted the movie to the Broadway stage in 1973, which failed to captivate theatergoers the way the film had won over moviegoers; it ran for only three months.  That Lerner and Loewe stage musical is back on Broadway, in a revival that now has opened at the Neil Simon Theatre.
Director Eric Schaeffer, the artistic director of Arlington, Virginia's Signature Theatre, has assembled a first-rate creative team and a cast of both sturdy Broadway veterans and promising newcomers. Heidi Thomas, best known for penning the BBC TV series Call The Midwife, has revised the book to align the story more with current sensibilities. Yet the new revival of Gigi too often feels akin to dirty linen that's been put through the wash too many times; it's clean now and has a sheen, but it's threadbare, intellectually and emotionally.
The Gigi at the Neil Simon is a romance between Gigi and Gaston (Corey Cott) that caters to the American tourist's romantic notion of Paris, visually above all else.  Derek McLane's eye-catching sets capture an Eiffel Tower aesthetic, with intricate iron latticework, and trees with leaves like the exquisite glass of Tiffany lamps; the entire stage is often bathed in the luscious primary colors of Natasha Katz's lighting. Catherine Zuber's elegant costumes feature top hat and parasols, feathered bonnets and bejeweled décolletage. Choreographer Joshua Bergasse's energetic dance numbers manage to work in some Can-Can sampling.
More production photos for Gigi at NewYorkTheater
This visual splendor accompanies a familiar score highlighted by such tuneful melodies as "I Remember It Well," "Paris is Paris Again" (one of the four songs Lerner and Loewe added to the stage version) and "Thank Heaven for Little Girls."
These familiar Broadway touches that tap into the audience's expectations and nostalgia are supplemented by revisions intended to avoid offending us. Gigi has been turned into a spunky proto-feminist:
"Do you think life is easy for me, just because I'm wealthy?" Gaston asks Gigi.
"I think it's easy because you are a man," replies Gigi. "You can choose what you do."
The most obvious change for anybody who remembers the movie, is that the Maurice Chevalier character, Gaston's uncle Honore (here portrayed by Howard McGillin ) no longer sings "Thank Heavens for Little Girls"; it is now a song sung by Gigi's grandmother and grand-aunt, which makes the song less creepy but, like many of the sanitizing changes, fudges and muddles the story.
In the book, Gigi is 15 and the rich man, Gaston, is 33; she's grown up calling him Uncle.  In the current musical, Gigi is 18 (portrayed by Hudgens, who is 26) and Gaston is in his 20s (portrayed by Corey Cott, who is actually a year younger than Hudgens.)  Hudgens does a reasonably good job of growing from girlish to womanly before our eyes, although her initial childishness is more adorable than credible. But Cott cannot disguise his boyishness; he gives off the vibe of an energetic young American, and, while he is a strong tenor, he has a speaking voice in a high enough register to suggest it may yet change. The lack of disparity in their ages will turn the musical for most theatergoers into a conventional love story. To buy the premise that he's a world-weary sophisticate and she's an innocent child on the cusp of womanhood, it would help to pretend their scenes together are part of a really good college production.
This is not meant to disparage their talent or appeal. Vanessa Hudgens has the loveliest smile on Broadway. Corey Cott may have the second loveliest. They both are capable performers.  This is true as well with most of the rest of the cast, such as stand-out Victoria Clark as Gigi's  grandmother and Dee Hoty as her grand-aunt. Each of the principal cast members is given a crowd-pleasing number in which to shine — most memorable are Cott's title song, Hudgens' "The Letter" and especially Clark's "Say A Prayer."
But one leaves the theater with the overwhelming impression of an underwhelming entertainment, each element of which has been done better elsewhere —  more riveting performances by Clark (in A Light in the Piazza) and McGillen (in Phantom of the Opera) and Cott (in Newsies), more exciting choreography by Joshua Bergasse (in On The Town),  more insight into love (in A Little Night Music), a more tuneful score by Lerner and Loewe and better-realized Pygmalion theme (in My Fair Lady.)
—————————–
Gigi is on stage at the Neil Simon Theatre, 250 West 52nd Street, NYC, 10019
Details and tickets