In the jarring very still & hard to see, playwright Steve Yockey injects dark Japanese folklore into Stephen King's mold of creeping horror, set far too close to home. Rorschach Theatre's production leads the audience through a maze of darkly funny and just plain dark tales of ordinary people whose secrets take on terrifying lives of their own inside a crumbling hotel.
From the moment we enter Atlas Theater, it's clear that Rorschach has gone above and beyond to scare the pants off the audience. Patrons pass through a gauntlet of creepy elevator operators, moaning ghouls, and dimly lit hallways before arriving at their seats. Director Randy Baker even chose to flip the staging, placing the audience on stage and the actors among the seats. The overall effect, even before the show starts, is that of profound disorientation and unease.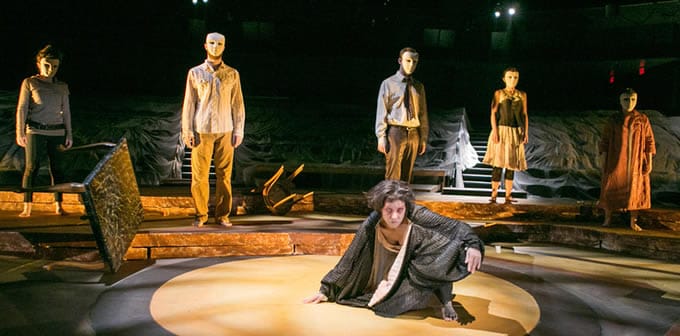 The play opens with one of the most masterfully atmospheric sequences I've witnessed in a DC theater. Beneath droning 1940's swing and Robbie Hayes' eerie lighting, the audience finds itself surrounded by masked ghouls shambling across the stage with mannequin-like stiffness. Baker and his design team blend the terror of white-masked intruders from films like Funny Games with the jerky, unnerving movement of Japanese movie ghosts; the whole setup is a horror fan's dream.
This "danse macabre" sets the stage for a meeting between tortured architect Buck, (Colin Smith) and a malevolent spirit from Japanese myth. In the bowels of his luxury hotel project, Buck comes face to face with the stalking Obake, (Yasmin Tuazon.) Obake traps Buck with an offer he can't refuse: alter the hotel construction to suit her dark plans, or be eaten.
Smith makes a brutal show of it, throwing himself against imaginary walls and cowering in terror, while Tuazon responds with a mix of dark humor and lip-curling menace. Their fateful bargain sets the stage for the parade of misery that follows.
One by one, we meet an assortment of characters who have passed through the doomed hotel, and one by one their twisted stories play out with mounting tension. A group of friends on a doomed road trip find that the abandoned hotel isn't so abandoned. A married couple learns the terrible price of keeping secrets. A rational traveler spins a tale of peculiar weather and Lovecraftian horror. A jazz singer invites a romantic interest out for a quick bite. And a young woman's repressed memories threaten to bring down the entire building.

very still & hard to see
Highly Recommended
April 10 – May 10
Rorschach Theatre at
Atlas Performing Arts Center
1333 H Street NE
Washington 20002
1 hour, 30 minutes, no intermission
Thursdays thru Sundays
Details
Tickets


—————–
Among a slate of strong performances, a few stand out. Kari Ginsburg wrings unexpected laughs and pathos from her role as Betty, a cleaning-obsessed housewife getting crazier by the minute. Ryan Tumulty brings extreme physicality to his roles as cursed road tripper and disturbed guest, contorting his lanky frame into unnatural shapes and hurling his body around the stage. Finally, Amanda Forstrom brings welcome lightness as a hapless junior spirit fed up working overtime for her ghostly boss.
Ironically, some of the most memorable moments occur between scenes, when masked cast members strut in time to the music like of Michael Jackson's "Thriller" as they swap out set pieces. Costume designer Debra Kim Sivigny and choreographer Sarah Taurchini unite to bridge each story with ghoulish spectacle. Meanwhile, Frank DiSalvo Jr.'s edgy sound design bookends each scene with fuzzed out jazz and swing samples befitting a period hotel that's long past its prime.
very still & hard to see is an immersive carousel of horrors that will have you checking the locks and looking under the bed. Just remember: there's no shame in sleeping with the lights on.
—————
very still & hard to see by Steve Yockey . Directed by Randy Baker . Featuring Shravan Amin, James Finley, Peter Finnegan, Amanda Forstrom, Kari Ginsburg, Jennifer J. Hopkins, Farrell Parker, Colin Smith, Sarah Taurchini, Yasmin Tuazon and Ryan Tumulty. Costume Design: Debra Kim Sivigny . Set Design: Bria Gillick . Lighting Design: Robbie Hayes . Produced by Rorschach Theatre . Reviewed by Ben Demers.