I had hoped that a major benefit of winning the Cold War would be no longer having to sit through a show like Doctor Zhivago, a musical adaptation of Pasternak's novel that presents the Russian Revolution largely as the story of a good-looking couple's long-simmering adulterous affair and the mean Communists who get in their way.
Doctor Zhivago does weave in a whirlwind tour of Russian history of the early twentieth century, but its heart seems to be in a different era – the Broadway of the 1980's, when musicals were pseudo-operatic, self-serious and soapy, yet somehow ran forever.
The show's director Des McAnuff, who has won Tony Awards for directing Jersey Boys and The Who's Tommy, has described Doctor Zhivago as "essentially about five characters:  three men in love with one woman, and two women in love with one man." This would be accurate if the deck wasn't so stacked against all but Yurii and Lara.
We first see young Yurii Zhivago (character 1) as a newly orphaned son of a dissolute industrialist, who is sent to live with the goodly Gromeko family, whose daughter young Tonia (character 2) has been in love with Yurii since birth.  Meanwhile, in another part of Moscow, the young Lara (character 3) has also lost her father. Kamarovsky (character 4) is a rich lawyer who is lover to Lara's mother, but that doesn't stop him from deflowering Lara, and wanting her for himself.  Lara attempts to escape Kamarovsky by marrying  Pasha (character 5), the earnest son of a railway worker.
Yurii grows up to become a dedicated doctor, celebrated poet, and all-round dreamboat (Tam Mutu.)  He has married Tonia (Laura Lee Gayer), who's good-hearted but kind of drab.  As it turns out, Kamarovsky (Tom Hewitt) was also coincidentally the attorney for Zhivago's father, which helps explain how Yurii first encounters Lara (Kelli Barrett.) But they run into each other again and again, by coincidence, as World War I turns into the Russian Revolution and then into the Russian Civil War: Yurii and Lara, for example, wind up doctor and volunteer nurse at the same battlefront hospital. Finally (spoiler alert), they cannot deny their love any longer.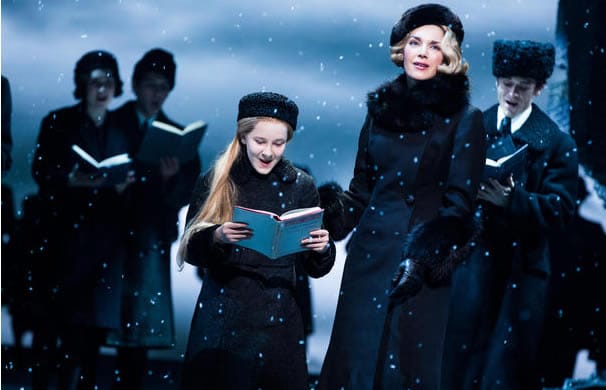 Find more production photos at NewYorkTheater.me
Meanwhile, Viktor Komarovsky (Tom Hewitt), who was always a cad, has become Comrade Komarovsky, still a cad, still pining for Lara. He acts in a threatening manner towards Yurii; Zhivago must "follow the correct path," celebrating the People's Revolution in his poetry and his attitudes, or he will wind up dead.
Pasha has turned out even worse, becoming Strelnikov (Paul Alexander Nolan), whom one character describes as "Commander of the Red Army Partisans. A man who makes Satan look like an angel of mercy." He too still pines for Lara, and he too threatens to kill Yurii.
All this love/hate unfolds in some 30 scenes over nearly three hours filled with some two dozen other performers,  nearly two dozen songs, and almost as many explosions.
The effort simply to stage manage all of this is unquestionably impressive; the individual parts, less so.
I don't want to single out any performers, either for praise or censure. Everybody seems competent enough; I don't know that a different cast member here or there would substantially have altered anything.
Similarly, I resist breaking down the score by Lucy Simon (best-known for The Secret Garden), with lyrics by Michael Korie (Grey Gardens) and Amy Powers (Sunset Boulevard.)
(Here's the song "Now" in rehearsal that you can judge for yourself)
Everybody's a pro, but the entire enterprise leaves me a bit nonplussed.
To take one example: Paul Alexander Nolan sings a song "No Mercy at All" that I admired for its apparent feeling and forceful delivery. But the lyrics seem to be saying Lara's failure to reciprocate Pasha's love fully is what has made him into a vicious revolutionary. A James Bond movie offers more credible psychological insight into its villains. I can't blame Nolan for this, but why single out a number that inspires such ambivalence?
The marketers of the stage musical Doctor Zhivago make much of its prestige source material – Boris Pasternak's 1957 novel, for which he won the Nobel Prize in literature, and the 1965 film adaptation starring Omar Sharif and Julie Christie which won five Academy Awards, including (I'm not sure if this is ironic) best original score by Maurice Jarre.
I recently read that the Central Intelligence Agency had a hand in getting Pasternak the Nobel Prize, as a way of embarrassing the Soviet Union, which had banned the book. The CIA also reportedly had copies of it printed in Russian to distribute secretly in the country. Pasternak, a long-time celebrated poet who had somehow survived Stalin's anti-intellectual purges, publicly declined the prize. It wasn't until 1988 – 28 years after Pasternak's death at the age of 70 — that "Doctor Zhivago" was officially published in Russia, and not until the following year that Pasternak's son traveled to Sweden to pick up the Nobel trophy.
All of which is a way of saying that Boris Pasternak would surely make a great subject for the stage — although probably not a musical.
Doctor Zhivago is on stage at Broadway Theatre, 1681 Broadway (between West 52nd and 53rd Streets), New York NY 10019
Tickets and Details