Taffety Punk's Hamlet, the First Quarto is the Bard's masterwork as you've never seen it before.
At least probably. The Punks' new production grows from their experimental Bootleg series (which is a treat; held every year at the Folger Theatre), where they performed the first quarto of Hamlet (hence Q1), sometimes called the "bad quarto," with only 24 hours of rehearsal time. So if you were one of around 200 very fortunate theatergoers, you might have caught this text before. But where the Bad Quarto Bootleg was a manic and jocular Fringe-esque romp, this Hamlet Q1 takes the text seriously, making beautiful moments that turn this time-honored tragedy into an emotional roller-coaster of immediacy.
Part of that immediacy comes from the text. This version of Shakespeare's Danish tragedy is the earliest on record, and is almost never performed, deferring to the more well-known First Folio version. Some differences are minor ("To be or not to be, I, there's the point") or amusing ("Why, what a dunghill idiot slave am I!"). But some changes are major, tossing away chunks of text or adding scenes. Since the Folio text of Hamlet is so familiar to both audiences and actors, those shifts sharpen focus on Hamlet Q1's text.
Instead of the infinite variety of quotable lines triggering memories of all those famous performers who've said those famous words, I was able to pour all of my attention into what was happening on the stage, and I was rewarded with a similar commitment from this stellar cast.
Marcus Kyd gives the title role a refreshing youthful lilt and playfulness with genuine touches of rage that push the play along swiftly, and thank the gods that his soliloquies feel more like driving Chorus speeches from a history play than broody and self-indulgent tragic monologues. But as watchable and invigorating as Kyd's Hamlet is, his castmates shine the brightest in this production.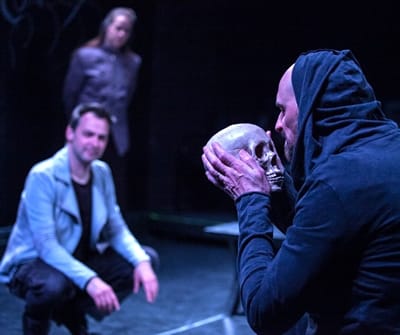 If I didn't know that this play was called Hamlet and if this production were the only one I'd seen, I'd swear this play should be called Ophelia. That's how good Esther Williamson is in the part of Hamlet's rejected lover. Usually, one feels bad for Ophelia, dominated by men and driven to suicidal insanity, but the character usually just rings a distant pitiful note in Hamlet's tragedy, finally pushing him over the edge. Williamson gives Ophelia a depth I've never seen before through her simplicity and physical commitment. She finds the one gesture that perfectly encapsulates Ophelia's insanity and fills it with heart-stopping emotion. There's nothing extraneous here, nothing flailing, nothing forced, just totally present perfection.
And as if that weren't enough, Williamson delivers a fine Horatio as well, playing Hamlet's supportive friend in addition to her role as his lover. Horatio and Hamlet's onstage moments of friendly tenderness together inform Ophelia and Hamlet's offstage relationship as lovers, which made Williamson's switch between the characters feel natural and fun.
Even though Ophelia feels like a star in this play, the cast as a whole may be one of the most deeply and universally talented casts I've ever seen on a stage the size of Capitol Hill Arts Workshop. Daniel Crane's Laertes feels primal and instinctual, even in his moments of sweetness, and he draws eyes to him because of his total commitment and intensity.
Jim Jorgenson excels as Corambis (familiarly Polonius), Ophelia and Laertes' father, giving Hamlet Q1 a deft courtly touch that solidifies the world of the play and delivers well-timed humor. Daniel Flint splits his time between the usurper Claudius and his brother, Hamlet's ghostly father. He nails each role, reveling in Claudius' humanity, rather than his villainy, and honestly freaking me out with the otherworldliness of his Ghost. I think I can safely say that this is the first Ghost that I've seen that actually frightened me, and it is all due to director Joel David Santner's brilliant device for representing the Ghost's suffering in Purgatory and Flint's total commitment to that device, which I wouldn't dream of spoiling for you.
This version of Hamlet gives Hamlet's mother Gertrude some extra juicy bits, and Jessica Lefkow takes every given textual inch and makes them into emotional miles. Even Teresa Castracane, who swings between many small roles in the play, finds ways of distinguishing each character and never phoned in any part, no matter how small.
Joel David Santner has to get credit for assembling such a powerhouse cast, getting them to gel so smoothly, and making some clever but still meaningful choices throughout the play. He and Daniel Flint (who splits his time even more as set designer) keep the empty space empty, correctly trusting his actors to create the world of the play through language and gesture.

HAMLET, THE FIRST QUARTO
Highly Recommended
April 30 – May 23
Taffety Punk at
Capitol Hill Arts Workshop
545 7th Street, SE
Washington, DC
Tickets: $15
Wednesdays thru Saturdays
Details
Tickets  or call 410-980-6662
———————
Santner and Lighting Designer Chris Curtis emphasize the creepy ghost story aspect of Hamlet, and Curtis doesn't need fancy tricks to light the Capitol Hill Arts Workshop's black box beautifully. Tessa Law's costumes are a bit schizophrenic, sometimes contemporary and sometimes veering into steampunk, but the odd goggles and puffy vests give the production a quirky flair.
The quirkiest flair comes from a number of dances scattered throughout the play, showing abstracted versions of scenes not occurring onstage in the play. Santner is rightly known for his talent with movement, and these collaborations with choreographer Pauline Guerrero are well-executed and interesting. But while they were fine on their own, their inclusion dragged a bit at the pace of this peppy version, and they never felt necessary enough to justify that drag. Admittedly, the dances may have been inserted to give the audience a break from the breakneck pace of the play and to go well with music from the band Beauty Pill, but I always wanted more of the acting and less of the dance.
I got far more than I bargained for from Taffety Punk's Hamlet Q1, a production that could have been an academic exercise or just another Hamlet instead gained new life and vitality. This "bad quarto" version of Hamlet matches the Punks well: rough cut, mature but without the worn polish of age, and full of fast-moving and hard-rocking drive. Since the fit is so good, this cast so strong, and this play so refreshing, I'd rather watch Hamlet Q1 again than any of the other Hamlets I've seen in my life.
[Side note: I've used the common spellings for character names, though in Hamlet Q1 those names are different {eg Ofelia instead of Ophelia}]