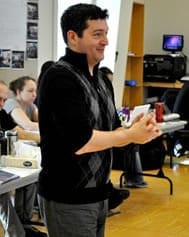 We regret to report that PJ Paparelli, director and Artistic Director of American Theater Company in Chicago, died today at the age of 40 from injuries sustained in a car accident. He was on vacation in Scotland. Details of the accident are included in today's article on BroadwayWorld.
Paparelli established his theatrical roots here in Washington and returned to Shakespeare Theatre Company in 2012, where he once served as Associate Artistic Director. He came to direct Two Gentlemen of Verona. His vision into those two young men were inspired, as he told Tim Treanor, by the young people he interviewed about the tragedy at Columbine High School.  His play columbinus, co-authored with Stephen Karam came out of that experience. columbinus premiered at Round House Theatre in 2005.
Our interview from 2012: The Life and Times of PJ Paparelli
Our condolences to all of his family, friends and associates. We are planning a tribute. If you would like to take part in the article, email us here.