A disaffected 20-something falls in love with the embodied mental projection of Mary-Kate Olsen, running away with her imaginary lover to an island paradise.
Gosh, that's an irresistible premise.
In Mary-Kate Olsen is in Love, the famous twins have descended like hyper-consumerist, slightly tipsy guardian angels into the life of Grace (Katie Ryan) a bored lawyer who feels trapped in a sexless marriage with chronically unemployed slacker Tyler (Daniel Corey). The twins forcefully coach Grace on Kardashian style 21st century husband-pleasing, advising her to glam up her wardrobe and watch plenty of educational porn. These promising early scenes have a nice manic energy as Ashley (Sara Dabney Tisdale) quickly grows impatient with Grace's progress and gives up on their joint project while Mary-Kate (Suzanne Stanley) … well, it's right there in the title.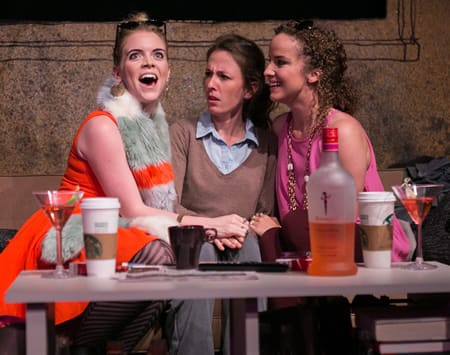 There is some fun to be had here, mostly in the performances of Stanley and Tisdale as the twins. At first acting and speaking in near unison, the Olsen's are forced to develop their individual personalities once Mary-Kate and Grace abscond to New Zealand, and Stanley and Tisdale have fun exploring the concept of very de-glammed versions of the young sitcom stars turned fashion moguls.I also very much dug Paige Hathaway's graphic-novel inspired set design.
But Mallery Avidon's script fails to capitalize on her initial delicious ideas, settling instead for some fairly wrote observations on consumer culture, career struggles, and relationship discontents all bathed in a lot of existential navel gazing.
Grace herself, the ostensible protagonist, is a bit of a cipher, passively drifting back and forth between her real and imagined relationships. Tyler is even more of a lump, one with his own imaginary life coach, an anonymous Soldier (Christian R. Gibbs) from a Call of Duty game who tries to cajole Tyler into seizing control of his life, or at least do the minimum to not let Grace slip out of his fingers.


MARY-KATE OLSEN IS IN LOVE
Somewhat Recommended
June 3 – 21
The Studio Theatre
1501 14th St. NW
Washington, DC
1 hour, 5 minutes with no intermission
Tuesdays thru Sundays
Tickets: $20 – $35
Details
Tickets or call 202.332.3300


———————
It all feels fairly padded, even at a brief 65 minute run time, as scenes of Grace and Tyler's indecisive introspection start to get repetitive. Seemingly sensing there's not much in the way of story here, about a half-hour's worth at best, Avidon extends the action with a chorus of five teenaged Amazing Girls (Erin Craig, Kayla Dixon, Kaycie Goral, Tuyet Gunter and Mariana Tatiano) who break into the narrative with sing-songy, semi-scripted extrapolations on the pressures faced in today's hyper-competitive high school ecosystem. The AG's all equip themselves well in their vignettes, and it's always good to see a play that embraces diverse female perspectives, but at times these interludes seem forced and shoehorned into director Holly Twyford's staging. There are other awkward moments as well, such as a key moment of violence involving Tyler and the Soldier that was near invisible even from my center aisle seat, nearly entirely blocked by other actors. My theatergoing companion later confirmed that she had entirely missed this moment as well.
Eventually, having run out of steam, Avidon fades her story out via the old trick of having characters dictate letters back and forth to each other. Beyond the static nature of such scenes, this is an especially odd choice for this play, given that by the logic of Avidon's own script the character with whom Grace is corresponding has been established as imaginary. These kind of frustrating inconsistencies and safe choices rob Mary-Kate of the momentum established by those wicked funny first scenes and in the end left me, much like Grace, unfulfilled.
—————–
Mary-Kate Olsen is in Love by Mallery Avidon . Directed by Holly Twyford . Featuring Katie Ryan, Daniel Corey, Suzanne Stanley, Sara Dabney Tisdale, Christian Gibbs, Erin Craig, Kayla Dixon, Kaycie Goral, Tuyet Gunter and Mariana Taitano . Set Desigh: Paige Hathaway . Costume Design: Kara Waala . Lighting Design: Adrian Rooney . Sound Design and Composition: James Bigbee Garver . Stage Manager: Laura Schlachtmeyer . Produced by Studio Theatre 2nd Stage . Reviewed by Ryan Taylor.