Sometimes it doesn't take an assassination, an earthquake, or a war to make headlines. Sometimes a production stocked with dazzling dance moves, a gifted cast, and catchy melodies is enough to get the public's attention.
Which is exactly the case at the National Theatre, where Newsies is running through the end of the month.
The stage adaptation of Disney's 1992 cult classic, Newsies is inspired the historic strike of New York City newsboys in 1899. (Those familiar with the film will note the addition of several songs, as well as a composite reporter-and-love-interest character that supplants the film's Sarah Jacobs and Brian Denton.)
This production arrives in DC as a part of the national tour, following a Broadway run that earned two 2012 Tonys for best score and choreography and spanned more than a thousand performances.
When Joseph Pulitzer, publisher of The New York World, hikes paper prices for the newsies, Jack Kelly (Dan DeLuca) and his band of young ruffians decide to take a stand on behalf of all newsboys and child-workers. With the help of an ambitious young reporter, the boys fight the money-mongering paper industry, make headlines, and, eventually, triumph. It's a classic underdog story, where the scrappy young kids take charge and end up making a real difference. Of course it's a crowd-pleaser – it's all happy endings, power ballads, and kid initiative. There aren't any shocking turns or make-you-think moments, but nonetheless, it's Disney gold.
As Jack, DeLuca's slouchy leadership and edgy vocals give him the kind of New York street-cred you'd expect in the leader of an improvised newsboy union. Love interest Katherine, (Stephanie Styles,) adds a romance element to the story and allows the dancers to catch their breath between numbers. Crutchie (Zachary Sayle) and Davey (Jacob Kemp), Jack's ad hoc deputies, inject a more innocent and earnest energy into the band of pauper paper-pushers, and Steve Blanchard's Pulitzer gives us the sleek and polished villain everyone loves to hate.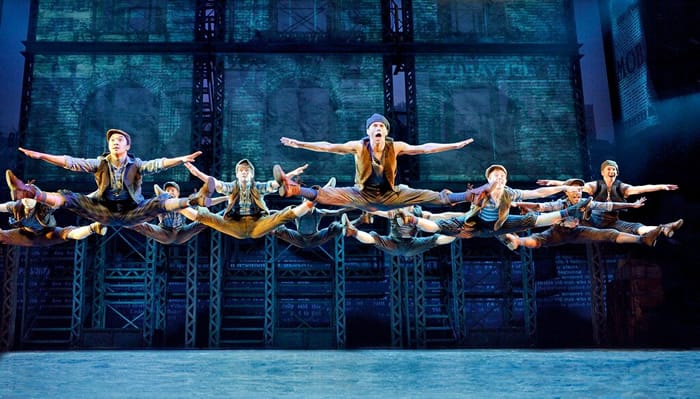 While the individual performances are strong, Newsies gets its energy from the crescendo of the group. Numbers like "Carrying the Banner" and "The World Will Know" are nonstop explosions of stomping, leaping, spinning, and cartwheeling across the stage (and, at times, each other). The ensemble performances serve as rallying cries, and the opening night crowd was highly vocal in its approval of the vigorous choreography and springy tumbling sequences that punctuate each big song. Indeed, you'd think the girls in the upper balcony were at a Bieber concert from the way they cheering and shrieking at the end of each number.


DISNEY'S NEWSIES
Highly Recommended
June 9 – 21
The National Theatre
1321 Pennsylvania Avenue, NW
Washington, DC
Tuesdays thru Sundays
Tickets: $48 – $108
Details
Tickets or call 202 628-6161l
———————
A spectacle of nonstop exuberance, dynamo vocal performances, and powerhouse dancing, Newsies promises an evening of pure entertainment. It's the summer blockbuster for the theatre set – an uplifting and energizing evening of dance and song. So go ahead . . . open the gates. Seize the day. And while you're at it, seize some tickets, too.
———————
Disney's Newsies the Musical. Music by Alan Menken . Lyrics by Jack Feldman . Book by Harvey Fierstein .  Based on the Disney film written by Bob Tzudiker and Noni White . Directed by Jeff Calhoun . Choreographed by Christopher Gatteli . Featuring Dan Deluca, Steve Blanchard, Stephanie Styles, Angela Grovey, Jacob Kemp, Zachary Sayle, Vincent Crocilla, Anthony Rosenthal,Mark Aldrich, Evan Autio, Bill Bateman, Josh Burrage, Kevin Carolan, DeMarius Copes, Benjamin Cook, Julian DeGuzman, Nico DeJesus, Sky Flaherty, Joe Hacker, Melissa Steadman Hart, Meredith Inglesby, James Judy, Jeff Heimbrock, Stephen Hernandez, Michael Ryan, Jordan Samuels, Jack Sippel, Andrew Wilson, Chaz Wolcott, Josh Assor, Michael Gorman, Molly Jobe . Original North American Tour presented a the National Theatre . Reviewed by Jennifer Clements.