I don't often think about blasphemy. Neither do most of you, I'd hazard to guess. But if you see the production of Molière's Tartuffe now playing at the Shakespeare Theatre Company, you will be forced to think about it. And we should, given that people are being murdered in its name globally, along with the destruction of civilization's shared treasures.
It's a relatively recent historical development, to go through your day, your life, without worrying about being accused of it, imprisoned for it, killed for it. There's a sea change that may sweep that safety away for us, though. For Molière and his 17th-century contemporaries, accusations of blasphemy could be catastrophic – and yet as artists, they still risked all for truth.
This is an important production because it returns that shock of blasphemy to Tartuffe, and to our expectations of Molière. We may forget this was a play censored and re-written several times, its rex ex machina ending an eventual palliative. Director Dominique Serrand's approach ensures we don't forget the danger inherent in speaking out against hypocrisy. Molière's voiceover right at the beginning tells us directly that the playwright is a force for that subversion.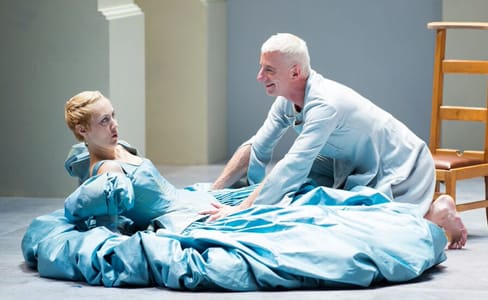 If you think this is going to be just a French farce, a sugary confection, you're going to choke on that chocolate éclair. That isn't to say that this isn't a very funny production, because it certainly is, especially in its first half, which is full of absurdist moments. We have to laugh, and laugh hard, before the shock kicks us in the gut.
A co-production with South Coast Repertory and Berkeley Repertory Theatre, Serrand's Tartuffe originated at The Moving Company with co-artistic director Steven Epp, who plays the title role, and several other members of the company. This collaborative history gives a strong, cohesive visual and performance aesthetic. With a whip-smart adaptation by David Ball, delivered with crystalline precision by a cast who relish punctuating the rhyming schemes, its impression overall is that of a world-class, innovative company.
Family patriarch Orgon (Luverne Seifert) thinks he's just a perfectly reasonable, indulgent father, with his children and servants given to disobedience. But he has actually turned his household on its head with his slavish devotion to religious fraud Tartuffe (Stephen Epp), and his inability to see the truth slowly corrodes comedy into tragedy. He separates his daughter Mariane (Lenne Klingaman) from her lover Valere (Christopher Carley) in order to marry her to Tartuffe, insists his wife Elmire (Sofia Jean Gomez) spend as much time as possible with Tartuffe, and ignores the warnings of his servant Dorine (Suzanne Warmanen) and brother-in-law Cleante (Gregory Linnington) of the rising danger and consequences of these acts.
For Tartuffe, as we are told at the beginning in a candlelit scene stripped bare of pretense, is no pious man of God, but a lascivious liar and hypocrite. From the moment he enters from the back of the theater, strutting on down to engage in a little self-flagellation, Epp telegraphs Tartuffe's true nature. There's a reptilian grace to this charlatan. He's a snake posing to strike, a lizard, a Lucifer. Epp's Tartuffe may be magnetic, yet we never forget he's also repulsive. This isn't a likeable character; he's truly dangerous and represents all that is morally repugnant about religious hypocrisy. It's a testament to Epp's great skill as an actor that he creates such a powerful evocation of negative charisma.
His counterpoint is Sofia Jean Gomez's Elmire, whose cool exterior (tellingly swathed in an enormous dress of icy blue silk) presents the forthright arguments of truth. She believes she can out-maneuver Tartuffe; to her shock, and ours, she's wrong. Her ultimate violation is one of the key moments that shifts us into tragedy. It's truly terrible and intentionally revolting. Gomez is riveting in the way she reacts to what is not only a physical violation, but the violation of the belief in truth prevailing, and trust.
As the man who enables that violation and loss of trust, not just for his wife but his entire family and his own self, Luverne Seifert is brilliant. His Orgon is like a bull in the arena, unaware of the matador's attack until it's too late, blustering about. His devotion to Tartuffe is naïve of its erotic undertones, but they are blatant to us. Serrand illustrates this perfectly with Orgon cementing his subjugation by flagellating himself with a wet towel for Tartuffe's pleasure, like frat-boys in the school gym.
A great deal of the success of Serrand's Tartuffe is the dedication of the cohesive ensemble, and their complete immersion in a world where vocal naturalism and physical absurdism exist together. Their physicality is like that of a dance company, with gargoyles climbing and lovers leaping, and even a mere hop onto a table has character meaning. From Nathan Keepers' chilling Laurent, to the scintillating and ridiculous lovers' quarrel of Lenne Klingaman and Christopher Carley, the ensemble is excellent. And I'm not sure I've ever enjoyed Molière's text more than when Suzanne Warmanen's Dorine escalated it back to scathing hilarity.

TARTUFFE
Highly Recommended
June 2 – July 5
Shakespeare Theatre Company at
Sidney Harman Hall
610 F Street NW
Washington, DC
Tuesdays thru Sundays
Tickets: $20 – $110
Details
Tickets or call 202.547.1122


———————
This is a pristine production design. There's a jewel-box of a set by Serrand and co-scenic designer Tom Buderwitz, reminiscent of French 17th-century churches and their cool interiors, lit by Marcus Dilliard to mimic sunrise to sunset. The costumes by Sonya Berlovitz are exquisitely sly, and the sound design by Corinne Carrillo ably accents the tableaux Serrand increasingly uses as the action turns from comedy to tragedy.
Molière's purpose in writing Tartuffe was to expose hypocrites to the truth about themselves, and ultimately, that's the purpose of art, to hold the mirror up, and see what we find. Throughout, Serrand teases and twists moments of reverence and religious imagery – Pietà, communion, the altar, holy water – until the final image of the punishment Tartuffe is given erupts into full-on blasphemy. It's a shocking image that I won't spoil, as its impact depends on not expecting things to go that far. Is it necessary? That's for you to decide for yourself. I believe that by taking such a risk, Serrand restores the play's original impact as a subversive force denounced by the clergy, government, critics – a play censored and a playwright persecuted.
It didn't make me comfortable.
But it made me think about the power religion still holds over me.
——–
Tartuffe by Moliere . Adapted by David Ball . Directed by Dominique Serrand . Featuring Steven Epp,Sofia Jean Gomez, Christopher Carley, Brian Hostenske, Nathan Keepers, Lenne Klingaman, Gregory Linington, Michael Manuel, Luverne Seifert, Suzanne Warmanen, Ross Destiche, Maria Leigh, Michael Litchfield, and Stephanie Schmalzle. . Co-Scenic Designers: Dominique Serrand and Tom Buderwitz .Costume Design: Sonya Berlovitz. Lighting Design: Marcus Dilliard,and Sound Design: Corinne Carrillo . STC production: Assistant Directors Craig Baldwin and Nathan Keepers . Production Stage Manager: Joseph Smelser . Assistant Stage Manager: Elizabeth Clewley. A co-production of Shakespeare Theatre Company, South Coast Repertory and Berkeley Repertory Theatre . Reviewed by Jenn Larsen.