When I asked Alexandra Petri if she had any plays in the works that I might want to direct in the Capital Fringe Festival, one of the stories she mentioned was especially intriguing. This story, which has subsequently become Never Never, is that of a man, Alan, who has a deviant sexual preference. But he has never acted on his desires and he works hard to make sure he never does. He also tries to help others who share his particular predilection.
Two questions came to mind when Alexandra synopsized the play for me: 1) Is evil really evil if it's only in your head? 2) Is virtue really virtuous if it's never tested?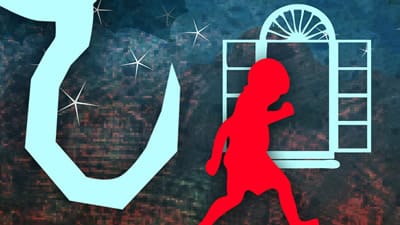 Without giving too much of the story away, I'll just say that if people knew about Alan's disorder, they would think him a monster. He would be considered lower than murderers and rapists. But he's never done anything wrong; he's only thought it. How can we condemn someone for his thoughts? In a way, isn't Alan really better than the rest of us who don't have to contend with this demon? The argument could even be made that it's noble of him to quell his desires and help others do the same, thereby protecting potential victims. On the other hand, how noble is it if Alan has never faced real temptation? It's easy to be virtuous when you have no opportunity for vice.
The events that take place in Never Never bring those questions to the fore. First Alan is confronted with temptation and we get to see how he responds. Has he been virtuous all his life, or did he just lack opportunity to do evil? Then he's forced to tell his fiancée, Becca, about his deviant tendencies, causing her to consider whether to judge him by his thoughts or his actions. Alan's revelation to Becca also raises the question of whether there's even such a thing as unconditional love.
Somehow, in the midst of all this drama, Alexandra has managed to include a ton of laughter. But she doesn't do it by making light of the serious and dangerous issue at the heart of the play. She simply demonstrates that life can be funny even when it's at its most dire.
This is the kind of play I like. It's an examination of life, not a prescription for how to live it. It excites us both intellectually and emotionally. And it portrays people who are neither all good nor all bad. One of the key principles of Barabbas Theatre is that artistic merit must come before all other considerations. So when I was looking for a script my only criteria was that it be good. It didn't have to be about any particular issue or convey any particular message. It just needed to stimulate the hearts and minds of its audience.
I think we've lived up to that principle in selecting Never Never as our debut production. And I hope as many people as possible will show up to see if I'm right.
——————-
Kevin O'Connell (Director of Never Never) is a freelance director, dramaturg, and sound designer. He has worked with Shakespeare Theatre Company, Factory 449, the Washington Rogues, and Pallas Theatre Collective. He holds a master's degree in dramaturgy from the Catholic University of America and is a graduate of Studio Theatre Acting Conservatory's directing class.
—-
Alexandra Petri's plays (Miss Emma's Matchmaking Agency for Literary Characters and Tragedy Averted) have appeared at previous Capital Fringe festivals. She also writes a popular Saturday column for the Washington Post.

July 9 — Aug 2, 2015
Never Never at Atlas Performing Arts Center, Sprenger Theatre
starting July 11
Capital Fringe 2015
1358-60 Florida Ave. NE
Washington, DC  20002
and other locations
Fringe details and Tickets


———————