Among the many lines quoted from the films of Mel Brooks, one gem is the one the producer/director/actor himself uttered impersonating King Louis XIV while ogling a voluptuous lady of the court: "It's good to be the king."
During the 2001 Broadway season is was certainly good to be Mel Brooks when his stage adaptation of his early film The Producers swept the Tony Awards. The show won 12 out of 15 nominations including best musical and two for the comedy auteur himself.
Fourteen years later, it's still good to be Mel Brooks (who just celebrated his 89th birthday on June 28) and it's very good to be a ticket holder for Olney Theatre Center's production of The Producers.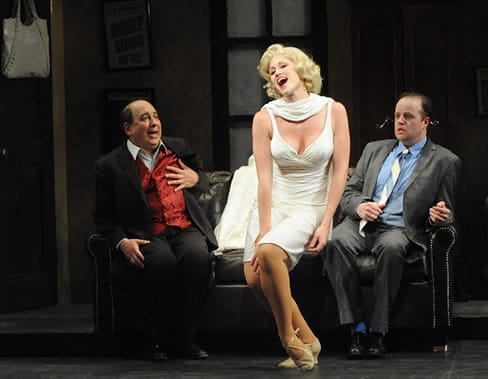 A love letter to the Golden Age of Broadway and the big, brassy shows of the 1950s and 1960s, The Producers is unapologetically brash, delightfully tuneful, and wickedly funny, signatures of Mel Brooks humor, naturally. And, since it's a love letter, it also has a great big heart which I believe helped it to slay Broadway and explains why it continues to wow audiences.
Consider that lovable scoundrel and washed up Broadway producer (was he ever washed in?) Max Bialystock, played at Olney with rubber-faced glee and masterful timing by Michael Kostroff. Good comedy often makes someone's suffering part of the joke and Max is his own punchline time and again. Following in the footsteps of the incomparable Zero Mostel from the 1967 film and the larger than life Nathan Lane on Broadway, Kostroff puts his own stamp on Max, reveling in his money-making schemes but love-hating the fact that he must "schtupp" horny little old ladies to back his plays. Kostroff uses slow-burns and pregnant pauses like a comic Picasso.
His partner in crime is the fish-out-of-water accountant Leo Bloom who works through a minor compulsion with his treasured blue blanket, embrace his dream of being a Broadway producer, accept the offer to join Max in producing the world's biggest Broadway flop and discovering girls – all before the first act curtain falls. Max and Leo were made a match made in comedy heaven and Kostroff has Michael Di Liberto as his worthy partner. Blessed with a sweet tenor voice and remarkable comic skill, Di Liberto draws an indelibly quirky portrait of the nebbish bookkeeper who eventually finds his manhood and dignity but meanwhile milks every moment from Leo's elastic and spastic physical reactions. The scene where Leo accidentally proposes to Max that they can make more money with a flop than with a hit is worth the price of admission. Once you laugh at their schemes, it also easy to see that Brooks clearly loves this song and dance odd couple and it's easy to fall in love with them as played by Kostroff and Di Liberto.
If the comics don't get you, maybe the cheesecake will, represented by Ulla, every inch a blond bombshell and perfectly played by Jessica Jaros. Evoking Jayne Mansfield and Anita Ekberg, Jaros mixes va-va-va-voom with a sweet innocence that works beautifully in Brooks' comic universe. She introduces herself as "Miss Inka Hanson Benson Yanson Tallen Hallen Swadon Swanson. "What is your first name," Max asks. She responds in an accent thicker than a pot of Swedish meatballs, "Oh, that was my first name. Would you like to hear my my last name?" "We don't have time," is Max's slowburn reply. Jaros' also proves she has the singing pipes to belt one up to the balcony with her big song, "When You've Got It, Flaunt It."
Speaking of flaunting it, another accented comic turn and full-tilt performance is that of Stephen F. Schmidt as none other than former Nazi and keeper of the Führer's flame Franz Liebkind. Schmidt gloriously goosesteps and hop-clops while introducing Bialystock and Bloom his masterpiece, Springtime for Hitler: A Gay Romp with Eva and Adolf at Berchtesgarden. Surely this valentine to Hitler will be a huge turkey, right? Fans of the movie and the musical know otherwise, and therein lies one of the most memorable musical numbers in both Hollywood and Broadway history, "Springtime for Hitler" where the Ziegfeld Follies meet the Folies Bergere as dreamt up by Hermann Goëring.
Taking the lead role of Adolf "Elizabeth" Hitler in "Springtime for Hitler" is a veteran of Broadway and countless cast albums, Jason Graae. Graae, as a Judy Garland-channeling Hitler, has a field day with the number and somehow charms and sparkles as the warbling führer. Graae's turn as Hitler is part of his performance as Roger De Bris, whom Max describes as the worst director in the world, hired to make Liebkind's Hitler musical an even gayer "gay romp." Raising the swish quotient even more than Graae as De Bris is the mincing, hissing and campy Carmen Ghia played by Robert Mintz. Sure, these are cariactures, but remember in Mel Brooks' world no one is safe from a send up. And, back to that heart thing again, Roger and Carmen are lovable in all their pre-Stonewall glory.
Director Mark Waldrop has a great handle on the Golden Age of Broadway style of the piece and keeps the jokes big, the transitions swift and uses both the leading players and the hard-working ensemble effectively throughout the evening. Tara Jeanne Vallee's choreography fully embraces the razzmatazz with big smiles, high energy and high kicks. I am a fool for tap dancing and I got several welcomes doses during this show.
Seth M. Gilbert's costumes firmly place the show in the mythical yesteryear of Broadway, somewhere between 1955 and 1965 with high style and a huge sense of humor to match the material. (Get a load of the showgirl costumes in "Springtime for Hitler!") As for sets, James Fouchard's designs fit the show and the era it portrays, but on opening night some of the changes were clunky, at best. I imagine the crew will work out the movement of the huge set pieces during the run.

THE PRODUCERS
HIGHLY RECOMMENDED
June 24 – July 26
Olney Theatre Center
2001 Olney-Sandy Spring Rd.
Olney, MD
2 hours, 10 minutes with 1 intermission
Wednesdays thru Sundays
Tickets: $18 – $75
Details
Tickets or call 301.924.3400
———————
The orchestra, however, ran like clockwork, under the direction of Darius Smith. Brooks' retro Broadway sounding score rang out of the pit like a blast from the past, nailing every brassy sting and jazzy riff. The score was rearranged for a smaller, nine piece pit band but it lost none of the clarity and did not miss a note.
When the curtain came down, I was struck by the thought that Brooks seamlessly recaptured the style and execution of those classic Broadway shows like Guys and Dolls, How to Succeed in Business without Really Trying and others but he filtered it through his own slightly twisted, comic genius. Sure, it's a little crasser at some points, but in the end, a tune-filled show that operates to make you laugh, tap your feet, and lift your spirits is a welcome diversion every now and again. Brooks also famously set out in the original film (and through other films) to make a reviled figure who brought so much suffering into the world, namely Hitler, into a subject of ridicule. Mel Brooks succeeded on both counts.
And Olney, which has struck gold lately with their musicals, does it once again with Mel Brooks' The Producer's.
————–
The Producers . Book by Mel Brooks and Thomas Meehan . Music and Lyrics by Mel Brooks .  Director: Mark Waldrop . Featuring: Michael Kostroff, Michael Di Liberto, Stephen F. Schmidt, Robert Mintz, Jason Graae, Jessica Jaros, Brandon Ambrosino, Kurt Boehm, Jennifer Cameron, Jennifer Cordiner, Gabriella Deluca, Lance E. Hayes, John Jeffords, Amanda Kaplan, Ethan Kasnett, Emily Madden, Nurney, Natalie Perez-Duel, Derek John Tatum, and Victoria Winter . Choreographer: Tara Jeanne Vallee . Music director: Darius Smith . Scenic Design: James Fouchard . Costume Design: Seth M. Gilbert . Lighting Design: Andrew F. Griffin . Sound Design: Max Krembs . Production Stage Manager: John Keith Hall .  Produced by Olney Theatre Center . Reviewed by Jeff Walker..