This show has a fire eater. An honest to God, lights the torch aflame and sticks into his mouth fire eater. If that isn't enough to  get you here then, dear reader, read on…
Leila Blaze (Stefanie Garcia) has a big job ahead of her: she is confident and capable, with years of big business experience, but will any of that be useful at the circus? As the new CEO of Bringling Brothers Circus, Leila has traded board meetings for sideshow spectacles, reports on integrated overseas business expenditures for reports on clown wig usage, and regional managers for an irreverent, taffy-loving Ring Leader (Michael Harris).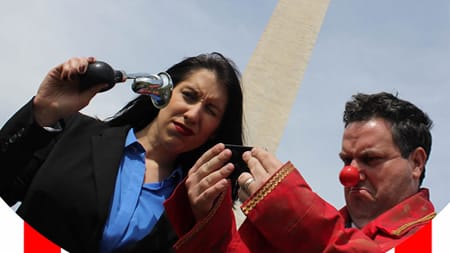 Leila soon realizes she knows nothing about running a circus but will she trust the advice of her predecessor and "Trust" Akolo (Jon Jon Johnson), her exceedingly-efficient (but clown-hating) executive assistant, or will she fall prey to the demands of the picky knife-thrower (Duyen Washinton), the drunken side show operator (Nick DePinto), or the cripplingly-shy elephant trainer (Jaqueline Chenault)?
Whose demands are most important? Does a circus need a dedicated blacksmith? What qualities make a good lead clown? How much medicine does a lion need? As Leila deals with one crisis after another, something is bound to slip through the cracks.
It's a Circus Out There is a delightful combination of circus performance, political satire, and conventional theatre. Make sure you get there as soon as the doors open in order to see the cast, in clown alter-egos, play amongst themselves and with the audience, all under the stern eye of the Ring Leader. Sit in the front two rows for some refreshingly non-aggressive audience participation; this reviewer got her portrait drawn by an artistically-minded clown (Duyen Washington) and was almost swept away by a Punchinellian janitor, while the folks in the second row were given cotton candy, and a recently-regurgitated glow necklace.
Writer/Director Kevin Finkelstein does a masterful job at seamlessly integrating the various performance styles of the show; at some points it is a full-on circus, with multiple actors engaging different sections of the audience. At other times, Michael Harris, in his Ring Master's guise, blends direct address, improvisation, and stand-up comedy to make sure the audience is a) paying attention (there will be a quiz!), b) having a good time, and c) remaining aware of the (somewhat tenuous) connection that the play draws between Leila's faltering management of the Bringling Bros. and the American Presidency. Most impressively, when the play shifts to a more traditional respect for the fourth wall, nothing feels forced or out of place.

It's a Circus Out There
Written and directed by Kevin Finkelstein
Details and tickets
The entire cast is willing and able to go along for the carnivalesque ride, playing multiple characters in quick succession, from a chronically-rhyming trapeze artist (Christian Campbell,) to a disgruntled fire eater who is, only maybe, a Chechnyan terrorist.
However, the most compelling performances are given when the play steps back from the fun of the big top and into the cold corporate world. Jacqueline Chenault as Sally Jericho, the shy elephant trainer who will do anything, even yell at the new CEO to take care of her "babies," is the heartfelt center of the play. When Jericho makes a grand sacrifice to save the circus she loves, you see that it is only the strength and devotion of the circus performers that will allow Bringling Bros. to thrive. Perhaps Finkelstein is suggesting to his audience that it is only through the active political engagement of the American people as a whole, and not the action of one figurehead, that our great nation can move forward.
Or maybe it's just about the elephants.
Jon Jon Johnson performs a tight-rope worthy balancing act between assistant Akolo's serious side, that of an immigrant working hard to achieve the American Dream with ambitions to own his own business, and make a name for himself in the circus industry, with the inherent silliness of a circus employee who is terrified of clowns. Akolo's joyous delight in Paul the trapeze artist's rhyming affliction adds a wonderful lightness to the character's business acumen.
It's a Circus Out There could have been the kind of disaster that only happens at Fringe; political satire and circus, audience participation and serious social issues, a brand new script and an eclectic cast whose experiences ranges from the classical stage and performance to the Guinness Book of World Records title holder for "Most Mousetraps Released on the Tongue in One Minute." But Finklestein, as playwright and director, manages to blend these disparate elements into a fun, smart, and thoughtful evening of theatre, politics, and circus.