What if Adolph Hitler had been a better artist?   It's one of history's great riddles. Perhaps if the Führer had shown more promise in his original career choice as a painter, the trajectory of the 20th century would have unfolded very differently.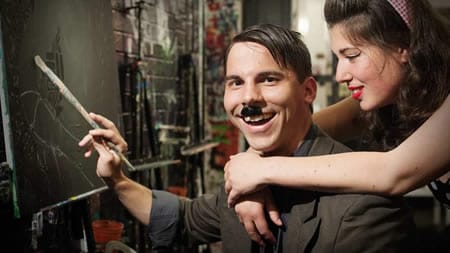 Playwright Stefan Stoerzinger and Director Michelle Kuchinsky float some even more outlandish ideas in the comedy Artful Justice – what if Adolph Hitler had blanched from committing suicide in his bunker as the Allies closed in? (After letting Eva Braun test the waters out.) What if the dictator had been afforded a civilian trial in the US, as a lofty demonstration to the world of the Allies' ideals of justice?
And what if he was able to get the charges thrown out on technicalities by exploiting the loopholes of the American legal system?
The Americans provide Hitler (Andrew Adams) with a Jewish lawyer named Bernie Liebowitz (Mark Mumm), surmising that he would have every incentive to blow the case. What they don't count on is his legal cunning and eagerness to impress his firm's partners superseding his desire to see justice done. Liebowitz's knowledge of the U.S. system's deficiencies (filing endless motions, ensuring that Hitler's communications are entered as inadmissible evidence) results in Hitler walking out of the courthouse a free man – the nightmare scenario of opponents of trying Khalid Sheikh Mohammed in a civilian court in New York City.

Artful Justice
by Stefan Stoerzinger
Directed by Michelle Kuchinsky
Details and tickets
Reluctant to expatriate and expose himself to the risk of being charged again, Hitler decides to settle in the heart of his old adversary, the U.S. Before long, he is indulging in the life of a single bohemian – renting a loft in Greenwich Village, listening to "Kind of Blue", hanging out in smoky bars until the wee hours where he meets the seductive Greta (Shira Hereld). Most of what she knows of the goose-stepping megalomaniac is drawn from half-watched newsreels, but she can't help but be drawn in by the raw magnetism of celebrity.
Like countless hustlers and carnival barkers before him, Hitler finds that America is also a place where one can quickly move from pariah to power, whipping up sycophants and hangers-on into frenzies and steadily marching on to a second chance at commanding the world stage.
Of course, skewering Hitler is hardly new territory, with the Chancellor inspiring parodies for decades, from The Producers to Inglorious Bastards. Artful Justice sets itself apart in raising the question of how content the man would have been to pursue his artistic delusions if he were not surrounded by others seeking a vessel to attain power.
Adams is a compelling Hitler, all waving arms and eyes, ascending soapboxes to deliver assertions of his own superiority, ashamed by his own fall from domination. He ably suggests that Hitler's own loathing of the Jewish people was a move based more on calculation than principle – any group with a different skin color would do just fine.
Adams is backed up by a dynamic and enthusiastic cast, especially Mumm as his defense lawyer, struggling between his impulses to see Hitler "die the most painful death any man has ever endured" and his awareness that the prosecution's case is riddled with gaping openings.
Stoeringer clearly had a good time writing the script, playfully weaving in anachronisms and pop culture references to blur the lines between the post-war period and today. The show is on a bit less sure footing when it comes to a plot twist skewering contemporary politics, with some egregious (if deserved) potshots at the GOP and NRA.
It may have taken some further flights of imagination to portray a less overtly political path for Hitler and plunging into depths of greater absurdity for a post-war future. Some of the funniest passages involve Hitler just trying to make his way along in New York like any other post-war regular Joe (while also striking up an unexpected kinship with Churchill over late night telephone calls).
With its spirited performances and smart insight into how a failure of a man like Hitler was able to attain influence, Artful Justice reminds us of theater's capacity to find the absurd and unexpected in the most unlikely of events.
 Take me back to the DC Capital Fringe Guide