Let me make a confession up front: this play is not my cup of tea. Inspired by passages from various Tennessee Williams plays, it seems to me to be alternatively over-dramatic and murky. I would not voluntarily see it again.
But I am not everybody. Specifically, I am not my colleague Rosalind Lacy, who loves the expressionistic nature of the Spanish theater but who was not available to do this review. So I do this review as myself, but wherever possible I will tap my inner Rosalind.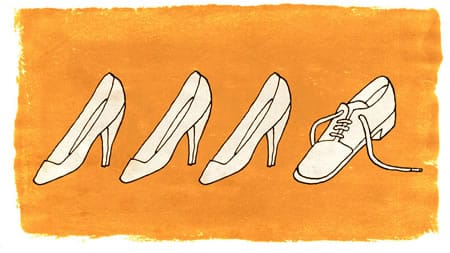 In a small apartment building, three insomniacs fret the night away. A businesswoman (Lorena Sabogal) schemes for a promotion; an academic writer (Karen Morales Chacana) writes line after line in misery, and then throws it all out; a homeless person (Cecilia De Fen, who also conceived of and directed the play) fortifies herself against the darkness.
Why can't these women sleep, and why have their lives become waking nightmares? The atmospherics are terrifically suggestive, though the text is a little murky. It appears to revolve around a young man, a barrelhouse piano player played by Justin Paschalides. The homeless woman was once his mother; the writer may or may not have been his lover and fiancée.

El Sueño, of the Delightful Nightmares of the Ladies

Adapted from the works of Tennessee Williams by Ceclia De Feo
Directed by Cecilia De Feo
Details and tickets
The homeless woman's story is the clearest, thanks largely to a beautiful luminous cartoon (uncredited; the program identifies Nestor Cortesi as the photographer) which explains it in heartbreaking detail. The businesswoman's fate is less clear; I know what happens to her, but I'm not sure why it does. As for the writer, her story escapes me entirely despite Chacana's histrionics; I do not know why she is so dissatisfied with her writing, nor do I know whether she is the same character when she is with her piano-playing boyfriend (she wears her hair differently in those scenes). I do not even know why she types on a continuous roll of paper.
The play's strongest moments come when Paschalides tucks into his music — Harry Barris' "Wrap your Troubles in Dreams"; the Gymnopedie No. 1 by Satie, Saint-Sanz's "Danse Macabre", Dave Brubek's "Rondo a la Turk," and everybody's favorite, "Dream a Little Dream of Me." When Paschalides' character caresses the keyboard he is a man in love, escaping the complaining of his mother and lover by easing himself into the universe of tone. He is like the child of a dysfunctional family who immerses himself in books, or in Grand Theft Auto III, in order to escape the noise.
So though these are nightmares, I regret that I did not find them delightful. But Rosalind might have, and so might you.