Eddie can weave a fantastic yarn. He's a born storyteller blessed with imagination. Or, rather, is he really a man with a past that includes saving distressed damsels, leaping tall buildings in a single bound, and roaming the streets as a dark knight out to save mankind?
It's hard to say, but one thing is for sure: he's a balding, middle-age guy in the midst of a crisis. And, his shrink—a mindful, well-meaning lady in glittering gold pumps—will help him work through it. For better or worse.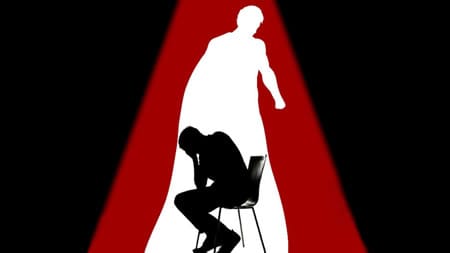 Hero Complex is an absurd, electrifying undertaking that spotlights all I, for one, hold dear in pop culture: the superhero boom. In film. In TV. And, increasingly, on stage. Complex is perfect, capturing the joy in the action and the human drama in the often comical premise. It is funny, surprising, and moving in a way the whole Avengers franchise often aims to be. And, it relies on human skill over CGI to get there and does it with more success.
Eddie (Peter Boyer) stands dead center and regales the audience with the tale of Skullz and his henchmen—no doubt sent by Eddie's arch nemesis Mindbender—taking a beating in an old warehouse. Robin, Eddie's trustworthy and dutiful sidekick, packs a wallop alongside him as he re-enacts strangleholds, uppercuts, and gut kicks, until his shrink (Rachel Menyuk) steps in and stops the charade.
Over the next hour, as Eddie falls in and out of memories fighting crime, she beseeches him to dive to the core of how it is he came to be, or believe himself to be, a superhero.
His origin story is a heart wrenching epistle about the power of loss.  As Eddie tells it— in his customary, painstaking detail—the death of his sister, brother-in-law, and, possibly, his niece Robin left him bereft of hope and craving vengeance. But, wait…Robin (Kristin Pilgrim)—a red-headed vision in blue and black—bursts through the door.

Hero Complex
by Chris Niebling and Kyle Encinas
Directed by Lex Davis
Fight Choreographer: Robb Hunter
Details and tickets
A figment of Eddie's fragile mind—like the terrifying space bug invaders that mangled New York one Thanksgiving—or his flesh and blood crime-fighting partner? Either way, Eddie is in serious trouble.
I pretty much love everything about this show. From the opening music (the theme from Marvel's Daredevil on Netflix) to the expertly nuanced script and writing, which packs an hour with startling twists and turns, and the sound effects, done like an old-timey live radio show by James Finlay, who dons Lee Gerstenhaber's Space Bug mask with cheeky fearlessness.
Add to that a lot of gun fire (despite Eddie's insistence that guns are for the weak), and it's got everything. A complicated protagonist? Check. Gritty fight scenes and splashes of blood? Yep. A delectable array of villains? Oh yeah. Heart? You bet.
Peter Boyer's Eddie is a relatable guy who inspires awe and pity in equal measure, while Rachel Menyuk's shrink carries an air of mistrust effortlessly balanced with empathy; it's hard to discern her motive during Eddie's therapy session, which feels increasingly like a trap set to evaporate his world—real or imagined—with kind cruelty (though, I guess that's kind of a shrink's job).
They, and Finlay—shepherded with supreme direction by Lex Davis—create a make-believe world you really want to believe, breathe, and bathe in.
This show. Hero Complex. It's what the Fringe is all about.