Bob Lohrmann has the entire audience laughing during the first half of Priest/Penitent. Once our emotional walls are down, he seizes our vulnerability and guides us into the thought-provoking and moving second half.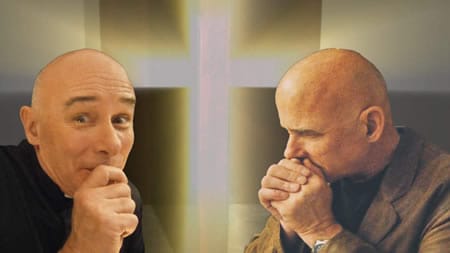 You may find yourself asking how a play can be both a comedy and a tragedy. In order to understand how Lohrmann accomplishes this in the Priest/Penitent, we need to think back to Shakespearean problem plays. Tragedies that begin as comedies are made more tragic, while comedies that start as tragedies are made even funnier.
Lohrmann plays two different roles in this monodrama. In the first act, we meet him as a priest who reveals he enjoys hearing confessions. He does so with the candor of a stay-at-home mom who admits she loves Keeping Up With The Kardashians. Lohrmann's fresh, sassy and indulgent mannerisms make even the priest's most grotesque statements funny and—dare I say?—endearing. Between the priest's clever quips and contagious laughter, it's hard not to think of him as the person you always want to find yourself talking to at a party.
Next, we meet the confessor. Lohrmann comes on stage looking like Bruce Willis' character in Pulp Fiction. Heart-wrenching does not even begin to describe the story the confessor unfolds.

Priest/Penitent

by Wally K. Daly
Directed by Bob Lohrmann
Details and tickets
Playwright Wally K Daly creates stories that teem with figurative language and inventive imagery, which stretches the boundaries of what a one-man show can achieve.
When I read the subtitle of the show, "confession, it's good for the soul…or is it?" I felt a little concerned about who this Bob Lohrmann guy was. Would he be a scathing atheist who hoped to satirize Catholicism with the sensitivity of a Sacha Baron Cohen movie? Or would he want to tread carefully through the landmine that is political correctness?
This also made me wonder a few things about myself. Before the show had started, I felt a pestering question bubble up like foam exploding from a warm beer bottle. What kind of Catholic would I be today?
It's that thing I don't like to admit to myself. As someone who grew up saying Hail Marys and who still firmly believes in God, I have a habit of distancing myself from the faith when it comes up in discussion. At the same time, when someone outright attacks Catholics I feel an intense urge to defend it, even though I haven't knelt down for confession since my confirmation. How can my declarations of faith be so dictated by circumstance?
Needless to say, when the organ music of Priest/Penitent started up, I felt an icky concern that only I experienced this nasty dualism.
I don't want to give too much away, but I will say that Lohrmann explored similar issues in surprising and tactful ways. He brought to the stage a new story, something we haven't really heard before. It was a story that I, and I'm sure many others, needed to hear.