Stuff is a play about objects and their accumulation, but it is not about hoarding, strictly speaking. It's about why we keep things and what the things we keep can inform us about ourselves and about others. It's about the stories that objects can tell us, and about how the perceived value of an object can change when those stories become detached from the object. It's a lovely, wonderfully written, beautifully detailed, and resonant solo show that I can wholeheartedly recommend to anyone who will read this review and will relate to the concerns — and to the story — of the solo performer.
The writer/performer of Stuff is John Feffer. He is not a theatre professional. (Strictly speaking.) He is of a breed that may even outnumber professional, full-time theatre-makers in this town replete with actors, directors, designers, and playwriters.
He is a policy wonk whose day job, and the bulk of whose writing, focuses on foreign affairs.
That said, he is a familiar presence at Capital Fringe. This play is, by my count, his seventh foray into Fringe. His previous work seems to have been equally divided between solo pieces and plays populated with others. This is the first one I've experienced, but it is engaging enough that I would eagerly make a return visit to a successor project.
In nineteen short scenes (the play is less than 90 minutes, though our time with Feffer flies by) he uses our national inclination to accumulate as an entryway into a personal memoir about his own impulse toward acquisitiveness (of books, of knowledge); about that impulse in people he has known (a friend who is obsessed with train memorabilia, for example); and, most prominently, that impulse in his mother. (She keeps bread that she doesn't like frozen in her fridge for years because, who knows? It may come in handy sometime. And who wants to waste?) This all becomes a key to Feffer's understanding of his mother's past, her marriage, and his family.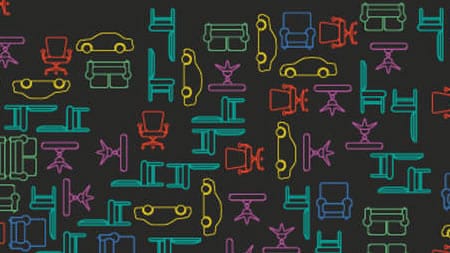 You will likely see more polished performers in this festival than Feffer. If his focus is occasionally drawn too much toward the screen upstage, if he sometimes stumbles on a word or sounds as if he is giving a lecture, his transformation into his mother is, in its way, as surprising and as convincing as Jefferson Mays' Tony-winning turn in I Am My Own Wife. It's a charming, affectionate, perceptive portrait.
I saw the film director James Ivory introduce his movie (a favorite of mine) Quartet at a screening during a retrospective, and he said something that has stuck with me. One of the reasons that film (from the Jean Rhys novel set during the 20s) is special to him, he told us, is because one is always fascinated by the time period when one's parents were young.
Feffer peels the onion of a family history that will resonate to many in his target audience. His is a family that is preoccupied with ideas, with politics, with art. His mother is a woman whose own aspirations may have been sacrificed to those of her husband. Yet any resentment she may feel doesn't seem to be directed toward him, but at other women in her family: her mother-in-law; a sister-in-law whose professional accomplishment she may envy.
The family history interacts with the historical forces of the 20th century. The parents were pulled toward the ideals of the Communist vision, while appalled by Communism in practice. A trip to 70s Poland disillusions them. Individuals they like turn into a distasteful collective when they retire to a semi-communal arrangement in North Carolina. Even though the family's opportunities were curtailed by their politics, the mother retains a sort-of bourgeois distaste toward her sister-in-law's more bohemian existence.
The tension between the pull of egalitarian ideals and the reality of the impulse to acquire is most strikingly underlined in the story of a brother who adopts a John Reed-like attitude toward ownership. The result? He is the one who accumulates the least amount of…stuff.

Stuff
by John Feffer
Directed by Natalia Gleason
Details and tickets
The disillusionment with Communism in practice is most acutely underlined during a powerful scene involving a Russian dissident who shares the family name, a writer persecuted and eventually killed by Stalin. When Paul Robeson goes to the USSR for a famous series of concerts, his meeting with that Feffer is presented as a heart-rending mime, the physical at odds with the innocuous verbal exchange they engage in for the benefit of the surveillance. Those animated by the ideals expressed in Robeson's songs experience a painful betrayal at the hands of the ostensible vessel for those ideals.
Meanwhile, young John Feffer is collecting information in a small box of index cards that he calls his Box of Knowledge. He speaks about his aspirations — to know everything, to read every book. As I begin a process of introducing my young children to a world that I see engaging them, as I notice their appetite to understand all, to experience all, while I become increasingly aware of the limitations to understanding the vastness of this world, this universe, I found this play particularly provocative and poignant. As I look forward to a long-postponed culling of my own accumulated stuff, it, um, hit home on another level.
The play begins with the mother concerned about the fate of a piece of furniture, and nears its end with Feffer's parallel concern that a lacquer box he has been given will retain its importance once his particular relationship to it ends. Objects speak to us, tell us a story. Whether that story is imposed on the object by our history with it, or whether the object contains a journal or a clutch of letters that will more directly illuminate our experience, it's all part of our history, our family, our box of knowledge.
Everyone in the audience is given an object upon entering the theater. At each scene change, we are meant to pass along our objects to another person in the audience. As rich and as layered as this play is, it did become a bit cluttered (perhaps intentionally?) by this activity. Sometimes, I missed the projected epigraph that would begin a scene. Often, I had no opportunity to distinguish one book or CD in my hands from the one that preceded it.
It should be obvious to readers that Stuff will not be for everyone. It isn't the most muscular narrative you will encounter, but its threads intersect in a manner I found very satisfying. I hope it will also be obvious which readers will dig it as much as I did. I enthusiastically give the play five stars and a check, and direct that endorsement to anyone reading to whom this description will appeal.
I would like to reprint here the author's note from the program: "My mother, Edith Feffer, was born on January 10, 1923, and passed away on January 3, 2013. She had a chance to see me play my father in my play Edible Rex. I hope she would have enjoyed how I have played her in Stuff."
I, for one, thoroughly enjoyed it. I have been introduced in this play to people I will remember, and to people who have reminded me of people in my life. Some no longer here would, I know, have loved this play. (I'm thinking of Tom, I'm thinking of Jane.)
By the way, one of the conditions for Fringe using this space at Gallaudet University is that all of the performances have surtitles. This performance and all others at Gallaudet will be accessible in this manner.