With Scalia/Ginsburg, Derrick Wang's delightful mash of an opera, the composer shamelessly steals from almost every major composer and switches styles with alacrity, even setting some American anthems to quirky operatic use. It signifies his knowledge and relish of the entire operatic repertoire and marks his celebration of Justice Ginsburg as the genre's great champion. Wang even includes some jazzy sequences and a gospel number, though perhaps not vocally the strong points in the evening. This was nevertheless a landmark event!
Scalia/Ginsburg is indeed a love fest not only for Wang as both a lover of both opera and law but for all lovers of opera and law, maybe especially those in driving distance from the Capital. In-jokes, major cases cited, and sayings picked up by gossip columnists are the staples of Washington know-how, and, judging by the erupting responses of my fellow audience members, ours was a knowledgeable and most appreciative club of folk. Wang is a very clever fellow and particularly a brilliant librettist. He could be viewed in the tradition of Harvard's group Hasty Pudding, whose pastiches have long been the order of the day, stuffed with clever, racing patter.
It all begins with seven alabaster figures posed as representational statuary from the Supreme Court in separate niches. From this grouping, a robed and bearded "celestial bureaucrat" emerges to put on trial Justice Scalia for excessive dissenting. The Commentator, as he is called, closes all the entrances and exits of the court and begins his questioning of "the originalist" Justice. The tests are interrupted in a rather stunning entrance by Justice Ginsburg. When the Commentator demands she leave and wants to know how she got in after he had shut all entrances and exits, Justice Ginsburg sings, "Then you don't know with whom you are dealing/ It's not the first time I've had to break through a ceiling." She insists on staying and even allows herself to be put on trial also in support of her friend, "Niño."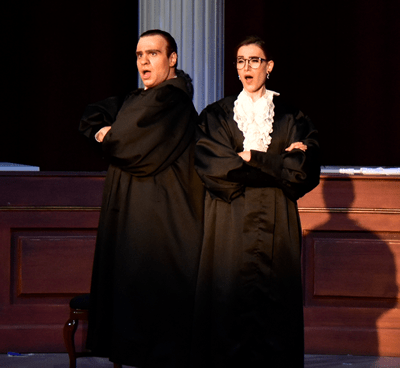 The work has three terrific performances not to mention a charming silent chorus. Ellen Wieser's looks and voice suggest this is a star in her own right and therefore perfectly cast as a younger, and equally glamorous RBG. (I can just hear the "little justice" proclaim with a grin, "That is just how I see myself.") Wieser has such fun with the role, one forgets she is swooping in and out of various difficult operatic and other repertoire and voice registers with lightning speed.
John Overholt is a total match for Wieser, as Scalia is in life for Ginsburg. His physical characterization of the Supreme Court judge also challenges the esteemed actor Ed Gero, whose portrayal of Scalia in Arena Stage's work The Originalist, was so successful in Washington earlier this season. Overholt's mastery of the language of this libretto and beautiful soaring voice give depth to what might have come across as simply a villain or clown.
Of course there are Scalia's side remarks, picked up by press and now household expressions of fun. "Pure applesauce!" quoths he, more than once in the show. It helps that Wang writes – in a stroke of brilliance – the most beautiful and sympathetic arias for Scalia's character.
Wang creates a dramatic arc for Scalia, moving the character from his opening complaint, "This court is so changeable!" to deeply-felt personal musings and even credos. Overholt sings a gorgeous aria dedicated to Scalia's origins and make-up of his character. It is written as a paean to Scalia's father and to the dream of a United States built and earned by hard work, personal responsibility, and integrity. With this song, Scalia passes one of the tests and wins over the Commentator. At this moment, the composer and singer have won the audience to Scalia's side. He's a character many people hate to love, but the applause for this Scalia is deafening.
Adam Cioffari manages to make his Commentator role, which could have been simply serviceable, into a strong third character and manages to dignify the show's premise despite what Ginsburg calls his white wig and drape "classic drag." All three singers negotiate with aplomb singing between comedic interchanges and the conveyance of dramatic ideas of serious substance in which the "little justice" speaks for the people present and the future.

CASTLETON FESTIVAL
June 28 – August 2
7 Castleton Meadows Lane
Castleton, VA
Details and Tickets
———————
Set designer Julia Noulin-Mérat, lighting Designer Tláloc López-Watermann, and costume designer Lara de Bruijn have collaborated well to create thoroughly satisfying worlds for the two operas.
My only serious quibble with Wang's new opera is that it seems to have one too many endings. I'm not sure, that the allusion to Justice Ginsburg's late husband Marty and the lime soufflé, for instance, add much to the proceedings. Understandably, I might be overruled, your honor.
But all necessary confrontations aside, the show and evening end with a feeling of reconciliation and celebration of the life and times of one Justice Ginsburg and her sparring colleague and friend, "Niño" Scalia. But the court these days is clearly hers.
The Ginsburg Effect continued long after the curtain came down on the shows and, judging by the mob scene in the lobby, threatened somewhat to eclipse the outstanding performances and work of the many artists and company members that made this day such a huge success. There were so many lawyers at the evening performance and ganging up around the little justice following the show, I was tempted to ask, "How many lawyers does it take to write an opera?"
You'll have to find your way to Castleton to learn the answer. And there's more programming to catch. I'm heading back to see Wynton Marsalis and the Jazz at Lincoln Center Academy All-Stars, starting July 25.
See you at the tent!