This is the most tentative assessment I've ever given a show, Fringe or otherwise. This is because the featured player in this production is…well, it's you. And I have no idea what you're like.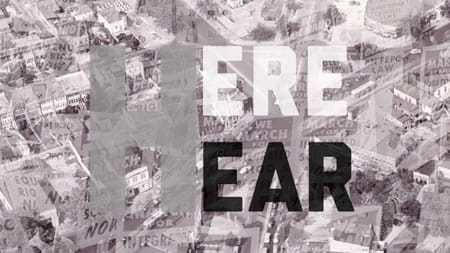 But I'm willing to bet that you're more responsive, and more to the point, than we were last night. See, Richeal Faithful's format is an interview show, with herself as the interlocutor and you, Mr. and Ms. Audience Member, as the guest. The subject: Black stories and experiences in a changing District of Columbia.
She has a video, of a mature African-American woman describing the community in which she lived during the days of her youth, and an audio, of a man who describes how he picked his children up from school, took them to Pierce Mill and then to the Lincoln Memorial. (The production quality is not good for either piece, and Faithful and director Ladan Siad wisely leave transcripts on the chairs). She shows us a montage of photos from Black DC, stretching from the thirties to the seventies. And then she turns it over to us.

Here/Hear
Created and performed by Richael Faithful
Directed by Ladan Siad
Details and tickets
Rocking serenely in her chair, she turns an hourglass over and asks us three questions: Who's got what you need? How has here changed? What places are sacred to you? And then she waits for us to get up, go to the witness chair, and answer them.
We were an unpromising group for such an exercise. There are only six of us, and three are White folks. Among the rest, one is from West Africa, and another is silent throughout.
As you might imagine, we do not rush to the witness chair. This does not seem to bother Faithful. She rocks back and forth, slight smile on her face, comfortable in the silence. Sounds waft in to the Logan Art Center's Trinidad Stage from other Logan venues, but they do not seem important. Good trial lawyers, and psychologists, know the value of silence: in its presence, witnesses sometimes blurt out things they didn't intend. Faithful knows this too.
After what seemed like an interminable wait, somebody walks up to the witness stand and tells us who has what he needs. After a long delay, someone else does. After more silence, Faithful reads some of the written responses she has received. Then a third witness speaks.
Then the dam breaks.
This does not go in the direction it was intended, but Faithful is undeterred. She allows the conversation to flow where we take it. We do not address the central question, but we teach each other a lot about gentrification, good barbers, soccer, great carnivals, and where to get pizza. By the end it is like a party with a bunch of really cool people, but no booze.
And so that's why I'm high on this show: if she could get these impressive results from such meager ingredients, then Faithful has real performance-artist cred. If you're game for that sort of experience, this is the show for you.