The Naked Theater Project's SONATA: The Naked Theatre Project, playing at Gallaudet University's Eastman Studio Theater, is an experimental concerto on suspense and delay. (It's fully clothed but maturely themed; parents are still advised to leave the kids at home).
Taking the shape of a three act concert, the evening is separated into stylized movements often set to music. An arousing blend of post-modern minimalism and commedia humor, SONATA seeks to push past the textual school of American theater and into an ethos of expressive movement and unencumbered emotion. Interpretation is yours. Context is intentionally minimal, and audience members hungry for a through-line are advised in advance to leave that thought at bay.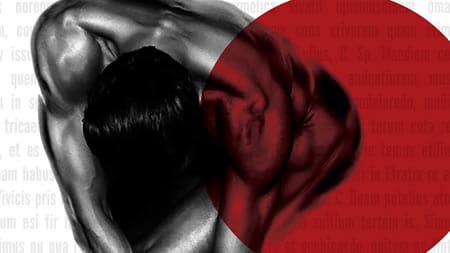 Beginning with two clowns (in this case, bumbling WMATA employees), the production offers two unlikely guides to take us through a night of heightened suspense and delayed gratification. Comedic minimalism is on point; scenes are distilled to a handful of choice words (if words are used at all); and expression of character is on full display in the absences and silences that most plays seek to minimize.
Writer and director Solomon HaileSelassie has created a piece that, while not the first of its kind, treads confidently and sure-footedly into post-modern territory, popping an emphasis on unspoken, universal truths (pooping and masturbation, for instance, in the number "Toilet Humour").
It's effective. Care is given to the details, leaving us a tender set of scenes that lovingly uphold the banalities of our lives: the hidden dramas of the Metro; the miscommunications between loved ones; the perseverance in the face of disease. (Remember: no through-lines).

SONATA: The Naked Theatre Project

Written and directed by Solomon HaileSelassie
Choreography: Chanel Smith and Anastasia Wilson
Details and tickets
Choreographers Chanel Smith and Anastasia Wilson have done extraordinary work with movement, allowing their cast ample room to explore their space and time and inviting us in to play. Sonata flows rhythmically in the space, seldom feeling forced and always seemingly well-tended. Certain numbers, such as Sydney Lawson's stunning solo performance as Proserpina in "Adolescence in the Park," are pregnant delights. It's a play of subtle truths, with great care given to its moments. And while there may not be a scripted plot, it buffets us along a clear-cut arc from comedic coupledom, to heartbreaking loss.
SONATA's final number, "Tiny Coffin," is the clear aberration from the norm. Nearly all text and nearly no movement (though still with a surprise at the end), it's a brilliant bit of contrast that both emphasizes and endorses what's transpired thus far, while slinging the performance into the depths of a parent's free-falling grief after the loss of a child. "Tiny Coffin" does service to one of life's most profound experiences, a dramatically rewarding and emotionally upheaving counterbalance to the care already given to its minutiae.
HaileSelassie plays the grieving father with honest reserve, generously un-spooling a refined monologue as his therapist responds in kind with the many ticks of someone barely present. In a production about the power of our movements to heal and express and bear witness, the decision to leave us abutted against the powerlessness of words is a strong, rewarding choice.
It's a promising, if occasionally indulgent production. Not for everyone, but well-worthy of the trip.