On this the fortieth anniversary of the Glimmerglass Festival, Artistic Director Francesca Zambello has delivered to us two big valentines of shows: Mozart's much beloved work The Magic Flute and Leonard Bernstein's Candide.
Indeed, Ms. Z has zapped Candide with her own directorial magic. Both shows sprung in their original form from the new ideas of the Enlightenment, were created as zany popular romps, and have been given fresh new productions styled to attract audiences for a new, New World. Both shows do indeed create some 21st century magic of their own and are expressions of her love affair with the young artists of Glimmerglass.
Zambello is not above breaking what some would call opera's "cardinal rules" to dabble in some magic and grab an audience. She did it for me when she stole a chunk of Bernstein's fabulous opening music for Candide to stage an eye-popping scene where dozens of half-dressed performers appear to jump jack-in-the box fashion out of the same show trunk. It's as if she is taking us backstage to share the joys and the insanity of "putting on a show" at Glimmerglass. Voltaire, aka Dr. Pangloss, moves between narrator and character to set the story, waving on and off the performers who switch characters lightning speed to tell the picaresque tale. Hooplah! Zambello is a director with great instincts who just nails what she wants to bring out in an operatic story as she has done here in the opening scene.


The Magic Flute
Highly Recommended
Candide
Highly Recommended
at Glimmerglass Festival
July 18 – August 22
7300 State Highway 80
Cooperstown, NY 13326
2 hours, 30 minutes with 1 intermission
Details and Tickets   or call (607) 547-2255
———————
This Artistic Director wants you to know she is standing behind her decision to break another "rule" of opera in The Magic Flute. By delivering Mozart's work in English, she has mustered plenty of support including the composer himself. Indeed, Mozart insisted that opera, and this opera of his in particular, should be sung in the vernacular of wherever the work be produced. She makes a second historical point, sharing that it's only post-Second World War that singing in the "original language" became so preciously held a tenet. Finally, and certainly most importantly for Zambello, her mission to reach and develop new generations as audience members for opera requires Americans to understand what's going on. So, get over yourselves, naysayers.
The truth is that Kelly Rourke, Glimmerglass program writer, sur-titles deviser, translator, and what is tantamount to being Ms. Z's partner in crime, has done a bang-up job with her latest translation of The Magic Flute. (It's Rourke's second time translating the show.) She happens also to be the librettist this season of a new opera for young audiences, adapting that ur-quest of a tale, The Odyssey, which will be produced in August.
 ———- The Magic Flute ————
Rourke is very sensitive to what each production is trying to emphasize. In this Magic Flute directed by Madeleine Sayet, the work was to be given a special treatment to bring out the natural world and specifically become a dialogue between traditional native American wisdom and living in balance with nature and an understanding by environmental scientists of the role of stewardship. Her language reflects this both in the lyrics and in the spoken passages of dialogue where Rourke takes even more liberties.
People tell me that Rourke is a dream of a collaborator, listening carefully to how specific actors bring out certain vowel colors to great advantage on certain notes and then making textual adjustments to allow performers to inform the work and shine. Some choices are surely still in discovery. In one aria, Queen of the Night has to "run" up and down a lot of notes on "o" as in loss (not so good) but later, thankfully, in her most magnificently famous aria, the vowel in English is "a" as in "ah" or the first part of the diphthong in "die." Ah, much more satisfactory. Translating is devilish business, but Rourke is one of the very best.
If Zambello is clear and thorough in her direction, the young Sayet is somewhat less so and exposes at times her lack of experience. However, her concept for The Magic Flute is a good one, and she has a good design team to assist her. Together they have created a delightful show.
I loved the beginning which sets up Tamino in suit with briefcase trapped in an urban jungle, mobbed by a demanding chorus of people with papers and cell phones. He escapes to the forest on a quest for love and spiritual renewal. Designer Troy Hourie has created a forest that is both recognizable and abstract, as if suffering from the scourge of neglect and acid rain. But Sayet and Hourie have also incorporated magical places from native American lore, a Hogan-shaped structure made of willow branches and a "wisdom tree" which contains its own spirits. All of this is quite beautifully lit by Mark McCoullough.
Costume designer Kay Voyce has had great fun "updating" the world of the opera. While the noble characters of Tamino and Pamina are in what used to be called urban "yuppie" garb, our down-and-out Papageno is suitably clownish in something approaching a dorky birdwatcher. The other "hunters" are portrayed as more sinister in a political stab at a whole class of hunters and lumberjacks. Queen of the Night is dressed in a glitzy refashioning of what Americans used to get away with calling an "Indian princess" (truthfully more Disney than Native American.)
Something hard to swallow for me was Sayet's decision to do away altogether with the world of the enlightened Free Masons, reinventing Sarastro's band of brothers as a kind of futuristic sci-fi team of white-coated scientists. But still all was in good fun and surely made the opera more accessible.
A few staging choices didn't serve the performers or help the characters.   Why was Pamina half hidden and unprotected upstage at the base of a tree? Why was Sarastro stuck in a tree like an owl for a whole scene? How could the rites of passage for Pamina and her Tamino lift off as magic when all the effects and spirits had already been revealed?
Mostly, I wanted Sayet to go further with her ideas and plumb the world of dreamcatchers, shamanism, and animal wisdom to fulfill more richly this reinvention.   The singers clearly were eager to support her ideas. Sean Panikkar is a gorgeous modern hero in voice and stage presence and imminently sympathetic. Ben Edquist had so much going for him in his first time in the role of Papageno, and clearly has many more refractions of this luscious clown in him to steal the show in decades of productions. Soloman Howard gave us the deep down notes of Sarastro's famous arias with all the richness they deserved, and this intelligent singer-actor made real for me the father-figure caught between his professional work and his determination to protect and win his Pamina in a child-custody battle. So Young Park, Queen of the Night, also convinces as a sorceress and is a beautiful singer. The various trios and choruses were suitably amusing and sounded wonderful under Carolyn Kuan's baton.
 ———- Candide ————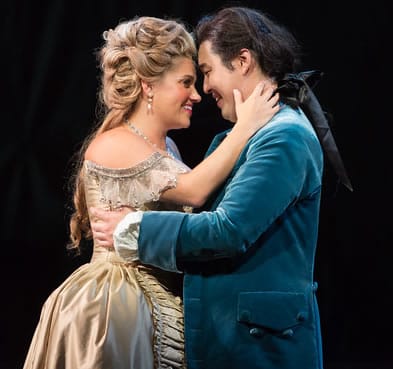 Candide had all of the confection that makes this my favorite musical of the twentieth century. But what really made this work soar is the balance achieved between the delicious turning up the heat of the wickedness of the satirical aspects of the work but also letting the moments of heartfelt humanity deepen. There is a "truth" that Zambello goes for on stage.
When Cunegonde sings "Glitter and Be Gay" the singer-actress not only pops Bernstein's notes "out of the park" but in delivering Richard Wilbur's words, Kathryn Lewek's Cunegonde doesn't just deliver an original "material girl" but fuels the work with all the pain and rage of someone who has been repeatedly raped and abused. In such a sweet and lovely little package, Lewek surprises; this woman is a force on stage.
Andrew Stenson is a most perfectly cast Candide with his moon-faced innocence and indomitable spirit. He sings beautifully and breaks through the silliness and satire to find the heart in the work. His song "It must be so" is really thought through as a young man struggling with all the evil in the world.
Christian Bowers has the biggest voice and, as his character Maximilian, the largest ego as well. His unabashed self-love is so amusing and his voice so "loverly" he nearly steals the show. Kristen Choi as the sexy minx Paquette rounds out this group of young folk and sings most delightfully. Their quartets were magical.
David Garrison in the dual role of Voltaire and Dr. Pangloss reminded me of F. Murray Abrams. He carries all the exposition of this picaresque adventure. Again I marvel that under Zambello's directing, the school room scene where he expounds as the learned quack of a teacher becomes, for perhaps the first time, philosophically revelatory. Q.E.D. There were times in this first performance where I thought he might have got tied in knots. But the ensemble soon righted things for "the best of all possible" musicals.
Marietta Simpson as the Old Lady, Andrew Marks Maughan as the loyal Cacambo, Matthew Scollin as Martin voicing all that is opposite to Pangloss' teachings of optimism make great contributions to the show and create strong characters that have become etched into my mind. The chorus, like many of the named cast, are all terrific, and they change in and out of different characters with dizzying speed, making it all seem the most fun in the world.
All the business and props, seemed to be invented on the spot with this theatrical stage, and all were marvelously simple solutions. The Baroness in her brief scene was dressed in a two-dimensional "front piece" to indicate her girth and over her head hung a birdcage of a pompadour which was then whisked away when no longer needed. The blackboard served time and again to help us understand the map that drives this tale, as in our narrator's drawing with many loops and criss-crosses the "direct route" across water our little band of folk was taking.
Occasionally, an image or a scene would seem to linger to make a deeper and more lasting impression as in the land of El Dorado, which was depicted as the Las Vegas palace of the same name, complete with strutting showgirls and plenty of glitz.
The design team of James Noone, (Scenery), Jennifer Moeller (Costumes) and Mark McCullough (Lighting) worked their own magic. The energy was infectious and seemed to highlight all that is magical in the best of all possible summer companies.
——————–
Candide Composed by Leonard Bernstein . Lyrics by Richard Wilbur (also Stephen Sondheim, John Latouche, Lillian Hellman, Dorothy Parker and Leonard Bernstein) . Book adapted from Voltaire by Hugh Wheeler in a new version by John Caird . Conducted by Joseph Colaneri . Stage Direction by Francesca Zambello . Produced by Glimmerglass Festival  . Reviewed by Susan Galbraith.
The Magic Flute Composed by Wolfgang Amadeus Mozart . Original Libretto by Emanuel Schikaneder . English Adaptation by Kelley Rourke . Conducted by Carolyn Kuan . Stage Direction by Madeleine Sayet . . Produced by Glimmerglass Festival  . Reviewed by Susan Galbraith.
More from Glimmerglass Festival 2015