Signature's remounted musical The Fix puts the "nasty" in dynasty by skewering the nepotism and celebrity culture oozing from contemporary politics.
If you're a patron of Signature Theatre, you may already be familiar with the story of The Fix, the company's remounted (and somewhat readjusted) musical season opener. Privileged yet doggedly dim scion of politically powerful family hops (figuratively kicking and screaming) from an unearned spot at Yale to an unearned political campaign at the cajoling of his family, with everything orchestrated by an evil political mastermind. Drug problems and youthful indiscretions follow, but nothing seems to be able to stop this young man's meteoric rise. Sound familiar?
The Fix isn't all, or even mostly, darkly suggestive political satire. Most of the 130 minute runtime is taken up by fast-moving musical pop, delivered with stunning grace and power by Mark Evans (of Book of Mormon national tour fame, playing and sometimes overplaying the lead role of Cal Chandler) and huge cast of heavy-hitting local DC singers. The verve of this whole cast keeps The Fix marching and sharply dancing (thanks to choreographer Matthew Gardiner) along to the snare-driven score directed by Jon Kalbfleisch, never letting me catch my breath, much less look at my watch.
But in the M&M of The Fix, the thickly-layered candy coating of toe-tapping music and phenomenal dancing threatens to overpower its chocolatey center of political satire, so don't go into the show expecting deep or incisive commentary. Instead, go to The Fix for some ribbing of political celebrity culture, all too real with a certain toupee-crowned billionaire currently leading the Republican nomination race, and some top-notch singing from this great cast.
Bobby Smith leads off the show, and steals it on occasion, while playing Reed Chandler (Cal's father) with a crisp shine that smacks of classic Broadway. Smith's smooth operator persona keeps the show pumping forward as he guides Mark Evan's Cal along through the paces of political stardom that Reed once trod. Next we get to meet the young man himself, Cal Chandler, who sports a rock-star casual look, but "cleans up well" as a woman of a certain age might say while looking at him hungrily. Hunter Kaczorowski's sharp, if nebulously anachronistic, suits make Evans (and the entire cast) look good while flouncing about prettily.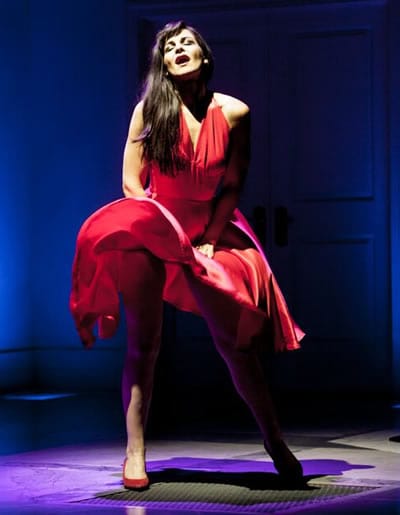 It's true, Mark Evans is a quadruple threat in this role: acting, singing, dancing, and smashing good looks that seemed to make every male-attracted audience member cross their legs when he stripped to change into a suit. As his character descends into drug-and power-addled madness, Evans flies a bit off the handle, gesticulating wildly in the way that squares think a drug fiend does when fiending. But he recovers exceptionally well toward the end of the play, making one of the boldest and strongest choices of the night.
He's got quite a bit of acting and singing support, too. Rachel Zampelli makes great use of her stage time as Tina, Cal's mistress, and, given her mastery in this role, she could write a book, nay, two: one on heroin chic and the other on lighter-flicking belty/bluesy numbers, of which she gets two in this musical.
Christine Sherrill, smartly cutting as Cal's high-functioning alcoholic mother Violet, gets her own torch song and blows the roof off with it. Lawrence Redmond delivers some solid and much needed subtlety as Uncle Grahame, the Rovian schemer whose own dark desires and shame over his disability make for a complex character. I could've done without the jokes at the expense of his disability though.

THE FIX 


August 11 – September 20
Signature Theatre
4200 Campbell Avenue
Arlington, VA
2 hours, 10 minutes with 1 intermission
Tickets: $22 – $102
Details


———————
In fact, stellar cast notwithstanding, there's quite a bit in this musical that I could've done without, and the "attacking" style of reworking done for this iteration (as mentioned in our insightful interview with Eric Schaeffer here) hasn't caught some of the fundamental issues with the script. Despite the waifishly thin book, there's still far too much repetition. What seemed like half of the second act is taken up by exposition that is mostly understood through clean storytelling in the first act. I got nuggets of difference, but not enough to justify the time.
I would also love a bit more depth here. The Fix is a "feeler," not a "thinker;" its pillorying of political celebrity feels just as airbrushed as the personalities it skewers. The structure of the show, a constantly streaming rush of quick songs and scenes, feels like a movie made up of montages. But when The Fix makes an attempt at gravity it feels not so much disingenuous as an out-of-place savory flavor in this candy apple of a show show, a bit like Turkey & Gravy Soda.
But if you go into The Fix with a politically carefree attitude, you'll find plenty to enjoy. Like Cal Chandler, you can be whisked away on the freight train of success (which The Fix will undoubtedly be), the smashing moves and the soaring songs. They'll fix you up nicely.
—————
The Fix . Book and lyrics by John Dempsey . Music by Dana P. Rowe . Directed by Eric Schaeffer . Featuring Mark Evans, Lawrence Redmond, Christine Sherrill, Jessica Lauren Ball, Matt Conner, Mark Chandler, Jordan DeBona, Jamie Eacker, Maria Egler, Will Gartshore, Nick Lehan, Dan Manning, Christopher Mueller, Tracy Lynn Olivera, Stephen Gregory Smith, Nickolas Vaughan, Caroline Wolfson and Rachel Zampelli.
Choreography: Matthew Gardiner . Scenic Design: Misha Kachman . Musical Direction: Jon Kalbfleisch . Costume Design: Hunter Kaczorowski . Lighting Design: Ryan O'Gara . Sound Design: Lane Elms . Wig Design: Dori Beau Seigneur . Video Design: Hannah Marsh .  Production Stage Manager:  Kerry Epstein assisted by Karen Currie . Produced by Signature Theatre . Reviewed by Alan Katz.