NextStop Theatre Company presents Cole Porter's classic American musical Kiss Me Kate as the first show in its third professional season. Already, the company has produced several polished and well-deserved sold out shows as well as Helen Hayes nods. It seems to be a great place to catch young performers graduated from some pretty impressive training programs, starting out their careers as well as Washington directors and musical darlings in great meaty roles. There were some good performances in this musical but it hadn't entirely gelled in its first weekend.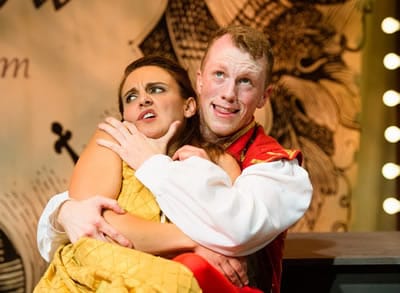 It's always an adventure to discover new companies and production styles. NextStop's Industrial Strength Theatre, located in the middle of an office park near Herndon, VA may be a little challenging to find for first visits, but find it people did, and the rows of risers were packed on a Sunday afternoon. The space is intimate, and that can make for a great theatrical experience.
The show itself would seem to be a terrific match for NextStop, as the famous Cole Porter musical is based on the idea of a small touring company trying to put on Shakespeare's Taming of the Shrew. As director Michael Bobbitt and the design team conceived it, the production emphasizes the rickety backstage feel of a less than well-heeled theatrical troupe. When the action flips to onstage, the space gets crowded quickly – two pirouettes and you're in the wings. Actors and musicians are crammed, sandwiched between the set's sandbag weights for old fly systems, a row of footlights, and bare walls.
Set designer Elizabeth Jenkins McFadden has got it just right, down to the doors that rattle in their frames when banged shut. Costume designer Kristina Martin matches this look with Shakespearean costumes that look like they might have been squashed overly long in traveling trunks. Only Max Doolittle can't use to his advantage the fact that there just aren't enough lights in the inventory to keep this busy group of performers' faces well lit.
The main challenge of the play-within-a-play musical is how to differentiate between the backstage story, that is the action and relationships of the characters, and the Shakespeare play being rehearsed. It's an especially clever but tricky problem inherent in the book to figure out how to pull the stops out when the lines get blurred between the actors and their dual characters.
At those moments, Lili/Kate (Karen Vincent) and Fred/Petruchio, (Paul Scanlan) in particular, have to do a kind of double duty within the same scene and even at times within the same moment. Director Michael Bobbitt has indeed directed an up close and personal production, but often so broadly that it isn't clear which of the two "worlds" we're in.
Paul Scanlan is more than comfortable fulfilling the lead role of Petruchio. A go-to DC area musicals performer, he really listens and responds to the other actors onstage. And he brings nuance to the Fred Graham character showing both his egotistical, self-aggrandizing character and his vulnerability, even the weaseling suitor trying unsuccessfully to keep two women happy.
Emily Levey as the Lois Lane/Bianca character is the "other woman," and both her characters seem indeed to like to be everyone's idea of the "other woman." In a role that might stay only ditsy, she manages to bring warmth in sound and personality, and I particularly liked her scene work with actor Stephen Russell Murray, fulfilling a complicated relationship that did convince they both loved each other "in their fashion."
Otherwise, the first act came across a little sluggish. All too often, especially so up close and personal, I watched the other actors put expressions on their faces to match the emotions.  When they sang, they colored long swaths of Cole Porter's brilliant score with general emotional washes. You could hear the audience's polite but not greatly enthusiastic applause.
Then Act II opens and darn, if I didn't want to eat my hat. Hasani Allen comes out as the dresser Paul and sings "Too Darn Hot" joined in by Daphne Epps and they bring down the house. The choreography, too, (Rachel Leigh Dolan) seems to pop up its voltage, and the company dances like the energy was pouring up through floorboards. Anything dusty or fusty about the musical gets immediately present and very visceral – just what Bobbitt was going for.

KISS ME, KATE


August 20 – September 13
NextStop Theatre at
Industrial Strength Theatre
269 Sunset Business Park
Herndon, VA
2 hours, 15 minutes with 1 intermission
Thursdays thru Sundays
Tickets: $40
Details
Tickets or call 703 481-5930
This was followed by Scanlan's delicious rendition of "Where is the Life That Late I Led." His relationship with Vincent seemed to get more genuine and have more at stake, especially when he shows her the dead life she seems to be choosing "retiring" to a millionaire's southern post plantation-era estate.
Another happy aspect of the production is the overall quality of the singing. Vincent has one of those operetta-like "legit" voices that fits beautifully with the Cole Porter style and musical era. She even gets to show off a pretty darn respectable Queen of the Night vocalize from The Magic Flute.
Let's face it, the music, both lyrics and score by the inimitable Cole Porter, are first rate. Music Director Steve Przybylski manages the good and confident blend of voices as well as the bare bones sound of the four piece jazz orchestra to make the music click along.
I did so wish that some of the humorous patter, particularly of the two gents who in this show go into pretty broad gangsterisms as they put the screws to Mr. Graham, could have clicked along similarly and snappily as that period's comedy demands. But with their rendition of "Brush Up Your Shakespeare" and the true cataloguing of Shakespeare's oeuvre with Porter's clever and roguish lyrics, well – all's well that ends well.
—————————
Kiss Me Kate . Music and Lyrics by Cole Porter . Book by Bella Spewack and Samuel Spewack . Directed by Michael J. Bobbitt . Choreographed by Rachel Dolan . Music Directed by Steve Przybylski . Featuring Paul Scanlan, Karen Vincent, Emily Levey, Stephen Russell Murray, Daphne Epps, Hasani Allen, Bobby Libby, Kevin Place, Drew Stairs, Shaina Murphy an Hannah Jennens . Music Director: Steve Przybylski .  Scenic Designer: Elizabeth McFadden . Lighting Designer: Max Doolittle . Costume Designer: Kristina Martin . Props Designer: Cris Ruthenberg-Marshall . Sound Designer: Stan Harris . Production Stage Manager: Laura Moody . Produced by NextStop Theatre Company . Reviewed by Susan Galbraith.