Marcia E. Cole  is a native Washingtonian who in the process of re-invention, received her BA in Early Childhood Education in 2014 from the University of the District of Columbia. Her new play, A Matter of Worth, produced by Live Garra Theatre, opens September 16, 2015.
She has won the College Language Association Creative Writing contest across three genres – Drama (2008), Poetry  1st Prize (2011) and Short Story (2012). She is a strong advocate for literacy and believes all the arts are essential to understanding the world we live in whether by examining the past or looking to the future. A Matter of Worth is her first play.  She was invited to appear in a new play reading about Maya Angelou by playwright Rickey Hood 2015.  Her son, also a writer, is keeping writing in the family. She invites you to contact her via email.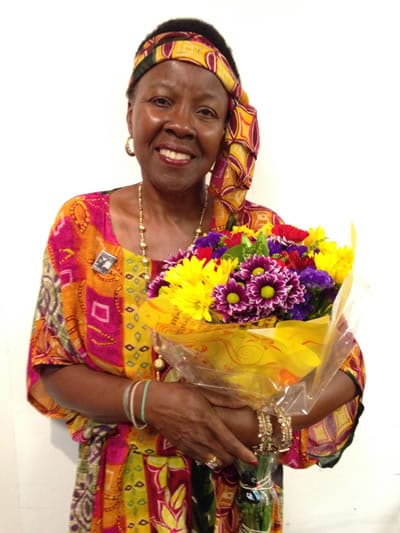 Why are you a playwright?
I write plays for the challenge the form provides. I love to write and I wanted try my hand at playwriting. I wanted to know if what I had to say could effectively be presented on the stage.
What type of theatre most excites you?
I like works that get inside the character and reveal aspects of people we can recognize as they are revealed. We all have common emotions — fear, doubt, love, and unfortunately even hate. Don't we all have challenges? Fortunate are the theater goers who leave with a bit of insight to help them see more clearly their own dramas.
What starts a play moving in your imagination?
I find myself drawn to finding ways to illuminate hidden Black history. I discovered there was so much I didn't know. What I learned in school was just the beginning. So when I come across some little known fact that speaks to a larger issue, I want to see if I can tell it in such a way that its historic and contemporary connection is made.
Describe your writing day.

I wish I had a writing day! Usually some idea or a snatch of dialogue will come to me at some inconvenient time when I am doing something else. I then find myself scrambling to get it down on a scrap of paper for later review. When I actually do get to write, I like to sit at my five-foot artist table that faces a sunny window. Then I invite the characters to come and introduce themselves. Thus the story begins.
How did you choose this play to debut at the Festival?

I was invited … encouraged to enter this piece in the festival by Wanda Whiteside – Director and Producer at Live Garra Theater located in Silver Spring, Maryland, a welcoming place where Black playwrights can showcase their work. She has been a great champion of this piece which delights me. The main character Hannah has a message that is as meaningful today as it was for the time frame in which the play is set.


WOMEN'S VOICES THEATER FESTIVAL
A MATTER OF WORTH
September 16 – 20, 2015
Live Garra Theatre
at Silver Spring Black Box Theater
18641 Colesville Road
Silver Spring, MD 20910
Details and Tickets
———————
What female playwrights have influenced your writing and how?
I bring to mind Ntozake Shange's For Colored Girls and Eve Ensler The Vagina Monologues for inspiration for form and economy of setting. To me they show that it really is about the playwright, actor and the words. This is what needs to happen to reach the audience. All the other things are extra.
What's missing from theatre today?
One thing that is missing is a full on support for theatre in general and Black theater in particular from institutions and the public alike. Financial support through grants, donors and ticket sales is the life blood for struggling theaters. Theaters like Live Garra. They are in jeopardy without it. Theater has been around for centuries to entertain and enlighten audiences. Let's keep it around for centuries more.
What are you working on now?

I am gathering background materials for another history-based piece. I have two in mind. Once again, the more things change, the more they stay the same. The past and present are always side by side.
Answer this: "If I weren't a playwright, I would be … "
… teaching reading. With the tool of reading combined with comprehension, the world of information is open to you. Reading is the key to unlock the mind.
Anything you would like to add?

I like the cross pollination of all the art forms. We enrich and inspire each other's work. I certainly find it so for me. How wonderfully different we convey the same idea.
Our Guide to Women's Voices Theater Festival
and
More interviews with WVTF playwrights