Jacqueline Goldfinger's Trish Tinkler Gets Saved opens October 8, 2015 at Unexpected Stage.
Skin & Bone won Best New Play at the 2014 Philadelphia Critics Awards and was nominated for the Blackburn Prize. Her 2012 drama Slip/Shot, won the Barrymore Award for Outstanding New Play, was nominated for the Weissberger Award and developed at PlayPenn and the Lark's Playwrights' Week. jacquelinegoldfinger.com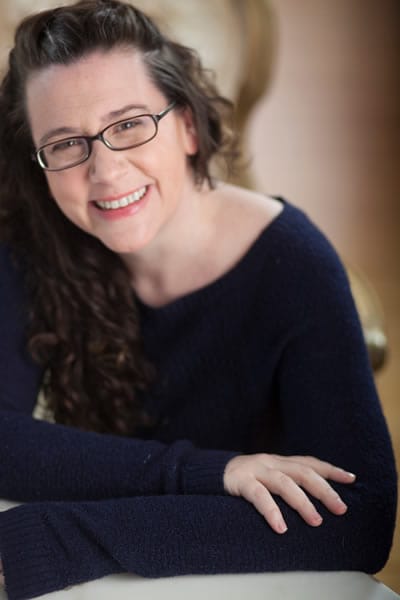 Why are you a playwright?
I'm the least terrible at playwriting. I fell in love with theater as an eight-year-old sitting on the sticky floor of a stifling elementary school cafeteria watching a community theater troupe perform an outlandishly funny melodrama. But there was no theater anywhere in the circle of my possible experience so I tried telling stories in other ways – fiction, poetry, essay – but it wasn't until a middle school teacher introduced me to the form of playwriting that I felt I'd found my calling.
The intimate and visceral response that theater evokes is a more meaningful experience for me than storytelling in other forms. There's nothing like being in the room with a character as they fail, succeed, drag themselves down and raise themselves up.
What type of theatre most excites you?
Theater that moves me – intellectually, spiritually, emotionally or in ways that aren't well defined. Theater that is an experience beyond literature.
What starts a play moving in your imagination?
A visual. For Trish, it was the sight of an aging groupie at a 7-11 convenience store. For my newest play, The Arsonists, it was the idea of a curtain of fuses hanging across a stage.
Describe your writing day.
There is a lot of Twizzler-eating and music-listening. I love to write in my bedroom in my pajamas. I probably have more sets of pajamas than I do of every day clothes.


WOMEN'S VOICES THEATER FESTIVAL
TRISH TINKLER GETS SAVED
October 8 – 18, 2015
Unexpected Stage Company
at Randolph Road Theater
4010 Randolph Road
Silver Spring, MD 20902
Details and Tickets
———————
How did you choose this play to debut at the Festival?
We wanted to share a story of funny, quirky, and supportive female friendship that's rarely seen on-stage. Plus, we all really like to laugh.
What female playwrights have influenced your writing and how?
Early on, I was only introduced to male playwrights; the big boys of American Theater (capital "A," capital T" theatre). So Williams, Shepard, Wilson, Mamet, O'Neill. But in my senior year of high school, I also met Vogel and Churchill and Hansberry which really made me feel like my voice had a place on the stage. A little later, I met [María Irene] Fornés and that was the bomb that all the playwright-fuses were leading to. She rocked my world. But they all gave me a sense of the depth and width of the artistic expression that we call theater. They made me brave.
What's missing from theatre today?

A spirit of adventurous imagination.
What are you working on now?

A new drama, The Arsonists. Set deep in a Florida swamp, The Arsonists is a father-daughter tale of grief, loss and redemption. Inspired by Greek tragedy and Southern Gothic fiction, The Arsonists is a contemporary American myth that explores the relationship between parent and child in that small space between life and death, just as the ending ends and the new beginning awakes.
We'll have a reading of The Arsonists at the Kennedy Center on September 7 as part of their Page-to-Stage Festival.
Answer this: "If I weren't a playwright, I would be … "
A theater or film archivist so that I could spend my days among those banged up characters and their stories.
Read on
Our Guide to Women's Voices Theater Festival
and
More interviews with WVTF playwrights