As the title of one of last of Mozart's operas suggests about women, "so do they all," indeed! How perfect then to set this young lovers' romp in the hedonistic, cynical and self-referential world of Andy Warhol's Factory. And what better way to experience such an update of Così fan tutte than DC Public Opera's clever take over of Old Town Alexandria's Torpedo Factory.
DC Public Opera transformed the Topedo Factory hallway with an exhibit of foil sculptures and spangly silver curtains reminiscent of that kind of disco glitz of the sixties and early seventies. In the very first scene, the foil covering is ripped apart to reveal Warhol-like repeated portraits of the two young male characters. These replace the treasured cameos the two young sisters, Fiordiligi and Dorabella, mention in the original opera and become pop culture's iconic art. The fact that we in the audience can see working artist studios up and down the surrounding halls extend the set to integrate the entire warehouse experience.
DC Public is a relatively new opera company to the area and as such fills a void left by several other small opera companies which have sadly closed their doors. The company's mission — to update operatic works and make them accessible to today's audiences at a fraction of the price – is commendable. The fact that they find quite unusual public venues such as this one (or last year when they performed in DC's Eastern Market) shows they are finding fresh ways to deliver opera. Best of all, this company provides us the opportunity to catch some fine young singers who are well-trained and willing to take dramatic risks by creating strong physicalized characters in satisfying ways.
Artistic Director Jennifer Williams has pared the opera down to a chamber opera for three women and three men, and nothing much is missed. Gone are the chorus and the drums with its martial theme as the two lovers "play" at getting conscripted replete with fond farewells to their girlfriends. Gone are the cumbersome set changes. It still weighs in at three hours, and that might stand more trimming for today's younger and more restless audience.
What remains is the plot, pretty silly actually, of an older man's cynical wager with two young men that women are incapable of fidelity. The young men, sure of their women, go for it, and get their comeuppance when, disguised as The Albanians (in this case members of an indie-rock band,) successfully woo the girls. For the first time I believed the set up, due in great part to Joseph Pleuss' invigorating the role of Don Alphonso. Dressed in black turtleneck and slacks, Pleuss slinks around the stage, wrapping his rail-thin personage with his arms, now playing with his hip glasses, now biting on his fingers with all the intensity of a self-made and self-preoccupied celebrity. As some cross between Andy Warhol and Chuck Close, he stretches out languorously on a second hand row of theatre chairs then runs up the stairs to peer down voyeuristically on the mayhem he's concocted. It's his experiment to observe and, in this production, to visually record all that is going on. In some ways it's all very Warhol – all that's missing in this "factory" are the drugs.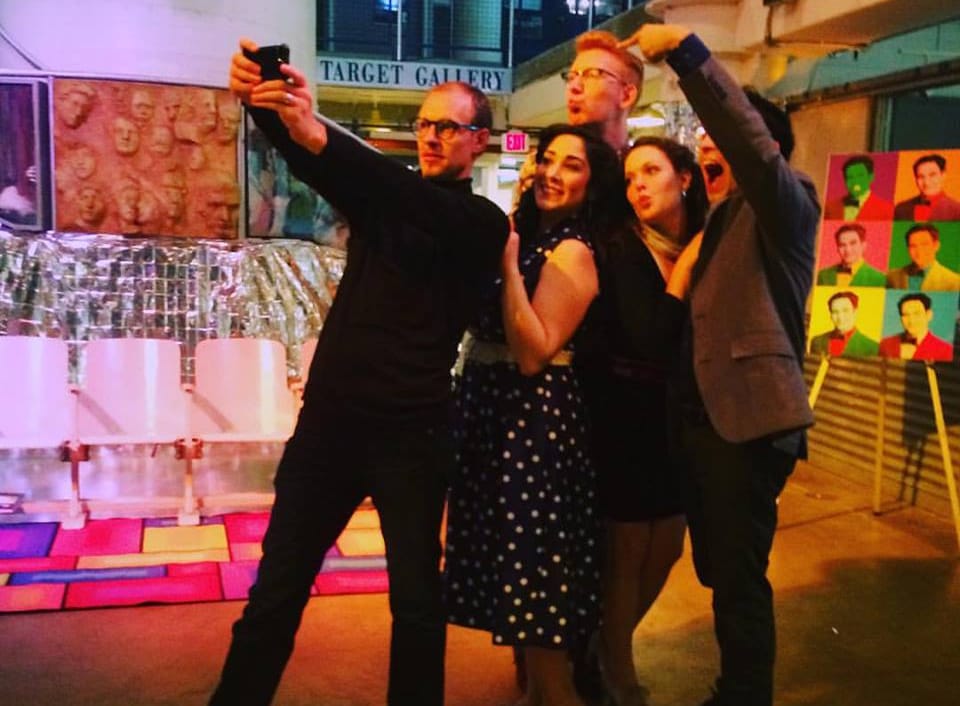 The opera does make a contemporary concession – instead of watching film out-takes of the period, which would have shown black and white steadily-held head shots and torturous Warhol interviews with the folk who swirled in and out of his world, the show is full of updated colorful "selfies" which are immediately projected onto the factory's central interior tower to the great delight of the audience.
No one phrases vocal lines so effortlessly for a singer as Mozart. This opera has some delicious arias, but even more we can delight in the duets, trios, and full ensemble dazzle.
Christina Boosahda is a singer with a powerful instrument though as an actress she occasionally cheats through indicating rather than authentically listening to what is happening in a scene. When she cuts loose as Fiordiligi in her emotional arias, especially "Per pieta," she is terrific.
From the moment Rachel Arky sang in the duet with Boosahda "Ah guarda, suella," I believed her in this sisterly combo and thought they sang well together even if the liveliness of the space made it somewhat a challenge for the blending of the female voices. Moreover, Arky has great ease on stage and pops in and out of the curious "hot tub" kiddy pool filled with glitter, runs up and down the circular stairs, and fulfills every physical staging bit asked of her with lithe grace.
If the women have a nice on-stage relationship, the two men are clearly in sync on and off stage (Yes, as "The Albanians," it's not enough these gents have to sing for nearly three hours but in the twenty minute intermission, they are interacting with the audience signing autographs and improvising.) They make it all a lark. Having fun in opera is a rare thing, but these guys remind us how attractive and beguiling that is.
Baritone Zachary Burgess romps around the stage like a young giraffe and pulls off the silliness of the plot by appearing so very young and foolish. But don't mistake this man's gullible persona, he has serious musical chops and sensibilities.
COSÌ FAN TUTTE


September 11 and 13, 2015
DC Public Opera
at Torpedo Factory Art Center
105 N. Union Street
Alexandria, VA 22314
3 hours with 1 intermission
Tickets: $30


Details and

Tickets
———————
Tenor Ian McEuen as Ferrando throws himself into every moment and is particularly effective in his second act aria "Un'aura amorosa", where he lets the heartbreak break through all the previous pranks. (I saw this tenor sing the role of Goro in Madame Butterfly, and I can tell you this young singer-actor can hold his own on the largest of stages with the strongest of singers in the opera biz.)
Melissa Mino plays Despina, the maid, with an updated twist, more like a modern and most efficient executive secretary of the household, who is tired of the mooning silliness of her two young charges and gets involved more to teach them a lesson to "get over themselves" and become successful modern women in this world. I found the choices she made, even in the disguises required in her affecting first a doctor and then a marriage recorder, were believable, entertaining and not too silly. (All too often that part of the comedy lands like a lead balloon for contemporary audiences.)
What I like best about the singers of this young company is that they don't seem to take themselves too seriously and are certainly approachable. While the men were signing autographs, the women were interacting with the audience on and off stage, taking selfies – which the audience clearly loved.)
The production was not flawless, and the chief problems the audience had were sightlines with this informal space. Some of these problems might have been avoided. The hanging lanterns cut off many from seeing the super titles, which set people back who do not know the opera or understand Italian. Likewise, when the performers sat in the chairs or knelt in the kiddy pool, they were pretty well eclipsed except for those sitting in the first few rows. The fabulous staircase could have been used more for some of the scenes. Another solution would have been to use the great surrounding balcony, to put the audience up there not only to look down at the crazy world in voyeur fashion as well as to see and appreciate more the ten-person orchestra. A few of us watched the second act from up there and it made all the difference.
From that perch I could also appreciate conductor Michelle Rofrano who moved the opera right along. One personal quibble was that Rofrano also soloed on the keyboards during the recitatives, and while the sound of the contemporary instrument fit in with the choices of the production, it did make me long for the spare crisp sound of a real harpsichord.
Nonetheless, this was an admirable, ambitious production. And so did they all!
————————
Così fan tutte. Music by Wolfgang Amadeus Mozart . Libretto by Lorenzo Da Ponte . Directed by Jennifer Williams . Conducted by Michelle Rofrano . Produced by DC Public Opera . Reviewed by Susan Galbraith.