Karin Coonrod's play texts&beheadings/ElizabethR debuts at Folger Theatre September 19, 2015. She is a theater maker whose work has been seen and heard across the country and around the world.  She founded two theater companies – the Arden Party and Compagnia de Colombari.  Her Shakespeare productions include:  Theatre for a New Audience: Henry VI, Love's Labor's Lost, King John, Julius Caesar, Coriolanus; Hartford Stage:  Othello; LaMama ETC:  The Tempest. texts&beheadings/ElizabethR is based, in part, on the collection of Elizabeth's letters at the Folger. karincoonrod.com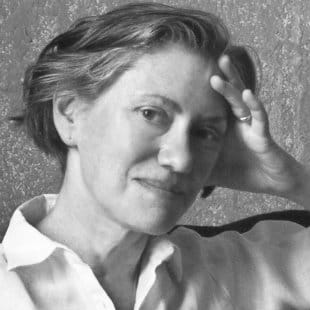 Why are you a playwright?
Most of my life in the theater has been that of a director working on all manner of texts: classical, non-dramatic, musical, opera and brand new writers. The hunger to forge a path through the forest has always been part of my MO, and though much of my work has involved my translation (Victor Or Children Take Over, Christmas at the Ivanovs', etc.) and also re-writing (The Phoenician Women), this is the first time (with texts&beheadings) I am taking charge of the full structure, inside and out. And yet, the voice is that of Elizabeth I. Basically I am making something because I didn't find its existence: a theatrical portrait of a theatrical queen in her own words. I've seen lots of fine stories and portrayals on film and in theater with psychological narrative, but I so want to know what she said to get a sense of her in her own words. I've always been obsessed by Elizabeth and have considered making something in the theater for many years and this became the moment.
What type of theatre most excites you?
I hunger—like many of us, I believe—for transformational theater, something where Dionysos is present, grinning, and you walk away different from how you walked in. One of the compelling playwrights I have worked with is Andras Visky, a Hungarian-Romanian (Transylvanian) who, through his own experience of incarceration in Eastern Romania when a child, has developed the idea of "Barracks Dramaturgy" in which the door closes and the confrontation between performer and audience is intense and unforgettable. I like that.
I am hungry to smell the truth, to see what IS in a new way, to laugh madly badly and gladly, and to see God, if at all possible. If any experience gives me something of this I am grateful to have been attentive. When all of it happens, it is a joy to be alive.


WOMEN'S VOICES THEATER FESTIVAL
texts&beheadings/ElizabethR
September 17 – October 10, 2015
Folger Theatre
201 East Capitol Street SE
Washington DC 20003
Details and Tickets
———————
What starts a play moving in your imagination?
Like Pirandello's characters who quarrel with him, nearly everything I hear and see wants time on stage. I have suitcases full of potential plays and projects. Feeling the time, sensing the wind, knowing the call. I have another play in the works right now, started some years ago…it is on hold for a while, since texts&beheadings clamored to be realized in this moment.
Do you have a favorite writing place?
The New York apartment is small and I move around the space, sometimes sitting on the floor, sometimes in a chair at the table, sometimes on the sofa. When we go to Portland to visit family, I like writing at my cousin's table in her living room. When I am in a residency I like writing in front of the window. Recently I was in Bogliasco (working on texts&beheadings/ElizabethR) and I sat in front of the Ligurian Sea where the mood of the sky and sea inspired me a hundredfold. I like the early part of the day for writing/working, the later part for collaboration.
How did you choose this play to debut at the Festival?
The play is a little dance of Elizabeth's voice and my voice. It works for the Women's Voices Theater Festival and I was glad to be invited.
Which female playwrights have influenced your writing and how?
Gertrude Stein (for her witty witty forms, for moving forward the aesthetic dialogue with Picasso, for her sharp eye and ear), Flannery O'Connor (not a playwright, but the inherent drama of her short stories engages my attention), Aphra Behn (for her remarkable confidence), Joan of Arc (for fearlessness), Elizabeth I (for writing history), Wisdom (in Proverbs 8 of the Hebrew Bible) who cries out at the gate, in the high places, Silence (from whom I gather everything), Suzan-Lori Parks (for taking hold of history in a new way), Naomi Wallace, Tina Howe, Elaine Avila….There are more and there will be more.
What's missing from theatre today?
Belief in one's self, in each other, in what's larger than all of us together. Theater-makers believing in (not manipulating) their audiences and audiences believing in (not accepting tricks of) their theater-makers.
What are you working on now?
The Merchant of Venice, to be performed in the Jewish Ghetto in Venice July 2016 and another secret play.
Answer this: "If I weren't a playwright, I would be … "

If I weren't a playwright I would be a dancer or a head surgeon.
Anything you would like to add?

The theater is a festive occasion which privileges time over space.
Read on
DCTS' Guide to Women's Voices Theater Festival
and
More interviews with WVTF playwrights